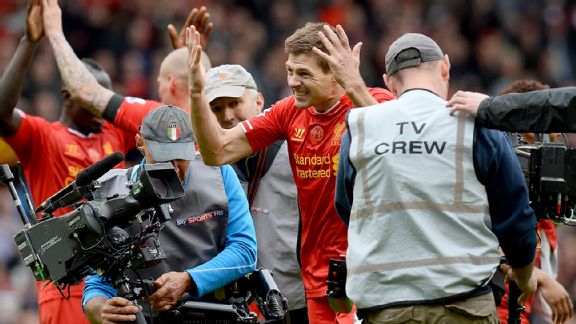 Andrew Yates/AFP/Getty ImagesGerrard couldn't hide his emotions in Sunday's win over Man City at Anfield. It was a powerful moment for all who watched.
---
Sometimes, the mask falls.

Professionalism, leadership, the distance that comes from being both a 1-percenter and a celebrity, the machismo that 30-something young men affect ... all of it slips away. And you're left naked.

Steven Gerrard rarely betrays emotion in public, possibly for the reasons cited above. Which is why his tears at the final whistle Sunday were so touching.

The 25th anniversary of Hillsborough is Tuesday. And make no mistake about it, while the deaths of the 96 touch (or should touch) everyone who calls themselves a member of the human race, they don't do so equally. Continue Reading...