RVP, Welbeck and calm Carrick win it for United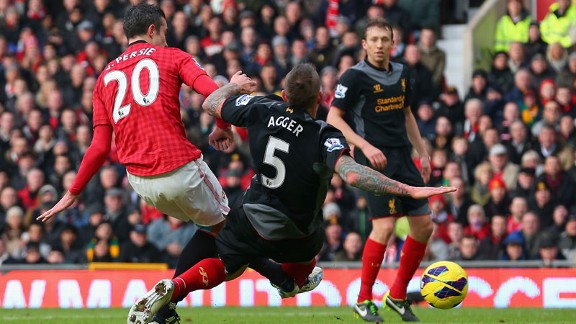 GettyImagesRobin van Persie fires Man United into the lead against Liverpool
Two-one. Manchester United emerged victorious by the slimmest of margins, and in the end the scoreline told the truest tale. The home side dominated the game for much of the opening hour, but the last thirty minutes were as anxious as the closing moments of any low-budget horror movie. Beginning with a 4-2-3-1 formation, with Danny Welbeck, Shinji Kagawa and Ashley Young the attacking lieutenants in support of general Robin van Persie, United frequently and impressively found space in the lines against Liverpool before later succumbing to a worrying shapelessness.

- Martin: A tale of two halves at Old Trafford

The match began with both defences sitting off the midfield in apprehensive fashion, as if profoundly respectful of the pace of each other's forward lines. The early exchanges were notable for the number of 50/50 challenges that United's midfield pairing of Michael Carrick and Tom Cleverley were winning against Liverpool's disciplined trio of Lucas, Joe Allen and Steven Gerrard. It was surprising to see Gerrard in such cautious vein, sitting unusually deep, but this spoke to his concern for the overlapping threat of Patrice Evra and Danny Welbeck, both of whom were very good, if not excellent, throughout.

A great bulk of the play in the first half occurred in the centre of the field, where Kagawa was busily and effectively, providing a calm transition between defence and attack. Several fine passes from Carrick and Gerrard found their way through this zone. Up front for Liverpool Luis Suarez toiled endlessly, as ever, but mostly by himself. With a player like Demba Ba to link with and steal across the face of his marker, the Uruguayan would be an even greater threat. Perhaps Daniel Sturridge, who scored here, will prove to be such a player.

But that speculation should be put to one side for now. Manchester United were in the ascendancy throughout the first half, and when they took the lead it looked like they had established the platform for a comfortable win. The passing movement that led to van Persie's opening goal halfway through the first half was intricate as the threads of a cat's cradle, Kagawa, Cleverley and Carrick combining to release Evra who cut the ball back across goal for Van Persie to sweep home for eight yards and his 21st goal of a so far exceptional season.

United could have gone two more goals to the good. First, Cleverley hit a volley with resounding force but less accuracy just past Pepe Reina's left-hand upright, then Michael Carrick conjured an exceptional forty-yard pass to play Rafael in behind Glen Johnson. The Brazilian right-back produced a first touch of which Van Persie would have been proud, bringing the ball down perfectly and then squaring it for the Dutch forward; Van Persie's brilliant backheel, which trickled agonisingly beyond the reach of Reina, was turned superbly away by Martin Skrtel. Kagawa, arriving brutally late, appeared lucky not to be booked for his follow-up collision with Reina but replays later showed he'd been pushed by Andre Wisdom and it could have even been a penalty - if a somewhat soft one.

And so the teams reached half-time. Liverpool were lucky to be only a goal behind, and both teams knew it. United introduced Antonio Valencia for Ashley Young, who had suffered a painful twist of his knee in the opening period, and looked to augment their advantage. They did so shortly before the hour mark. Van Persie curled in a free-kick from wide on the left and Patrice Evra rose at the far post to head home via a deflection off team-mate Nemanja Vidic.

At this point, the smart money was on United consolidating their lead and perhaps adding another, but games of this nature rarely run so smoothly. A few minutes later and Liverpool were back in the mix. Gerrard stepped forward from his diligent defensive duties to benefit from some lax midfield play from Cleverley, who gifted him the ball twenty-five yards from goal. Gerrard released a low, pulsing drive which De Gea parried superbly, but the only person nearby was Daniel Sturridge, who rolled the ball into the net from ten yards for his first league goal for Liverpool.

This is where matters became frantic. The final 30 minutes were frenetic as Brendan Rodgers introduced Fabio Borini, another attacking threat, and Suarez dropped deeper to initiate and orchestrate the play. The Uruguayan made a magnificent cross-field pass to Sturridge with twenty minutes to go that the England striker should have used to best effect: Sturridge stepped beyond Ferdinand wide on the left, then thrashed the ball disappointingly wide of goal from ten yards.

In the culminating scrum that was the game's last few minutes, Sir Alex Ferguson replaced Kagawa with Phil Jones. The philosophy here must have been to break up the play, but the problem with Jones is that he, unlike Kagawa, is not a "two-way" player: he can disrupt attacks, but he is not an alchemist, and does not have the guile to launch counter-attacks from deep. As a result, the home side found themselves uncomfortable and on their heels, able barely to stem the tide and not to reverse it. Before the final whistle, the ball was to fall to Sturridge once more, where again from wide on the left he was to hit to the ball above and beyond De Gea's goal.

And so United temporarily moved ten points clear of Manchester City, but not without a thorough scare at the hands of historically their greatest rivals. The guile and industry of Welbeck and Van Persie, as well as the calmness of Kagawa and Carrick, were the key features of this nervy victory. Ferguson will have taken keen and grateful note of both.