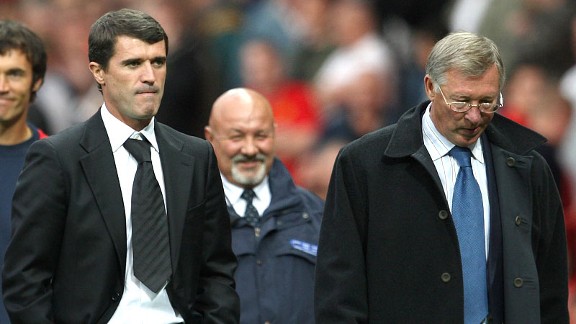 Shaun Botterill/Getty ImagesThe distance between Roy Keane, left, and Sir Alex Ferguson remains almost the same as it was in 2007 (above), when Keane managed Sunderland against United
It is a rare footballer indeed who is so fearsome that he can keep his own team-mates in a state of dumb terror. In my 20 years of playing regular and amateurish 11-a-side football, I only met one. He - we'll call him Jack - was tall and powerful, his shoulders jutting out like a broad and angry V-sign, leading down to iron forearms and elbows that looked as if they could crack windscreens. His gaze felt like stepping out into a storm.

Jack was so scary that I was warned about him in advance. He was at the same college as me, but was curiously elusive, so that when I finally met him my thoughts were awash with dread. That occasion was the first and only time we played together, up front in a 4-4-2. The game, an away match, took place on a hilltop high above the town, and a nose-dripping wind howled throughout. We won 3-1, but my strongest memories are those of Jack.

Early on, our goalkeeper punted the ball clear, and, thus far lacking an attacking chemistry, we rose for the same header. He won it, and as soon as we returned to Earth I was sharply advised never to effing do that again.

As Jack continued to impose himself on the match, willing us towards the win, I found myself fleeing as far as the offside trap would allow. He spent much of the rest of the game threatening to make the kind of challenge that was worth three straight reds.

In the dressing room afterwards, he glowered over towards me. "Are you going to give my plate back?" he asked. I said . . . . ah, I said ... I didn't know what plate he meant. "The plate on which I served up your goal." Ha, I thought nervously, that was a joke, this is a bonding moment, and I let out a dry-throated laugh.

Roy Keane had perhaps the most imposing aura of any modern player, a man capable of intimidating both friend and foe, and a couple of hours in the company of Jack gave me some idea as to how that must have felt. Even though Keane celebrated victory as heartily as anyone else, you would hesitate if asked whether he enjoyed his football.

Enjoyment, like fun, seems too frivolous a word for what Keane took from the game. You might also wonder whether all that winning – and, with seven Premier League titles, four FA Cups, and one UEFA Champions League, there was a lot of it – actually fulfilled him.

Keane, who captained Manchester United through much of the greatest period in their history, is the subject of endless fascination. The enduring mystery is perhaps not why a player so furiously passionate was dismissed so often, but how he so often kept himself from going over the edge. His mood seemed permanently volcanic. If any Roy Keane fans reading this piece have 25 minutes to spare, they could do little better than watch his two-part interview with Pat Kenny on Ireland's Late Late Show.

The interview, which you can see here and here, shows the former Ireland captain at his contradictory best: relaxed yet intense, humorous, yet brooking no foolishness. Whenever his host errs in his facts, Keane is quick to correct him with the kind of stare that makes you sleep with the light on.

Keane is currently a respected TV pundit, having tried his hand, with varying degrees of success, as a football manager. His legacy is assured, but there seems – to the wishful thinker at least – to be some unfinished business with Sir Alex Ferguson, with whom a major falling-out led to his departure from Old Trafford.

Keane declined Manchester United's invitation to the unveiling of Ferguson's statue last November, seen by many as an opportunity for reconciliation, and so the rift continues to exist.

This situation is unfortunate for those of us who like neat and happy endings, but it is also oddly fitting for a man of Keane's demeanour. He left Old Trafford on a point of principle, he left his national team on the eve of the 2002 World Cup on a point of principle, and he will maintain his stance with a steadfastness that most others would see as self-destructive. Many of us will try to figure him out for years to come; like Jack, though, he will remain impressively unbothered.