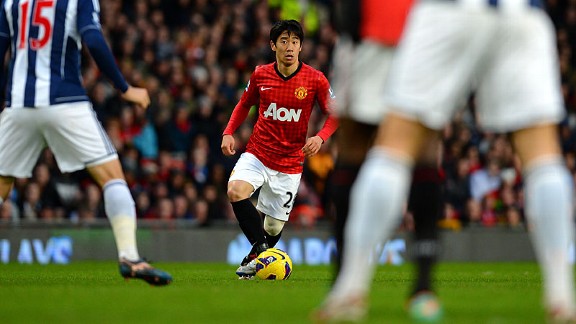 GettyImagesShinji Kagawa: Back from injury and ready for a run of games
A funny thing happened on the way to the Liverpool game. Manchester United were preparing to face their greatest rivals, and it was announced with a week to go till the game that Wayne Rooney would be missing that match, and a few more after it.

- Payne: Golden era costly for RVP

Rooney's injury for such a clash would ordinarily have caused some consternation, but the form of Robin van Persie has alleviated these fears. So, it can be argued, has the return of Shinji Kagawa, the Japan international who offers a rare quality of playmaking.

Many Manchester United fans are quietly anxious that Sir Alex Ferguson has not yet found Kagawa's best position. They should not be. The blueprint is already there. At Borussia Dortmund, Kagawa thrived as a central attacker playing just off the front man, Robert Lewandowski.

His performance last season in Dortmund's 5-2 German Cup Final thrashing of Bayern Munich provided a thrilling illustration of his excellence in this role, during which he conjured an assist with a reverse pass that might have made David Silva proud.

Several people were concerned about his FA Cup outing against West Ham United, feeling that his passing, whilst accurate, was largely ineffectual. The problem here, though, is that playing at the tip of a midfield diamond puts uncommon pressure on playmakers. They need continual runners into wide areas, and the narrowness of a diamond - particularly when the full-backs are feeling more conservative than usual - leaves them marooned much of the time.

Kagawa would operate best in the middle 3 of a 4-2-3-1, which, judging by how he was deployed against Galatasaray at home in the UEFA Champions League, is where he has looked most comfortable for his new team.

Perhaps it is due to the often indifferent form of some of Kagawa's midfield colleagues that more is immediately expected of him. Yet there must be faith. Patience, then, is the watchword when it comes to him, whom German football expert Raphael Honigstein has described as having everything it takes to be a Manchester United great.

For now, though, his mere presence has settled countless nerves as his team head into traditionally their hardest-fought contest of the season, and every United fan should feel encouraged by that.