Kagawa return the cherry on United's 2012 cake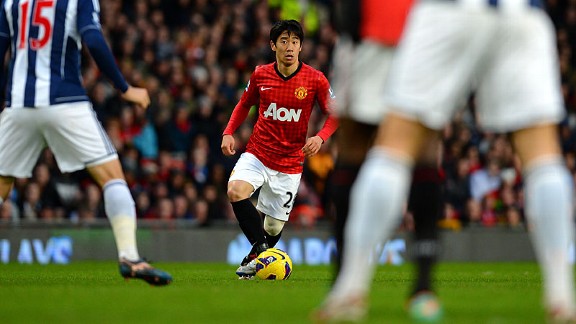 GettyImagesShinji Kagawa: Back from injury and ready for a run of games
Manchester United finish 2012 with a seven-point lead in the Premier League and with a significant bonus: the return of Shinji Kagawa from injury. The Japanese playmaker, 23, has been largely absent from his team's campaign this season but started in its 2-0 win over West Bromwich Albion at Old Trafford. He completed 65 minutes and 30 of 31 passes, and his sharp movement was a key feature of his team's superiority.

- Okwonga: Ferguson just asserting his status
- Payne: Challenge laid down to rivals by United
- Evans: A game of two halves for Albion
- RVP helps United claim West Brom's scalp

Kagawa is a player of rare potential. He's Asia's player of the year, and his arrival from Borussia Dortmund this summer marked the capture of one of Europe's finest young talents. His best position is arguably as the centre of an attacking three in a 4-2-3-1 formation, which is how he was deployed on Saturday: spreading short, swift passes left and right, darting into space on the edge of West Brom's penalty area. It was from this zone that Kagawa created Manchester United's advantage after just nine minutes. His beautifully lofted pass over the away side's defence spun into the path of Ashley Young, and the winger thrashed a low cross into the 6-yard box that was deflected into his own net by Gareth McAuley.

Manchester United then went on to hold an increasingly uncomfortable lead until the 90th minute, when Robin van Persie, Kagawa's second-half substitute, curled home a superb second from 15 yards out. Van Persie has added so much to his team's season, both in terms of elegance and substance, that he is now -- remarkably -- its most important player. Kagawa, given both his reputation and his encouraging outings in a United shirt, may someday emerge as the same.

There were interesting narratives elsewhere on the field. Chris Smalling looked uncomfortable in the right-back area, as indeed he did against Aston Villa's Christian Benteke earlier this season. Nemanja Vidic looked very assured at centre-back. As noted by the Republik of Mancunia, Michael Carrick covered more ground than anyone, while Tom Cleverley covered it more quickly than anyone: a defensive midfield pairing of graft and mobility, which is the best available axis for Manchester United at the moment.

Further forward, Danny Welbeck was unconvincing. His movement was good as ever, but there was a lack of instinctiveness that inevitably comes from being played out of position and from not starting regularly. Until both of those are put right, any referendum on his future at the club should be suspended.

On the flanks, Ashley Young and Antonio Valencia toiled tirelessly as ever, the latter to disappointing effect. Valencia has looked a dispirited figure in recent months, but even when he is not performing particularly well, he still provides his team with defensive solidity. Going forward, sadly, he looks bereft of confidence: standing opposite his man, having arrived from deep, he frequently looked unsure whether to go outside his man or cross the ball in first time, as if he doubted his ability to do either.

Unfortunately, he does not have the luxury of being rested, as Nani's poor form and injury have left Manchester United short in that area. The hope must be that, like Young on the other wing, this extended run of games will eventually see him recover form.
All in all, though, it is a very satisfying end to the year for Ferguson, whose team negotiated a difficult festive period fairly well.

Manchester United have a clear lead in the league, and their goal difference is increasing at a healthy rate. Serious questions remain concerning their midfield and defence, and indeed in relation to their debt burden, but the core of the squad -- young, and excitingly gifted -- is one that any prospective new manager should be eyeing with interest. For now, though, Sir Alex Ferguson has a title or two to win.