Challenge laid down to rivals as United despatch West Brom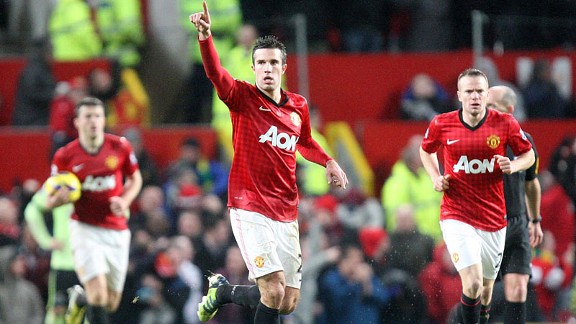 GettyImagesRobin van Persie came off the bench to seal United's victory
This is the kind of fixture that separates teams that win championships from those that can't: contenders from pretenders. Coming straight after the exhausting 4-3 fixture versus Newcastle and against a stubborn side holding their own in the upper reaches of the Premier League table, this game could have tested. But West Bromwich Albion didn't seem up for it at all, at least in the first half.

- RVP helps United claim West Brom's scalp

Defending was the order of the day for the visitors. If they weren't defending as a team, they were defending as a unit, and if that didn't work, they did some last-ditch defending. The Midlands club's best chance came on the stroke of half time when they were awarded a slightly dubious free-kick on the edge of the area.

By that point, they were already 1-0 down, having conceded when Ashley Young's shot bounced off Gareth McAuley's leg and into the net. With Robin van Persie rested and Wayne Rooney out of the squad, Young found himself playing alongside striker Danny Welbeck and much-missed attacking-midfielder Shinji Kagawa.

The Japanese international spent the first 45 minutes being easily the classiest player on the pitch. In the buildup to the goal, he provided an exquisite touch that most players wouldn't even have thought of. Many fans were reminded of a similar pass from Eric Cantona 20 years ago.

Back in the present day, some of the Albion players were looking short of motivation. This time of the year, with so many games, it might be great for the fans, but it must be extremely challenging for the players and staff. How you are supposed to keep 25 young men off the beer in England at Christmas is beyond me. Somehow, they try to do it every year.

Tom Cleverley appears to have avoided temptation. He was busy and focused throughout at Old Trafford, and United are a better side with his energy coursing through the ranks. His final ball still needs less enthusiasm and more precision at times, though.

Rain started pelting down midway through the second half, but the contest had been looking damp for a while. Fergie had seen enough and sent on Van Persie for Kagawa to improve United's fortunes. The perils of a one-goal lead when your main rivals are winning are well known to the Scot. Shortly afterwards, West Brom hit the bar and the need for a second goal started to become palpable.

United's industrious front five, unfortunately, left the back four slightly exposed for the 20th league match in a row. As such, West Brom started to create some dangerous chances despite being completely devoid of intent before the 66th minute. It seems as though United's defenders just get tired of doing extra work towards the end of games. It is when they are most vulnerable.

As such, a consistent suggestion from United fans is the purchase of a defensive, tackling midfielder. "Don't hold your breath waiting for Manchester United to jump through the transfer window when it opens next week," Fergie said before the game. Oh well.

The fact that United's defence survived this second-half test can largely be attributed to the return of the colossus Nemanja Vidic. West Brom are hardly Real Madrid, but the whole defensive unit functioned more successfully with Vidic in the fold.

A van Persie goal is now almost as much of a regular at Old Trafford as Fergie's chewing gum. He needed half a chance to finally curl in United's second on 90 minutes. United will start 2013 with 50 league goals under their belt and a seven-point lead at the top of the table. The challenge has been laid down.

Follow Mark on www.twitter.com/markjpayne.