Hernandez completes epic United figthback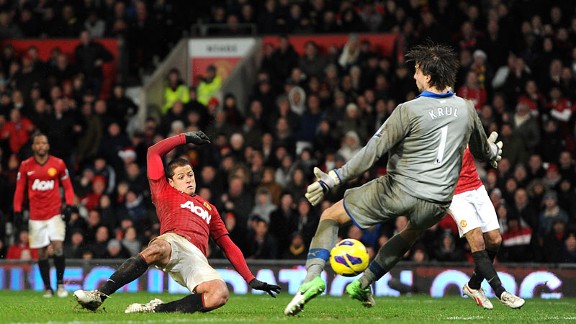 GettyImagesJavier Hernandez's goal for Manchester United settled a seven-goal thriller against Newcastle
This actually happened. Manchester United put in a performance that for the first half at least was thoroughly abject, yet they still somehow managed to extend their league lead over Manchester City. Their seven-point advantage came after a 4-3 victory over Newcastle United at Old Trafford, in which their very late winner was the first time that they had gone ahead all game.

Martin: Man Utd win thriller over Newcastle
Red Devils go seven points clear

This Premier League season, as least as far as Manchester United are concerned, is developing into the most thrilling of clichés.

Certain themes are eternal. For example, there was the concession of an early goal in a manner that will have Real Madrid salivating. Their UEFA Champions League rivals will have noted how the central midfield resembled a ghost town as Michael Carrick let the ball fall through to Demba Ba, who advanced smartly: his speculative low drive was palmed by De Gea into the path of James Perch, who passed home his first goal of the season. It was disappointing from both Carrick and De Gea and though United had not lost on Boxing Day in a decade, Newcastle's fourth minute lead looked set to test that. It was the 16th time that Manchester United had lost the first goal this season.

There was another moment that gave Manchester United fans cause to shudder, and that was the appearance of both Ryan Giggs and Paul Scholes on the same team-sheet. Wayne Rooney and Ashley Young had been injured in training the previous day, with Danny Welbeck succumbing to illness, and so United were arranged in a 4-4-2 formation with Scholes in the centre and Giggs on the left. Newcastle arranged themselves in a 4-3-3, with Gael Bigirimana, Vurnon Anita and James Perch in their centre, and so outnumbered United whenever they broke forward.

That came later though. For now, there was the inevitable United backlash. Newcastle found themselves defending in what was effectively a back seven, but they were aided by Giggs' insistence on drifting inside and playing passes with the outside of his left foot into areas of the greatest congestion. Carrick fell victim to a similar habit, often trying to thread balls from deep into areas where, thanks to Newcastle's defensive diligence, there were simply no holes. When Newcastle broke, too, they surged through midfield with the ease of a stiff wind through a line full of washing.

Fortunately for the home side, their pressure told. On 18 minutes, Robin van Persie swung in a free-kick that was driven goalwards by Javier Hernandez, and Tim Krul's sharp save only found the willing feet of Jonny Evans for his 4th goal of the season. Evans' feet were slightly more reluctant twenty minutes later, though. Papiss Cisse was in what looked to be an offside position as Sylvain Marveaux crossed the ball in from the right, but Evans stepped across him to divert the ball past De Gea. Old Trafford fell still as a crypt, then erupted at this controversy. Both before and after half-time, Sir Alex Ferguson furiously berated the officials in a manner that may well draw formal sanction.

What's more, it could have been worse for United. Marveaux, with five minutes to go to the break, curved a superb free-kick against the bar with De Gea helpless and transfixed by the ball's distant flight. They arrived at half-time a goal down , having produced a performance as lethargic as could be imagined.

The second half was first most notable for the fact that Giggs now seemed to remember his brief, and stuck carefully to his posting out on the left wing. It was also encouraging as it saw Antonio Valencia, even though he was in poor form, begin to drive deep down Newcastle's left flank. United continued to raise the tempo, and were rewarded with an equaliser from Patrice Evra, whose low drive skidded past Krul with just over half an hour to go. With this goal, and the momentum with United, a winner soon seemed assured.

But, but, but. Papiss Cisse had other ideas. Gabriel Obertan, the former United man, came on and his first contribution was to float past an inattentive Chris Smalling and cut the ball back for the Senegal striker. 3-2, on 68 minutes. Even by the standards of Old Trafford lore, this was taking a whole box of biscuits.

Yet Robin van Persie, having arrived recently, seems to have a taste for these dramatic narratives. He was to draw his team level only three minutes later, potting home at the second attempt after his first carefully-guided effort had been deflected back into his path. There then followed two misses that Javier Hernandez, once the euphoria of victory fades, will regard as unacceptable. The first was a shot when he should have rolled the ball through for van Persie; the second, a diving header wide from an excellent Valencia cross. These squandered opportunities could have been costly, with Ameobi stepping inside tired challenges and placing the ball against De Gea's left upright. The ball rebounded obligingly into the Spaniard's grateful hands.

We all knew what was coming last of all, though. No United epic is complete without the redemptive late winner, and here it was provided by Michael Carrick, whose lofted ball forward from right to left was met with an exquisitely-cushioned volley by Hernandez ten yards out. It was the hardest chance Hernandez had received all day; it was the hardest pass that Carrick had had to execute; and it was perhaps the first time that the Mexican had surged so triumphantly free of the offside trap.

If this was not a case of practice makes perfect - since the rest of the performance was far from that - then it was certainly a case of pressure makes points.