Real under pressure as United plot revenge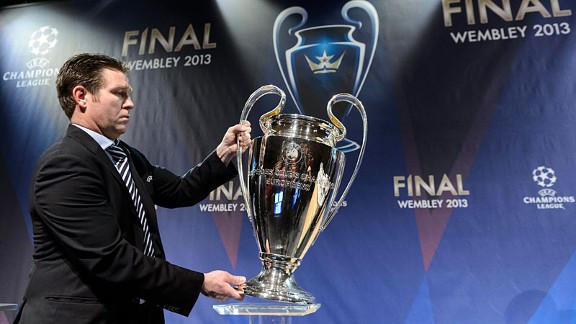 APThe final prize is given an airing at the Champions League draw
It's happened. Manchester United have drawn Real Madrid in the last 16 of the UEFA Champions League. Opponents Real have previously greeted this tie with glee, knowing that they had sufficient firepower to overwhelm United, but now the Spanish side may feel a certain sense of anxiety.

- Ronaldo returns to Man United

Though they are a formidable attacking force - most notably, they boast Cristiano Ronaldo, Gonzalo Higuain, Mesut Ozil and Karim Benzema - they will know that this contest increasingly represents their last chance to salvage their season.

Jose Mourinho, having seen his team fall to a double-figure deficit behind Barcelona in La Liga, has virtually conceded defeat in the domestic title race; a gesture that some might regard as mind games, but which has earned him the admonition of none other than the club's president, Florentino Perez.

This tie has a spectacular recent history, Madrid having emerged victorious both times in the early 2000s with star turns from Zinedine Zidane, Raul, Luis Figo and Fernando Redondo. Now, as then, these games promise to be a straight shootout.

The United defence is happily bolstered by the return of Nemanja Vidic, their forward line is potentially as potent as any in Europe, but the emphasis will be on the team's "soft centre". The question is whether Michael Carrick and Tom Cleverley, apparently now Ferguson's first-choice midfield axis, will be able to screen their back four against the returning Ronaldo, who will doubtless be met with an odd mixture of fear and adulation.

In that vital area Carrick and Cleverley will find themselves against Sami Khedira, whose bursts from midfield would be best nullified by the guile and grit of Anderson, and Xabi Alonso. Madrid can also call upon Michael Essien and Luka Modric, an erstwhile Manchester United target, in that central zone, and so they will not want for passing accuracy or sheer power.

And now Sir Alex Ferguson goes toe to toe with Jose Mourinho, who until the emergence of Pep Guardiola was seen as the frontrunner to succeed the Scot at Old Trafford. The two, of course, have previous in Europe, and Ferguson will be looking to avenge his last-gasp defeat to Mourinho's Porto in 2003-04, when The Special One won his first of two Champions League titles.

The instinctive reaction is that Manchester United should play their own game, which means using the 4-2-3-1 that they have employed in previous matches; marrying a patient possession game at the Bernabeu with a more expansive approach at Old Trafford, with the recovery of Anderson a must for the latter tie.

The Brazilian's runs from deep can - or, more importantly, must - disrupt the passing patterns of Xabi Alonso. Every indication is that this tie will be a high-scoring one, given that both sides possess forwards of diverse gifts and great creativity. The head says Madrid, the heart says United, and they and the neutrals cannot wait.