Nani's fall suggests flair last thing wingers need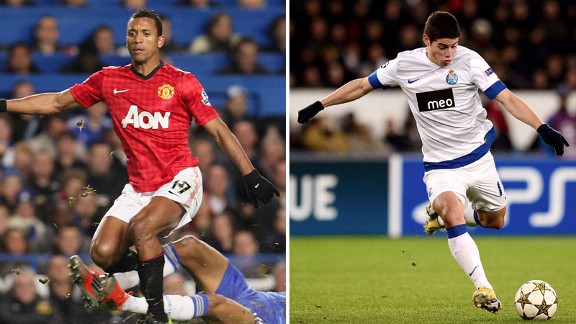 Getty ImagesNani, left, apears to be leaving Old Trafford, with Porto's James Rodriguez the favourite to take his place
And so it looks as if Nani is on his way out. The rumours grow that James Rodriguez, Porto's brilliant 21-year old forward, may soon arrive at Old Trafford. The Colombian would bring a rare blend of speed, skill and finishing prowess, the same things for which Nani on his best days is rightly celebrated.

It's always a sad moment when wingers are deemed to be past their best. For Nani, the most regrettable thing is this was thoroughly avoidable. According to Opta statistics, he remains among the leading assist providers in the Premier League in the last two years (alongside teammates Antonio Valencia, Ashley Young, Robin van Persie and Chris Brunt of West Bromwich Albion). But Nani's creativity has never been in doubt: the key concern with him is his dips in performance, which are sharp, worrying and unpredictable.

His disappointing outing against Everton in the season's first match is sadly emblematic of his year to date.

Unfortunately, the era when the mercurial winger would be indulged is long since past, if indeed it ever was. This season, as a mark of how far he has fallen from favour, Nani has been selected behind Valencia and Young, both of whom have endured protracted periods of poor or indifferent form. Sir Alex Ferguson even chose to arrange his players in a diamond formation rather than risk a player whose contribution can be intermittent.

Nani's career at Manchester United is a cautionary tale to any superb young talents who may succeed him on the Old Trafford flanks. A Player's Player of the Season award in 2011 will not be enough to save him. For all the talk of Old Trafford's wingers having flair in abundance, his plight indicates Ferguson's wide players must have more prosaic virtues to thrive.

Neither Young nor Valencia possess anything like the same mastery of the ball, but they provide better shape and defensive strength, and even when their decision-making is poor they show an excellent work ethic. Nani is not a shirker, but he struggles to match their Spartan appetites for honest endeavour. It is they who have been allowed to play themselves back into a winning rhythm.

Meanwhile, Rodriguez – carefully nurtured at Porto by then-manager Andre Villas-Boas - offers everything that Nani did on his arrival from Sporting Lisbon: mobility, creativity, and goals. If he is to thrill the Old Trafford crowd for many years to come, the hope is that he will offer solidity too.