Manchester United's midfield finally true to its traditions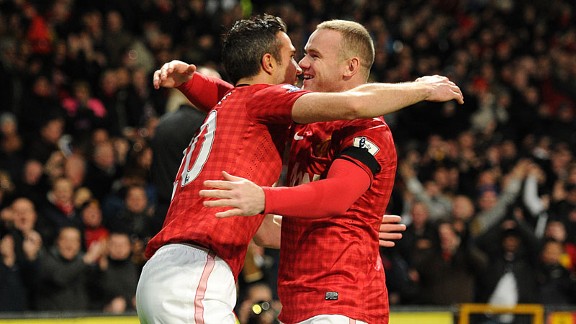 PA PhotosVan Persie and Rooney's partnership is blossoming at Old Trafford
Momentum. Sir Alex Ferguson mentioned it in his postmatch interview as the crucial element in this stage of the title race, and on the field, it is what his starting lineup currently does best. In recent years, Manchester United at their peak have made countless teams succumb to their overwhelming tempo, and after the first hour of this match Sunderland could have found themselves five or six goals behind. Fortunately, Wayne Rooney -- often outstanding in other areas -- was in a merciful mood, his finishing lacking the majesty of all that had gone before.

Speaking of majesty, this was as fluid and elegant an attacking performance as Manchester United have produced this season. The usual suspects, Robin van Persie and Rooney, were heavily involved, but it was also interesting to see Ashley Young as a prominent figure. Young has now enjoyed three good performances in a row, perhaps the highlight of which was his superb assist for the opening goal by van Persie, and he is beginning to look the part that Ferguson had faith that he would.

Elsewhere, at the heart of this 4-2-3-1 formation (or, as a scowling Brian Clough would doubtless call it, a 4-4-2), matters were smartly dictated by the axis of Michael Carrick and Tom Cleverley. It seems that, after about half a season of auditions -- interrupted by injury and fluctuations in form -- Ferguson may just have found his first-choice partnership in central midfield. Darren Fletcher is easing his way back to full health; Paul Scholes has long lost the mobility of old; Ryan Giggs should not be used there; and Anderson -- the most versatile midfielder on the Old Trafford staff -- is sadly too prone to wear and tear.

It is a partnership that for the vital stages of this 3-1 victory cast Sunderland casually aside -- Cleverley's sharp movement and short, precise passing an ideal complement to Carrick as he strolled about the pitch. This duo are good enough to put Manchester United on the front foot in matches. With them starting, they have taken two-goal leads in each of their past two games, and for that alone they deserve an extended run. The league leaders' key weakness this year has been the concession of early goals, and if they can begin games in full cry, then they are much less likely to fall foul of this.

With other areas of the team falling into place -- for example, Rafael rivalling Robin van Persie for his team's player of the season -- it is allowing Antonio Valencia to ease his way back into form. He has not had momentum for several months, but at his best he produces not just precise crossing and ceaseless running but also an acute positional sense -- something that will be of great use to his team on its European adventures.

Most decisive in that regard, though, will be the return of Nemanja Vidic, and as the defender ran on to replace Rio Ferdinand, his teammate's glee was shared by every Manchester United supporter. The Serb's return will be of tremendous benefit to his side both at home and abroad, and he comes back at a time when his club, a fearsome front-runner, is six points ahead in the league.

But Ferguson will not be striking too triumphal a note. He saw, and commented at length upon, the alarming manner in which his team conceded control in the last 30 minutes of the match. He was far too polite to say so, but that period coincided with the presence of Scholes and Giggs on the pitch, neither of whom -- certainly in tandem -- have the requisite energy to withstand an onrushing midfield. They may well have descended further down the pecking order, but they will hopefully not be resentful. In their place are players who are offering the ceaseless drive that is true to their club's finest traditions and that may ultimately be decisive in this championship.