Ferguson shows faith and forward-thinking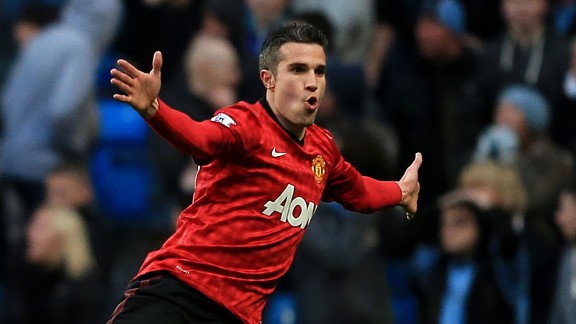 PA PhotosManchester United manager Sir Alex Ferguson spent £22 million on Robin van Persie - ignoring calls for a defensive midfielder
Faith is the strangest thing. In a week when it was revealed that one in four UK citizens describe themselves as not religious, Sir Alex Ferguson is showing that he is a stronger believer than ever.

- Randall: Poznan causes sense of humour breakdown among Man United fans

Ferguson did not enjoy the comments of many observers, this writer included, when he made Robin van Persie his chief transfer target in the summer; however, the Dutchman has emerged as arguably the Premier League's player of the season so far.

Ferguson could have gone out and bought a world-class defensive midfielder for the same price - and did he have much more to spend than £22 million, one wonders? - but instead he put his faith in firepower. He has been rewarded with a six-point lead over Manchester City after 16 matches.

Ferguson knew, as did many of those opposed to van Persie's arrival, that this signing would reconfigure his attack at great cost to Danny Welbeck. The England international has duly suffered, scoring only once in the league this season. But his movement out on the flank remains dangerous, and is a vital support for the Dutchman's work.

Ferguson had faith in Javier Hernandez. The Mexican endured a difficult second season, leading to fears that he might share the fate of Michael Owen - a poacher, whose game would be rendered slowly surplus to Manchester United's requirements. Instead, he has proven himself the odd one out, and supremely so. The purest predator, he has also shown a sure playmaking touch when called upon, most notably at home against Braga.

Ferguson had faith, too, that Wayne Rooney and van Persie would strike up a fruitful partnership. This was somewhat less in doubt, as both players are selfless and adept at dropping deep and leading the line, but it is a combination that has been under severe pressure due to the faltering form of Ferguson's wingers.

On that latter note, Ashley Young has been the greatest beneficiary of Ferguson's belief. The former Aston Villa winger has been in indifferent if not miserable form for several months, yet Ferguson has continued to field him - every now and then withdrawing him (once in humiliating circumstances, after just 45 appalling minutes against his former club), but still putting him out there. And, slowly, his faith has been repaid, Young turning in two impressive back-to-back performances away at Reading and Manchester City.

This belief is not entirely born out of idealism: there is a great deal of pragmatism at play. Given that Manchester United have defeated both Chelsea and local rivals City this season, they can currently claim to have the strongest starting eleven of the three main title challengers (with respect to West Bromwich Albion, Tottenham Hotspur and Everton) but they also have weaknesses in key areas. Ferguson will therefore find that his leading players will endure the rarest test of stamina this year.

It is interesting that this year, for all the money that the top teams have spent, they are still heavily - if not excessively - reliant on one or two playmakers, which perhaps explains their travails in Europe. Chelsea are not remotely the same without Juan Mata. City look too often to Carlos Tevez and David Silva. United most frequently call on van Persie to get them out of jail.

In such a climate, Ferguson understands the need for multiple match winners. That is why we will continue to see him backing all of his men, pretty much all of the time.