Mr. Anderson is The One for United's midfield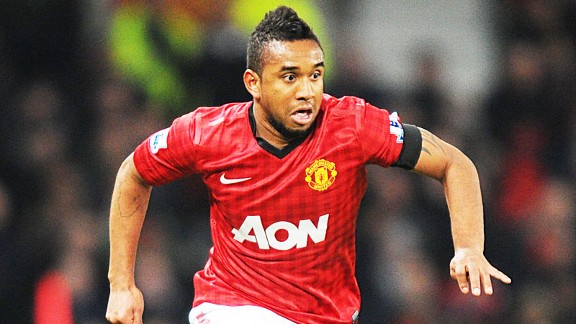 PA PhotosAnderson signed from Porto in 2007 for reportedly £18 million
It's perhaps too early in the season to start drawing parallels with the Matrix: but, on the other hand, you only live once. It increasingly seems as though a certain Mr. Anderson will be 'The One' to redeem Manchester United's midfield.

The Brazilian's performance against West Ham United, in a 1-0 victory at Old Trafford which kept his club at the top of the table, was all that his recent form had promised. The significance of this game was that it represented his first league start since August, and in the last few weeks he has played his way into Sir Alex Ferguson's favour in stirring style.

His impressive statistics for this match - won by a Robin van Persie goal that was at 31 seconds the fastest of the season - revealed a man who had too long been kicking his heels. Starting on the left of a three-man midfield alongside Michael Carrick and Tom Cleverley while supporting a front three of Wayne Rooney, Javier Hernandez and Robin van Persie, Anderson was everywhere. According to Opta, he completed more passes in the attacking third of the pitch than anyone else, the equal-highest number of dribbles, and the second-highest number of tackles and overall passes. One through-ball on 17 minutes, a wonderful forty-yard delivery that swerved along the ground into the path of Hernandez, was perhaps his best of the match.

This was quite the night for the Brazilian, an evening on which his fellow countryman Rafael also shone. The right-back has been maligned in months past but has swiftly matured into one of the Old Trafford side's most consistent performers. Their drive and verve was needed in a game when some of their colleagues, most notably Wayne Rooney, did not enjoy the most fluent of form.

This should have been a routine victory, given Manchester United's early lead and the fact that they had not lost at home to a newly-promoted side in 11 years. However West Ham's defence, with Winston Reid and James Collins at its heart, was very well marshalled throughout, and Sam Allardyce's disappointment at full time was tempered with satisfaction at how they had performed.

In games where defences are compact and narrow, they must often be worn down from the flanks, but it is difficult to remember Manchester United's wingers in such poor form all together. Nani, Antonio Valencia and Ashley Young, who over the past two years have supplied more assists than almost any other players in the Premier League, have been in intermittent or indifferent form since the season began. Their struggles, combined with the inevitable demise of Ryan Giggs, have latterly forced Ferguson into playing a diamond formation, a structure which is anathema to the club's traditions.

It is hard to see how they will emerge from this predicament, at least in the short term. Worryingly, and disconcertingly, Danny Welbeck has become the target of abuse from some disgruntled fans, who are angry at his relatively ineffectual play (if punctuated by excellent movement) in wide areas. Regrettably, the young England forward will probably continue to suffer for the inadequacies of others.

The other intrigue in this match is Ferguson's decision to keep rotating his 'keepers, with Anders Lindegaard in goal last night. David De Gea seems to have done enough to deserve the starting spot for a protracted period, but it appears that he can empathise most with Anderson's plight. Constantly shuffled about, and chosen when Ferguson has exhausted the other option, he will be hoping to convince his manager that he, like the Brazilian, is The One for the position that he desires and deserves. In the meantime, despite this simmering set of intrigues, Manchester United remain top of the league.

Much like the Matrix films, the plot may not be of the highest quality, but it is very rarely dull.