Urgent surgery needed for United after Norwich loss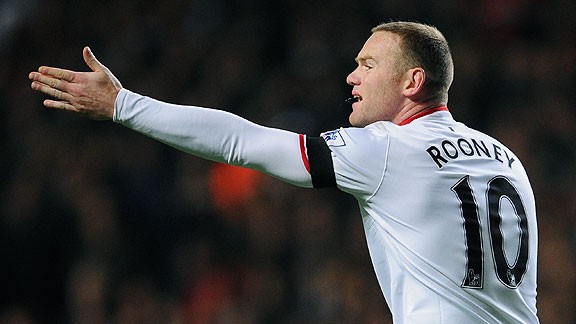 Michael Regan/Getty ImagesManchester United sorely missed Wayne Rooney's playmaking during their Saturday loss at Norwich.
This was coming. Manchester United's 1-0 loss away at Norwich City came after they had conceded the match's first goal for the 11th time this season. They had recovered to win on six of those occasions, but Saturday at Carrow Road was not to be another. What was most notable about this defeat was not its mere fact but its manner. Norwich, managed impressively by Chris Hughton, were wholly deserving of victory, building attacks through the superb Wes Hoolahan and supplying, in Javier Garrido and Robert Snodgrass, the most eager and intelligent of runners.

Though this was the narrowest of statistical victories, United were overwhelmed in midfield. The decision to begin with a central two-man team of Ryan Giggs and Michael Carrick looked questionable to begin within, and it proved to be a pivotal error -- the pair were out-passed and out-fought throughout the 90 minutes. Anderson, who was only brought on relatively late, may legitimately feel most aggrieved by his omission from the starting lineup. He offers power, passing range and a rare tenacity that is unmatched among his colleagues.

Up front, Javier Hernandez and Robin van Persie found themselves isolated; though not as dynamic as usual, they were not helped by the continuing indifferent form of Ashley Young and Antonio Valencia, both of whom are struggling for rhythm and consistency in their crossing. United's cause was further hindered by two major absentees. Wayne Rooney, unavailable through tonsillitis, was greatly missed for his playmaking from deep positions. Further back, David De Gea, out due to pain in his wisdom teeth, was replaced by Anders Lindegaard. However, even if the Spaniard had been picked, it is unlikely that he could have kept out Anthony Pilkington's exceptional header.

A loss is not necessarily a bad thing for United, particularly not at this early stage of the season. Previous results, though they have been salvaged, have allowed the Old Trafford side to dodge the underlying problems. But those problems are not evaporating anytime soon. As De Gea will attest, they are a little like toothache -- sedatives work for a certain time, but then the pain becomes so insistent that its reality cannot be denied.

The plain facts are these. United have been unconvincing in their victories in the UEFA Champions League. They lack leadership in midfield, they lack confidence in wide areas and their defense is currently not the pillar on which championships are reliably built. These facts suggest that they may be exposed in Europe, where opponents will be of sufficient sophistication to administer a chastening lesson.

In England, they will look with some concern at Manchester City, which is actually playing in a fashion that United did when they first returned to European competition. That is to say, that they are struggling on the continent (as Real Madrid, Borussia Dortmund and Ajax can attest) but, ominously, finding their feet again in the league. Their 5-0 dismissal of Aston Villa saw goals for Carlos Tevez, David Silva and Sergio Aguero, and there's every indication that this season could end in a shootout over goal difference, much like the last.

Saturday, though, was a day when the ibuprofen provided by Robin van Persie's goals finally wore off. A day when Sir Alex Ferguson may have reflected that his team's other league defeats to Everton and Tottenham Hotspur are part of a picture of significant structural flaws. The diagnosis is clear. Now, it is time for the surgery.