Norwich remind United of their midfield problem
The simple fact of the matter is you just don't win them all. United were second best at Carrow Road and Norwich were deserving winners. This is all slightly irksome on a day when Manchester City plundered a five nil victory. But no inquest is needed. United will bounce back.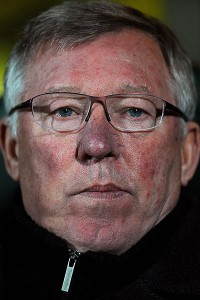 Christopher Lee/Getty ImagesSir Alex Ferguson warned that United can't keep falling behind in matches, and sure enough, the Red Devils were unable to come from behind to beat Norwich.
Fergie was magnanimous in defeat: "I felt they deserved it because they worked so hard for it. They defended well and the goalkeeper made some good saves." And that seemed a fair assessment. The whole planet awaited the latest rip-snorting United comeback after Norwich went ahead, but this week they were simply out of puff.

If any United player will be quietly satisfied by all of this it might be Wayne Rooney. As the week began, there were mutterings that it was time to relinquish his starting place. Yet it was exactly his kind of bustling presence that United missed today. For all United's possession, Norwich held their nerve and one suspects the presence of Rooney may have made a difference.

It seems interesting that this United side can only really concentrate when the stakes are high. The performance levels against Chelsea were stratospheric, enough to beat any team, and a far cry from what we saw in Norfolk. Perhaps this is part of the modern day, millionaire footballer's psychology. The allure of fixtures below the top is simply not enough to motivate them, you suspect.

Anders Lindegaard's performance was a concern. More than most goalkeepers, he seems to be a man that thrives on confidence. This display will not have done him any good as he did nothing to unnerve David de Gea. The Spaniard can expect to start when he is back to fitness

Seeing Ryan Giggs in central midfield does not inspire confidence either. His contribution to Manchester United over the past 20 years is not in question, yet his ability to run a game from the middle of the pitch is nonexistent. It was no surprise to see Paul Scholes come on in the 69th minute, but United were already behind by then.

That was the point the team started to play better. It proved to be too little, too late and the warning that Alex Ferguson spoke about before the match was not heeded: You can't go behind in every game and still expect to win. Norwich's defense was firm and they were good value for their victory.

Last week, United arrived at the summit of the table and all seemed rosy, but problems persist. The midfield lacks someone with true footballing charisma and the defenders are not drilled or disciplined enough. So far this season the attackers have dug United out of trouble. This week they didn't.

There is no such thing as a season without surprises and upsets. However, three defeats this early in the season is almost alarming. Ferguson's team may experience more results like this if a midfielder is not bought in January.

Follow Mark on www.twitter.com/markjpayne