A Skyfall season for Manchester United as Hernandez stars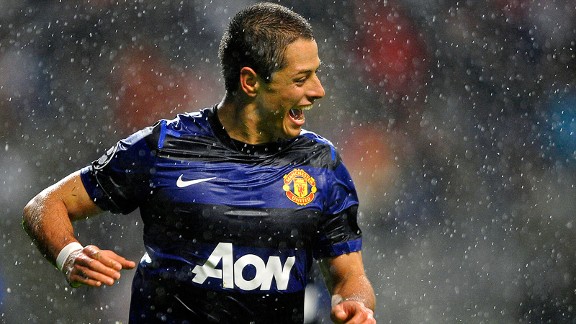 Miguel Riopa/AFP/Getty ImagesJavier Hernandez' goals and versatility are guiding Manchester United at a time when it's needed most.
I recently watched Skyfall, the latest Bond film, and I think it's as good as any that this series has produced. The central theme of the movie seems to be that James Bond (and the secret service for which he works) is being left behind by younger, smarter, savvier rivals. Double-Oh-Seven and his peers are part of an empire in decline. Can they strike back, or will they be left wistfully to reflect on former glories as the cold night of change draws in?

In 2010-11, Manchester United experienced a "Skyfall" season. It began with a Chelsea team in the ascendancy and a Manchester City side not far behind them; it ended with defeat in the UEFA Champions League Final and a record-breaking nineteenth English league championship, which itself included a record-equalling run of 29 league games without defeat.

On the face of it, everything seems like it was business as usual. But, just as Bond painfully but eventually prevailed in Skyfall, Manchester United's victory did not come without the most gruelling of efforts.

Manchester City had made acquisitions that identified them as an immediate title threat. They had bought Yaya Toure from Barcelona, Mario Balotelli from Internazionale and David Silva from Valencia. Meanwhile Chelsea, a perennial challenger, had added Ramires to their midfield from Benfica and made two signings midway through the season that many thought would sway the championship. These were David Luiz, the Brazil defender who arrived from Ramires' former club, and Fernando Torres, the 50 million pound capture from Liverpool who for two years or so could claim to be one of the finest handful of strikers on the planet.

The wolves, then, were at the door. Again, though, the statistics are misleading. Dimitar Berbatov was the Premier League's leading goalscorer with 20 goals, implying that he was a consistently dangerous attacking force for the Old Trafford side. Yet eight of those goals came in just two matches. It's not as if the strikes were flowing from elsewhere either. Paul Scholes, playing in a far deeper role than that in which he had started his career, managed one goal all year. What's more, Wayne Rooney suddenly held his debt-addled club to ransom, starting a round of public and acrimonious autumn negotiations that looked like they would end in his transfer to Manchester City.

But Manchester United still triumphed. This is partly because Sir Alex Ferguson made an unprecedented concession to Rooney's demands, allowing his star forward to emerge with an improved salary worth 180,000 pounds a week (or 300,000 pounds if we are to believe the more recent figures leaked to Daniel Taylor of The Guardian). It is also largely because like Bond in Skyfall, Ferguson fell back on older, simpler methodologies.

In recent years, Ferguson has relied upon a three-pronged attack, led by Cristiano Ronaldo but at whose head Carlos Tevez and Wayne Rooney were equally comfortable. Yet in the 2010-11 season, he put his faith in the relatively untested Mexican, Javier Hernandez. Hernandez, signed from Chivas for 7 million pounds that summer, was at once observed by Paul Scholes to be someone who would score 25 or so goals that season -- and Hernandez did not disappoint, netting a remarkable 20 times in 27 appearances. His strikes characterised United's season. For the most part they were not elegant but predatory, making the most of half-chances as his team went through a transition.

Hernandez' prolific form in his first year is probably why Ferguson has retained faith in him despite a difficult second season. He remembers well that when he was holed up with a determined group of bandits approaching, it was Chicharito who helped to bail him out. Hernandez has a unique skill set among Manchester United's forwards in that he is the purest of finishers, and it is his quiet pragmatism that will continue to prove invaluable this year.

Ferguson won't mind that too much. As Skyfall showed, sometimes winning beautifully is just a luxury.