Memory Lane: Star of Scholes emerges over France
The international break is upon us, and its pause brings time to reflect upon the ghosts of England games past. Perhaps brightest in the memory is a performance where this national team did not subside to a dull or agonising loss, but one where they summarily handled one of the world's leading sides. The protagonist that day, on 4 June 1997, was Paul Scholes, who on his full debut created one goal and scored another as England defeated Italy by two goals to nil. This victory would help England towards their ultimate triumph in Le Tournoi, a trophy also contested by France and Brazil.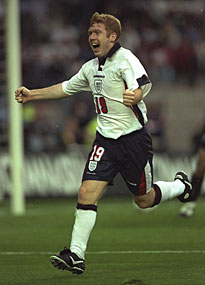 GettyImagesPaul Scholes celebrates his goal against Italy at Le Tournoi
Le Tournoi, and the form of Scholes during that pivotal game, are convenient metaphors for England's promise during that period. With Manchester United's sublime midfielder at their helm, there was a brief moment when they could - and did - beat anyone. The following summer, they would succumb on penalties to a very good Argentina team, having been reduced to ten men by the dismissal of David Beckham. But, in 1997, nothing but rightful excitement lay ahead.

How could it not? England, a football nation too often plagued by reckless dreams, for once had something to be legitimately giddy about. Though this was only a friendly match, the opposition's team still contained such formidable figures as Alessandro Nesta, Demetrio Albertini and Gianfranco Zola. Scholes, though, was indifferent to the pressure. After twenty-five minutes, having flicked the ball away from a chasing opponent, he looked up, fifteen yards within his own half and then flighted a pass of such exquisite pace and weight that Ian Wright scarcely had to check his stride before firing it into the net from the edge of the area.

That the pass travelled some fifty yards directly into Wright's path was, remarkably, not even the best thing about it: the truest joy here was how much it moved in the air, swerving sharply ten yards or so from right to left, so that Ciro Ferrara, sprinting desperately back to help his goalkeeper Peruzzi, lost sight of it as it soared through the air above him.

The look of bemusement on Ferrara's face was one that many of Scholes' adversaries would share in coming years. Fifteen minutes later Scholes, having shown the damage that he could do from deep, then demonstrated how finely he could finish. Surging forward, advancing onto a square ball from Ian Wright, he thrashed a low drive past Peruzzi, a beautiful fury of a strike that brought the England coaching staff from the bench in euphoria.

Scholes would go on, of course, to endure rather than enjoy his international career, retiring somewhat prematurely with 14 goals and 66 caps. Yet that afternoon in Nantes showed, quite tantalisingly, what might have been possible. It's also why, when watching the constant churn of international friendlies, it's worth paying close attention every now and then: since, if you're fortunate, a new star might suddenly slip into view.