Villa Park again the scene for Man Utd's redemption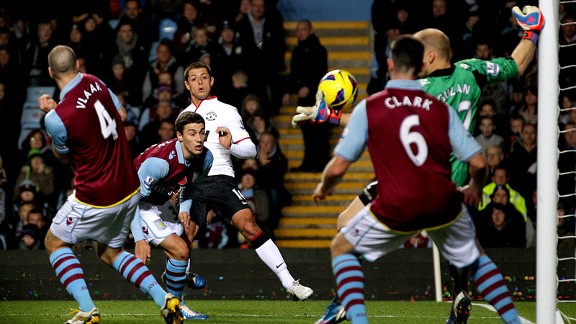 PA PhotosJavier Hernandez scores his side's second goal of the game
Well, well, well. For the second time in a week, Manchester United were outplayed by their hosts for about the first hour, only to recover strongly and win with a cluster of three goals. This time, their victims were Aston Villa, who will feel more distraught than Braga did in midweek.

- Hughes: Villa can see the positives, in time
- Payne: Busby's ethos alive in current batch
- Hero Hernandez sparks comeback
- Hernandez wants to claim hat-trick

Some might say that they should have expected it. After all, Manchester United have now avoided defeat in their past 19 visits to Villa Park. However, that would be unfair. The look on Paul Lambert's face in his postmatch interview was one of a man both drained and bemused. He had seen his team lose a two-goal lead, having played football of a fluency and tactical subtlety that belied their league position. He had seen Christian Benteke, his £7 million summer signing from Genk, humiliate the returning Chris Smalling on the left wing with a rousing show of strength before squaring for Andreas Weimann to sidefoot home. He had seen his midfield and attack combine with speed and elegance to create a second, gleefully taken opportunity for Weimann. He had even seen Stephen Ireland produce the form of his best Manchester City days, often pressing and harassing Paul Scholes into poor pass selection.

The words "Paul Scholes" and "poor pass selection" rarely occur in the same sentence, and apologies are necessary for those who have just made a double take. Yet this game assumed a familiar narrative for Manchester United this season. First, their two central midfielders at the base of a 4-2-3-1 formation were frequently overrun, hampered by a lack of mobility (in Scholes' case) and physicality (in the case of Michael Carrick). Secondly, they fell behind. Thirdly, they were redeemed by the supreme attacking instincts of their forward line, in this case Javier Hernandez, who helped himself to two, possibly three, goals in the second half (one of them was deflected into the net via the unfortunate Ron Vlaar).

Sir Alex Ferguson must take credit for a move of rare decisiveness. He withdrew Ashley Young, who was loudly derided each time that he received the ball, at halftime for Hernandez. Many managers would have given the former Villa winger a few minutes in the second half to redeem himself, but Ferguson does not readily do sentiment. Wayne Rooney was moved to the left wing, and though the home side were to score a second goal, Manchester United's attack had now assumed the keenest focus. From the moment that they drew level with more than 25 minutes to go, there was, as far as the home fans were concerned, a grim inevitability about it all. David De Gea beat away a firm goal-bound header to deny Weimann his hat trick, but other than that the pressure all came from the visitors.

Robin van Persie clattered the same spot on the crossbar with two efforts within in a minute - one a free header from eight yards, and the second a furious 30-yard drive that contained his anger at his previous miss - and, failing to score himself, he then curled in a free kick from which Hernandez headed the winner. The Mexican has scored eight goals in 13 appearances this season, a year in which he was perhaps threatened most of all by the arrival of Robin van Persie from Arsenal. According to statistics provided by Opta, he has now scored more away goals as a substitute, nine, than any other player in Premier League history.

This was a game whose atmosphere was thrilling but whose implications, in the bright and cold light of the following day, are somewhat troubling. There are only so many times that an attack can be called upon to reprieve a team that has failed in other areas. The suspicion is that Manchester United's approach may well suffice in the Premier League, but will again see them fall alarmingly short in Europe. In that vein, the shadow of the Europa Cup loss to Athletic Bilbao looms large.

It is perhaps churlish to adopt a discordant note at a time when United have again shown their sensational powers of recovery. Their celebrations at the end were those of a team who know that championships are built on such victories as these. As Saturday's events showed, we can never doubt how many extraordinary comebacks these players have in them.