Lethargic United gut-punched by Olympiakos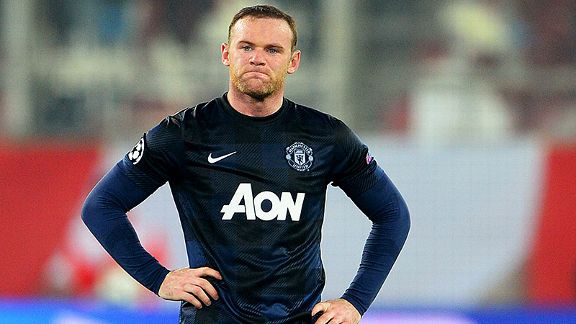 Michael Regan/Getty ImagesWayne Rooney and Manchester United left themselves plenty of work to do in the return leg versus Olympiakos.


Manchester United were probably looking forward to this fixture more than most. David Moyes seems to have enjoyed coaching in the UEFA Champions League more than domestic competition this season. Perhaps this is because the relative infrequency of games allows his reactive approach -- based upon a forensic deconstruction of his opponents' weaknesses -- the time he needs to be truly successful.

Indeed, Moyes' most impressive victory of the season was away in this competition, a 5-0 evisceration of hapless Bayer Leverkusen, but Greek champion Olympiakos always threatened to be a tougher proposition.

So it proved. Manchester United touched down in Piraeus with their hosts in a confident mood. Olympiakos, coached by Real Madrid legend Michel, were undefeated in their domestic league and had beaten Benfica to second place in their qualifying group. The lineup that Moyes selected was accordingly a cautious one, with Antonio Valencia and Ashley Young patrolling the wings and Adnan Januzaj nowhere in sight.

- Report: Olympiakos 2-0 Man United
- Brewin: Three things: Olympiakos vs. Man United

The problem with such caution, of course, is that it leaves you little way out when you fall behind, which Manchester United did shortly before halftime. Following 38 minutes in which they had kept Olympiakos not so comfortably at bay, they conceded to a smartly deflected drive, Alejandro Dominguez wrong-footing David de Gea by steering a wayward shot from Giannis Maniatis in the opposite direction. Until then, Moyes' team had produced a performance that was not dissimilar to many that his predecessor had presided over in Europe: calm, patient, conservative, effective.

The team was two banks of four, with Wayne Rooney some way behind Robin van Persie, who was so isolated that his first real opportunity of note arrived with 10 minutes to go. It was a right-wing cross from Chris Smalling, which he took superbly with one touch, nudged beyond a defender with his second, and then unaccountably thrashed clean over the bar from no more than 12 yards out. It had been that kind of night.

The odd thing about Manchester United's heavy emphasis on crossing -- which was thankfully nowhere near as pronounced as it has been in some games this season -- is that they are putting plenty of stock in a technique that they are not particularly good at. Smalling and Young both offered consistently inaccurate efforts from the flanks, and there was one attempt from Valencia halfway through the first half that was a metaphor for his disappointing performance. Having beaten his man on the right, he then looked up and slashed a centre high and far beyond the far post. There is not a reason why a player at this level, save a catastrophic shortage of confidence, should regularly be sending over balls such as these.

The second goal arrived at 54 minutes, with the away side having failed to begin the second half with anything like the required guile or urgency, and it came from Arsenal loan signing Joel Campbell. Given the sale of Kostas Mitroglou, their leading goal scorer, to Fulham, Olympiakos were considered to be lacking in goal threat, but the goal conjured by Campbell gave a lie to that assumption, and was painfully symbolic of Manchester United's decline.

Cutting in from the right flank, Campbell first nutmegged Michael Carrick and then used a flat-footed Rio Ferdinand as a screen beyond whom he curled a majestic left-footed strike. De Gea dived full-length to his right, but could not deny the Costa Rica forward. De Gea at times must feel as shell-shocked as did his compatriot Iker Casillas behind a ramshackle Real Madrid defence in the mid-2000s. He must ponder how much less protection Carrick and Ferdinand, essential to his team's championship triumph last year, have given him this season.

Carrick was wheeled out for the ITV post-match interview, and as Roy Keane noted, he looked only marginally more miserable than he had on the pitch, where he and Tom Cleverley had again failed to dictate matters to the opposition. Their use of the ball was unadventurous and tentative, and so much of what Moyes' team is doing at present is characterised, sadly, by both fear and a lack of imagination. There is so much about this side that is ill-fitting. How appropriate it was, then, that Shinji Kagawa and Danny Welbeck, substitutes brought on to change the game, were both introduced in positions that are far from their best.

What will be of concern to everyone at the club this evening was the ease with which Olympiakos handled the defending Premier League champions. There are two types of footballing humiliation: one is the loss by several goals, a type of thrashing that can be oddly cathartic, the other is a slow, painful subsidence, the equivalent of having your face gently, firmly pressed into the sand.

The latter was what Manchester United suffered tonight, and there is little or no comfort to be drawn from this result.