Time for Rooney and Man United to move forward
As the question was asked, Manchester United's executive vice chairman Ed Woodward took a sip of beer in the Mayfair pub previously owned by Madonna and Guy Ritchie.

Had he feared that Wayne Rooney would leave Old Trafford in the summer, when almost everybody, including his own teammates, believed that he would?

"No," replied Woodward as he put his glass down. "I wanted to click my fingers and for it to be Sept. 3. He's irreplaceable and phenomenal to watch."

It was late September, and Woodward was talking to United We Stand in the only media interview he has done to date. We spoke in a location near United's London headquarters, which is used as the nerve centre to recruit global sponsors.

Woodward didn't need to say the word "irreplaceable." It could easily have come back to haunt him and led to another problem in the early days of his job following a summer transfer window where he had been heavily criticised for United's lack of transfer activity and admitted that he had learned "about the media … and about not to put my head in my hands while being on television at a match."

"I learned about expectations being raised by leaks," he said. "We had a lot of stories going out there, some of which were wrong, some of which were right.

"It's not good for fans to read about us being linked to a top player and then for it not to happen. But it's an unfortunate reality when you're linked to 200 players, as we were this summer."

So to describe a player as irreplaceable was risky.

"But he is irreplaceable," argued Woodward of a player who, in 2013, had one of his weakest starts to a calendar year and one of his strongest finishes.

In January 2013, I was told by an impeccable source: "Wayne's biggest problem is getting used to not being the main man since the arrival of Robin [van Persie]."

It wasn't a criticism, more a statement of the reality. However, by the end of 2013, Rooney was the main man again.

- Okwonga: Rooney banishes dark forces
- Mata: A privilege to play with Rooney
- Hodgson backs Rooney to break Charlton's record

United's fans largely welcomed news of Rooney's new contract, which was announced on Friday but all but agreed to over a month ago.

That's when his teammates knew for sure that he was staying, the biggest anchor lodging while, all around, smaller ships considered pulling theirs up and moving on.

The news was welcomed even by the online majority who turned against Rooney in the early days of August and wanted him gone because he wanted to go (though, from Swansea on the first day of the season, it was only a minority of supporters at actual games).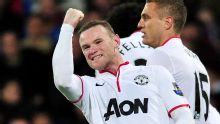 CARL COURT/AFP/Getty ImagesWayne Rooney celebrates his goal at Crystal Palace.
Why? Because United need Rooney. Fans would rather he had not twice actively considered leaving M16 but can focus instead on superb goals of the type he scored at Selhurst Park versus Crystal Palace on Saturday.

They pay to stand and watch. Rooney is paid to deliver, and he does. When he does, his negotiating power increases exponentially.

It wasn't only Woodward describing him as irreplaceable, which played up to that power but also showed the failings of some of those around him this season.

Unpalatable as it may seem to some, Rooney didn't see his future like a United fan because he is not a United fan. He is an outstanding professional footballer from Liverpool who supports Everton and can take his talents where he pleases.

Contract negotiations can be divisive, drawn out and unedifying for supporters, even for players who are hugely popular -- take Roy Keane in 1999, for example -- but Rooney said little, which was to his advantage. He simply let his football do the talking, and that was enough for fans.

The way he conducted himself over the close season wasn't met with absolute approval in the dressing room, as was made known to him when he objected to the woeful performance of United in September's 4-1 derby defeat when he was the team's only decent player.

Sprinkle testosterone, adrenaline and emotion on the two strong sides in an argument and you have the ingredients for a heated discussion.

There's a caveat and potential repercussions from Rooney's huge new deal that will make him the best-paid player in the Premier League.

Later in the interview with Woodward, I asked if he could understand the frustration of fans who saw him haggling over relatively small amounts of money for players while 70 million pounds is used to pay off the club's debt each year.

"I do," replied Woodward. "The decision about how much we're willing to spend isn't just mine; it's also the manager. We communicate; we're close.

"Spending an extraordinary amount on a player that is more than you should can have negative consequences -- on other players in the team and also on the player who has the burden of being the most expensive player in Manchester United's history.

"Was Fernando Torres worth 50 million pounds? Was Andy Carroll worth 35 million? If that deal had happened at the theoretical market value, maybe the weight of expectation wouldn't have been the same on both players and they wouldn't have acted the same."

Woodward was talking chiefly about Ander Herrera, the Athletic Bilbao midfielder that United were keen on signing last summer.

Rooney's circumstances are different. He is United's best-paid player by a distance, but he was anyway. Any green-eyed objectors in the dressing room must first raise their game significantly if they're to renegotiate their contracts from a position of strength as he did.

If enough of them do raise their game, United will start winning football matches more often and not sit in sixth place, 15 points off league leader Chelsea.

Saturday's solid, if less than spectacular, win in London must be built on when they play Greek champions Olympiakos in a febrile Piraeus atmosphere on Tuesday night in the first leg of the Champions League last 16.

The odds on United winning the Champions League are rightly long. David Moyes' team has beaten only one of the top eight sides in England this season, but the European form has been more encouraging.

November's 5-0 win at Leverkusen was United's biggest away from home in the competition since 1965, and only Real Madrid and Atletico can match their status as being unbeaten in the Champions League this term.

The draw could have been as unfortunate as last season, when United were paired with Real Madrid at the same stage, and it's perhaps to their advantage that expectations are low and that football isn't predictable.

How else can you explain Barcelona's defeat on Saturday and Atletico Madrid's 3-0 defeat at Osasuna? Or Liverpool winning the Champions League in 2005?

After a season of awful injuries and the ill-fortune of Nani's red card a year ago, United are due a slice of luck in Europe.

"As a winner," said Rooney in Piraeus ahead of Tuesday's match when he was asked what he hoped his legacy would be. Scoring winning goals in decisive Champions League matches is where winners form their legacy.