With Rooney signed, Man United must kick on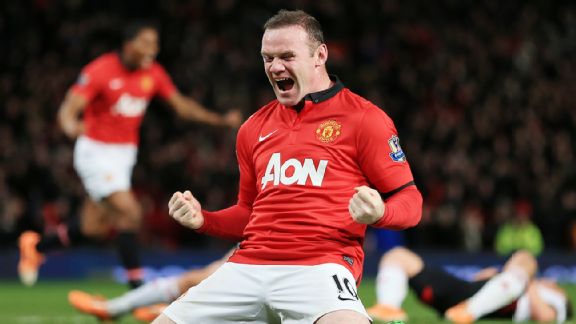 Simon Stacpoole/Getty ImagesWill Rooney's new deal inspire a consistent run of improved form?
So Wayne Rooney has now signed the deal that contracts him to Manchester United until 2019. Reports suggest it will earn him 300,000 pounds per week, which would make it the most expensive contract in England and a reflection of the influence he has on the country's biggest club.

As mentioned in a previous column, Rooney is just about worth it. His statistics as a goal scorer -- with 208, he is fourth on the club's all-time list -- and provider of assists make him arguably the most effective player of the past decade in the Premier League. The money involved is substantial, but if it keeps him away from direct rivals such as Chelsea, it is sound business.

- Rooney signs contract extension
- Brewin: Moyes stakes his reputation on Rooney
- Vote: Is Rooney worth it?

The news is a timely boon to United's travails as they head back to the playing field this weekend.

During his time with Everton, manager David Moyes' seasons followed a similar pattern: The Toffees would often falter early in a campaign before storming back in the final clutch of games.

The training regimen was often credited with this turnaround, as it apparently kept the players fitter. Could the same be about to happen at United?

"We trained and had some relaxation time as well, so it was good. You hope you get some benefit from it," the manager said of the team's recent trip to Dubai.

Earlier in the season, Rooney went on record as saying he "preferred" the new training system, which he said he remembered from Everton. It was more "intense," he added.

How United could do with a strong finish to the season and, not to make a point of it, but Moyes might appreciate a positive outcome to some of his management methodology, too. The fans of this great club are now contemplating how many seasons they will be out of the Champions League, as opposed to making the top four.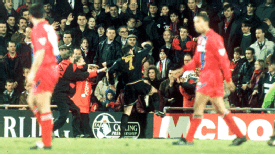 AllsportCantona's kick on a Crystal Palace fan is one of the most infamous incidents in English football history.
In the way this weekend stand Eric Cantona's favourite team: Crystal Palace. It's 19 years since the Frenchman became a scapegoat for his flying kick on a Eagles fan and, ahead of the Selhurst Park trip, there have been suggestions that United fans might wear Cantona masks at the game and that Palace fans are upset. In other news, a storm has formed in a teacup.

As identified in Philippe Auclair's excellent biography of the Frenchman "Cantona: The Rebel Who Would Be King," on the same Jan. 25 night as that infamous kung fu kick, two other serious incidents took place.

The first was Joe Kinnear, Newcastle United's recently departed director of football and then-Wimbledon manager, who verbally and physically assaulted referee Mike Riley.

The second saw Mark Bosnich fly into Jurgen Klinsmann's head -- knees first -- in a challenge that chills the blood on second viewing. But these things are forgotten now, and only Cantona's act of madness remains.

With that new contract finalised, Rooney, arguably United's current enfant terrible, could also be set for a new title: captain. Whispers about him taking the role are getting louder all the time, especially with the club's current leader, Nemanja Vidic, set to leave at the end of the season, reportedly for Inter Milan.

Vidic's departure also leaves the role of United "hard man" up for grabs. Every team needs one of these players; somebody who can put the boot in and disrupt the opposition before they get into a rhythm. Certainly, Rooney himself could be a candidate, but his role is more one of creator than destroyer.

Manager Tony Pulis has created his teams based around toughness and has done incredible work at Crystal Palace, overseeing seven wins in 14 games since he took charge, a run which has seen his team rise to 15th in the table.

Nonetheless, his teams have a history of losing to United by cricket scores. While with Stoke, for example, he suffered 5-0, 4-0 and 4-2 reverses. A result like that on Saturday would suit United just fine.

"David is a top manager and a top bloke," Pulis said on Friday of Moyes. "If [United] stick with him -- and I'm sure they will -- he will be successful."

The Palace manager joins a chorus that has included Arsenal's Arsene Wenger, Chelsea's Jose Mourinho, Hull City's Steve Bruce and others. It is clear the United manager certainly has the support of his Premier League colleagues.

"I just hope their luck doesn't change on Saturday," Pulis added. On this point, I suspect Moyes might disagree. It is hoped that Rooney and the rest of United's rested players are rejuvenated and will get the job done this weekend.

If not, that trip to the sun will look like an act of folly for an underachieving squad. Again, United must finish the season strongly.