A harsh reminder for Moyes at Arsenal-Bayern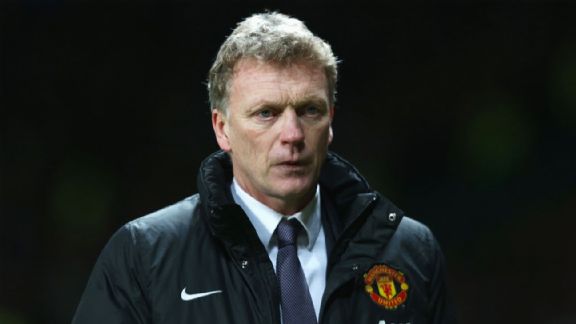 John Peters/Man Utd/Getty ImagesDavid Moyes cannot afford another summer transfer window of near-misses at Manchester United.
David Moyes watched Bayern Munich prise Arsenal apart Wednesday night in the UEFA Champions League. The Germans' 2-0 victory was driven by a performance from Toni Kroos that was effectively a 90-minute contract renegotiation. The 24-year-old midfielder, linked with Old Trafford following his failure so far to secure financial parity with some of the higher earners in the Bayern squad, passed the ball successfully almost 150 times and scored a spectacular opener. On Wednesday night's evidence, Kroos is highly unlikely to be leaving Munich anytime soon.

- Payne: Only one team in Manchester
- Report: United positive over Rooney deal

Moyes, who makes a point of going to watch his transfer targets in person, was presumably at the Emirates to see Kroos, though he can't have learned much more about this player's widely admired brand of brilliance. Alongside Kroos in that midfield was Thiago, whose performance on the evening was not particularly distinguished, but he has been a significant contributor to Pep Guardiola's side this season. And, in Thiago's presence in such illustrious company, Moyes may have felt some sense of regret. Thiago, the Spain under-21 international, is precisely the sort of orchestrator who has been missing from Manchester United's play this season. There is a wide divergence of views as to just how close Thiago was to joining before Moyes arrived at the club, but it cannot be easy knowing that the only midfield reinforcement made this summer was Marouane Fellaini -- a willing foot soldier, not a wily general.

Moyes will have witnessed a ruthless demonstration of ball retention, Bayern making 95 percent of their passes and hogging 78.8 percent of possession, reveling in the extra space after Arsenal had lost Wojciech Szczesny for a penalty-area foul on Arjen Robben. But what may have been clearest of all to the Manchester United manager was Arsenal's failure to strengthen in the January transfer window. For the first half-hour before their goalkeeper's red card, during which time Mesut Ozil's spot-kick was swatted aside by a grateful Manuel Neuer, Arsenal were the superior team. Perhaps the only thing between them and a deserved upset may have been an elite forward, and the recent failure to recruit Schalke's Julian Draxler was thrown into the sharpest possible focus.

It might sound odd to term a transfer window where Manchester United spent 37 million pounds as a disappointment, but from one vantage point, that is exactly what it was. Juan Mata's addition to the squad was an extremely welcome one, given that the Spain international is one of the world's finest playmakers, but Moyes arguably strengthened his squad in the one area where things were actually pretty healthy. After all, his central attackers, before Mata's arrival, included Wayne Rooney, Danny Welbeck, Javier Hernandez, Robin van Persie, Adnan Januzaj and Shinji Kagawa. Elsewhere, as has been widely discussed, the problems are manifold.

This is a far bigger issue for Moyes than it is for Wenger. Arsenal's January transfer business was below par, but ultimately the Londoners are still only a point behind Chelsea for the Premier League lead. Manchester United, on the other hand, have a struggle on their hands to secure sixth place. And this is what is odd about the current situation: Following the unmitigated farce that was the final day of the summer transfer window, there seems to have been little urgency on any business other than the Mata deal. The implication here is that the players in the current squad would be sufficient for him to last out the season, which was either an overestimation of their ability under Moyes, or a tacit admission that this season was being quietly written off. With the board having awarded Moyes a six-year contract only this summer, patience was the watchword.

Patience, of course, is all very well until your season hangs in the balance, as it did Wednesday night for Arsenal. It's important to remember how many of football's greatest dynasties are built upon moments of desperate genius from players of rare pedigree. The most immediate example of that is Andres Iniesta's last-minute equaliser against Chelsea in 2009, which took Barcelona into the UEFA Champions League final against Manchester United and paved the way for four years of domination.

In Moyes' case, an outstanding acquisition or two in midfield this summer or this January could have seen his team move swiftly up alongside Tottenham Hotspur, beyond Everton. Yet the news that Porto's Fernando was a target who Manchester United briefly assessed, and then summarily dismissed, is a cause for some concern. The defensive midfielder, who flourished under Andre Villas-Boas, is precisely the kind of player whom Moyes needed, his quality evidenced by the fact that Manchester City continue their pursuit of him. Eyes will now turn to the next summer transfer market, with Manchester United's rebuilding process at least one window behind schedule. It is to be hoped that, come late August, there is not the same pall of disappointment.