Only one team in Manchester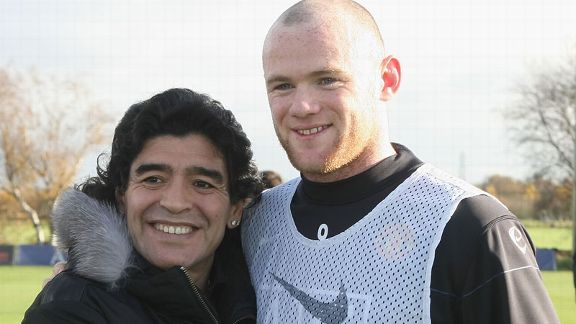 EmpicsDiego Maradona meets Wayne Rooney back in 2010
The timing could not have been any better. Just two days after Manuel Pellegrini announced, with some thrust, that Manchester City were now the biggest team in Manchester, the club were utterly dismantled by Barcelona. United have never lost a home game against the Catalans by such a margin; City's European hopes are now all but extinguished.

Meanwhile, Manchester United's squad met Diego Maradona on their warm-weather retreat in Dubai. There are a series of photos featuring the squad grinning widely as a slightly rough-looking Maradona gives them a hug. Back in Manchester, their neighbours were battling it out with the team of the era and losing. If this was a battle for prestige, United have just shaded it this week.

A meeting with the great No. 10 has mixed precedent for United. The last time El Diego was in touch with United was just before the 2010 World Cup in South Africa. Maradona was Argentina coach at the time and encouraged Carlos Tevez to leave United for more playing time elsewhere. He did.

It seems unlikely that the Argentine legend would have been dishing out advice this time -- especially as there are none of his fellow countrymen in the first-team anymore -- but it looked like he was keeping company with a happy squad. United's players have seemed glum more often than not this term and an improvement in their mood could well precede an improvement in their form.

One man making all the right noises is Juan Mata. The Spaniard was interviewed by French TV channel Canal Plus this week and waxed lyrical about his new home. "There are several beautiful places in this city," he said, before introducing David de Gea and making it clear the goalkeeper had convinced him to sign for the club.

With Wayne Rooney set to sign a new contract in the near future, that would confirm the presence of at least three world-class players in the squad next season. United seem almost certain to miss out on the Champions League now -- unless they win in Lisbon in May -- so it is reassuring to know those three will still be around.

Reports elsewhere suggest that Eliaquim Mangala, a central defender at Porto who nearly joined Manchester City in January transfer window, is being scouted by United as well. The spine of next season's team is beginning to emerge. And Rooney may well be its captain.

There will be those in the supporter base who will never forgive Rooney for forcing the issue of his contract with transfer threats on not one, but two occasions. However, he is far from alone in doing so. Luminaries from the club's past have also tested the resolve of United's accountants in a similar fashion. Roy Keane and Rio Ferdinand both pushed negotiations to the limit and both were rewarded with wage-structure-breaking record deals.

Although it is airbrushed out of history now, when Ryan Giggs was set for a new deal in the late 1990s, stories appeared about interest from Juventus. Those stories did not come from Turin.

Rooney may well be tainted in the eyes of some fans because he is Liverpudlian. This would be a slightly cross-eyed way to look at a man who has, for better or worse, been an incredible servant to the football club. Not for the first time, it should be stated here that he has been the season's best player by distance and has stood up to be counted when others have shrunk away.

Besides, Barcelona's Dani Alves said this week that he had only heard of one team in Manchester until recently. Whether or not that team is competing at the highest table next year or not, everybody knows who they are. I suspect there will be more red shirts on display than blue ones in Manchester today. The same as usual.

Follow Mark on Twitter @markjpayne.