New Rooney deal is pragmatism, not progress
Wayne Rooney is about to sign a four-and-a-half-year contract, worth £300,000 per week, yet it is news that few Manchester United fans will greet with anything approaching ecstasy.

For many, he represents nothing more than a mercenary who twice in recent years has asked to leave the club -- once, most controversially, with the intention of joining Manchester City, a move that would have produced an almost unthinkable level of fury.

From a footballing standpoint, too, the wisdom of this deal is questionable. At 28, Rooney has arguably already peaked, and Manchester United will now preside over his gradual decline. It must be one of the few times in recent history when a football club has renewed the contract, for significantly more money, of a player who was past his very best.

Sir Alex Ferguson, by contrast, made a habit of selling players before their prime if he felt that they constituted a dressing-room threat. This is an approach to which Jaap Stam, David Beckham and Ruud van Nistelrooy can readily and sorely attest.

Having said that, contract renewals can be a tremendous success. Some might argue that it is important to retain faith in players, given that the most intelligent ones can adapt. Paul Scholes and Ryan Giggs made this their trademark, though the wages of both were far less than those of Rooney.

Steven Gerrard, having previously played as a box-to-box midfielder and then a second striker, has adapted -- mostly to great effect -- to a holding role in front of his defence. From there, Gerrard's composed distribution has helped to fuel one of the most thrilling forward lines currently in European football.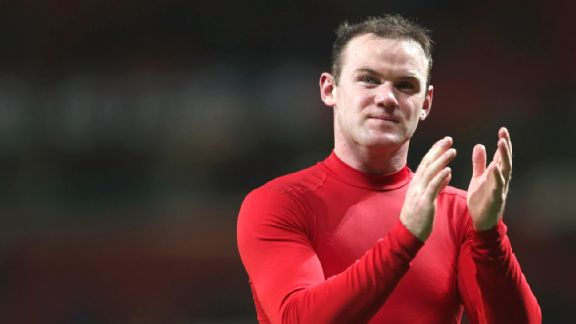 John Peters/Getty ImagesWayne Rooney deserves his new deal to some degree, but is it the right move for Manchester United?
We can look, too, at the example of one of Gerrard's longtime companions in the England midfield, Frank Lampard. Like Gerrard, Lampard evolved into a player more content to sit deep and screen the defence and as recently as 2012 made decisive contributions for Chelsea in the late stages of the UEFA Champions League; in the semifinal, against Barcelona, he provided an outstanding assist in the Camp Nou for Ramires, and after a disciplined defensive performance against Bayern Munich in the final, he went on to score in the shootout.

The following season, Lampard would play a starring role in his club's capture of the Europa Cup, captaining it to a 2-1 victory over Benfica during which he shuddered the crossbar from outside the area. It is worth noting that Lampard was on half of Rooney's proposed new salary, and so the England forward must be envisaged as a regular starter for years to come.

Whether Rooney has the same desire or capability as Lampard to change his game to such an extent remains to be seen. Yet it is hard, given his frequent struggles with conditioning, to see Rooney leading the line or as a top-level number 10 at the age of 32, and so we should expect to see increasingly frequent outings from him in midfield. Rooney's impressive passing range has been in evidence this season, most eye-catching of all against Aston Villa, but his positional sense remains somewhat suspect against elite opposition.

Yet the huge investment demands that he learn on the job. If he is to be deployed deeper, then the templates of Juan Roman Riquelme and Andrea Pirlo are two from which he could usefully work. Both players are not very gifted from a defensive point of view but are superb at taking the ball from their centre-backs and spreading the play with cross-field passes.

For such an approach truly to work, Rooney would have to be accompanied by two bustling and highly mobile central midfielders in the style of Juventus' Arturo Vidal and Claudio Marchisio. Intriguingly, this 4-3-3 was the shape that David Moyes, so often a dogged disciple of 4-4-2, chose for the Premier League win away at Aston Villa.

In further defence of the club's decision, this is the most pragmatic of deals. Rooney's work ethic this year has been notable, as has his productivity. Few forwards in England, let alone Europe, are such a bountiful source of goals and assists.

The thinking must be that, with Rooney in the side, the team can return more swiftly to a regular berth in the UEFA Champions League. From that purely financial standpoint, Rooney's new contract has a compelling logic. If Rooney were to be released by Manchester United, they would then be tasked with acquiring a forward of similar gifts. But players like Sergio Aguero come along only once every few years.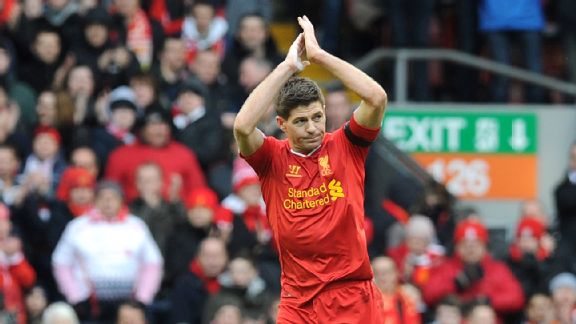 AllsportSteven Gerrard has shown impressive versatility at Liverpool. Can Rooney do the same as he gets older?
It's difficult to think, though, that the club hasn't shown a certain lack of imagination here. Looking across at Borussia Dortmund, who have replaced exceptional attackers each season while retaining an impressive continuity of success, it makes one wonder at times whether the club might not benefit from a continental-style coaching structure. A clear vision of transfer targets for the next few years might help to identify a regular stream of attacking talents, several of whom would be more than happy with a fraction of Rooney's extraordinary wage bill. For a combined outlay of £300,000 per week, the club could conceivably have acquired three or four players of Champions League quality in both attack and midfield.

Ironically, the approach that Manchester United have taken by offering Rooney a renewal is perhaps a demonstration of short-termism. For this season and next, it is unlikely that Manchester City and Chelsea see the Old Trafford club as an urgent threat. The argument that Rooney would be strengthening a direct competitor by moving to Chelsea does not therefore ring true.

The expiry of Rooney's contract marked an opportunity for Manchester United to allocate funds elsewhere and take a truly progressive approach toward rebuilding the squad. In keeping Rooney, however, they have chosen the path of pragmatism. That, on balance, can be considered something of a shame.