Buttner the latest to fall foul of anti-social online attitudes
Alex Buttner is not as bright as the lurid fruit cocktail with which he posted himself on Instagram at the weekend from a beach in Dubai where Manchester United have spent five days training.

The 25-year-old Dutch full-back is active on social media, where he has the air of a competition winner who's bagged a year at Manchester United. Pictures with Robin Van Persie? Many. Ronaldo? Got. Maradona? Yep.

His brothers have their own accounts full of pictures with players and Sir Alex Ferguson and of the bling of new wealth: watches, designer clothes (some complete with their price tags) and cars.

To them, their brother is living the dream and they seem so excited that they want to tell the world. So they do.

To others, such a display is vulgar, envy-invoking and also rash given Buttner has failed to make an impact at Old Trafford since signing from Vitesse of Arnhem in 2012.

- Payne: Could Rene return?
- Man United support safe standing
- New Rooney deal denied

In Rio Ferdinand, Buttner has an admirer.

"He's got a bit of spunk about him," said Ferdinand when I asked him about Buttner at the start of the season.

"He was feeling his way into the squad last season, but he's come back with more personality this year.

"The only problem he's got is that he's got Pat (Evra) in front of him and he plays every game. It will be difficult for him to get minutes."

If Buttner was talented enough to play at United, he'd likely have had more than the 575 minutes he has managed in all competitions (including one league start) this season.

Finding a left-back is the club's priority as they've been too over reliant on Evra. Buttner's United future isn't as bright as that cocktail either.

Buttner is a fan of Ferdinand. He wears the defender's company's official caps and admires his "branding" as a social media impresario. Buttner's brothers are Ferdinand fans too: one showed off his latest tattoo and new cap two weeks ago.

Ferdinand has little to prove, having excelled at the top level for years. Buttner, however, does. Fans are still forming opinions about him.

Had the Dutchman posted that picture a year ago, when United were a dozen points clear at the top of the table, fans would have laughed it off. He was doing little wrong after all, just having a drink on a beach as he relaxed following training.

However, what positives could be gained from posting the picture when the people who pay his wages are in varying degrees of fury about the club's performances? And freezing in rain-soaked England?

Another United player chose not to do a public appearance at a recent event in Manchester because he felt he couldn't face the fans. He wasn't being awkward, he just felt guilty and ashamed, like he'd let them down.

Like his old manager, who hated social media, he's not one for it, but some of his teammates are. And the consequences can be as ugly as the trolls you see hauled up in court from their bedrooms.

Tom Cleverley's Twitter account, with 1.5 million followers, was closed last week. Cleverley is a nice lad from a good family. I saw his debut in Pretoria in 2008 and have interviewed him several times since. He once asked me if it was possible to get a copy of the programme from his debut.

Another time, he told how he'd been playing snooker regularly at a working men's club close to his house when a member came up to him.

"He had no idea what I do for a living and said: 'You're pretty decent, you, do you fancy playing with the snooker team on a Tuesday night?'" explained Cleverley. "I laughed, said thanks and told him that I had other commitments."

I've spoken to every manager Cleverley has played under, from Roberto Martinez to Malky Mackay and all gave glowing reports of the Yorkshireman.

Yet his perceived self-branding hasn't gone down well with fans and sends out mixed messages. There was nothing wrong is saying that he hoped to emulate his hero, David Beckham, but was it wise to launch a slick lifestyle website when he wasn't out of single figures for United appearances?

The other way to look at it is that the young, handsome Manchester United and England midfielder was simply doing things the professional way with serious commercial "partners" before he got consumed by fame.

Better that, than what happens with some players. When Ronaldinho played for Barcelona, the right figure would get the world's best player at the time to come and open your takeaway, where he'd stay a while and take a few drinks from everyone who wanted to be his mate. It wasn't a professional environment for football's finest talent.

Cleverley was already being looked after by a polished management agency and signed lucrative personal deals, but it was too much too soon for many United fans who named him 'the Brand'. It wasn't a compliment. They felt he needed to walk before he started running.

Cleverley countered and said he was free to do as he wished in his spare time if it didn't detract from his football. He was exceptional in training and barely drank alcohol in the season. Surely it was better to pose for photos than be down the bookmakers or pub like footballers of yore.

The criticisms became far more vociferous this season as Cleverley was one of the several scapegoats in an underperforming United side. Another (and with more justification because of his diving), Ashley Young, chose to say little and knuckle down. It's half paying off.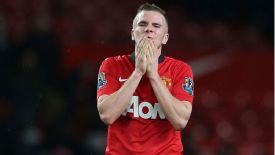 AllsportCleverley has struggled to win Man United fans over.
Cleverley did an interview last week where he gave his side of the story and said he wasn't always appreciated. It was fair comment. Like Buttner's picture though, the timing could have been better, coming as it did after another shocking result for United. The abuse that followed led to the closure of his Twitter account.

And what of Darron Gibson, who didn't have a website. When I watched him play for United, I'd occasionally have to duck for cover in my seat 32 rows from the front of the pitch when he shot, but I thought "good player, probably not good enough to play central midfield for Manchester United". I interviewed him too and he was fine.

Was the abuse he received warranted when he took to Twitter from a Gelsenkirchen hotel room in 2011? He lasted hours before deleting his account.

But why? Because he wasn't quite good enough to play for one of the best teams in the world? His life has been a success, he's come through the ranks, defied the odds and made it at the top level as a professional footballer earning 50,000 pounds per week.

Is it the classic British envy which leads to the abuse, of which Morrissey sang: "We hate it when our friends become successful and if they're northern than makes thing even worse"? Or should footballers have a thick skin as well as good technical ability?

Fans are mightily fickle if nothing else. The biggest cheer at Old Trafford in January 2012 came when news seeped through that Gibson, who had since joined Everton (and rejoined Twitter), had scored against Manchester City.

It's a shame. Fans complain that footballers are more distant than ever, yet when they try to connect via social media they're roundly abused both by rival fans and their own. Is that fair game; a price to pay for fame?

Or is it a symptom of the pathetic troll culture where green-eyed monsters hiding behind pseudonyms sling abuse which they'd never say in real life?

I've witnessed fans come face-to-face with players and cringed with how they crumble and are nothing but nice. They'll then utter something like: "I wasn't his biggest fan but he's a legend."

Is the bar set so low that a human being only needs to utter a few platitudes before he's considered a "legend"?

Fans have always vented their frustrations at every level and social media is just another outlet, with the anonymity available giving the abuser a mask to hide behind.

When the Manchester Evening News insisted that comments to their stories required a genuine ID linked to Facebook, the number of (usually negative) comments dropped by 90 percent. In Scotland, a newspaper closed their comments section because of the endless abuse.

It's not just online either, though. Football is often used as an emotional release and an excuse to vent life's frustrations. A former Man United goalkeeper stopped his family watching him play for Bradford after a fan tried to fight. With his wife.

At a lower level, I once watched my brother, then a semi-professional striker in England's sixth division, get abuse. He was the league's third top scorer in a struggling side and showing form which would later see him move to a bigger club.

In one game at Stalybridge Celtic, a gnarled middle-aged man shared the crush barrier to my left. He had an axe to grind with my brother and the verbal onslaught he unleashed towards the object of his rage was brutal.

It was if he'd been caged all week and let out of the house to blow off steam for two hours. He was entitled to his opinion, but the game was six minutes old.

One of said brother's closest friends is the coach at a top-flight English rugby union team. I asked whether he and his players go online.

"I don't because I'm emotive and would react too quickly," he said. "But rugby union is different to football. With our fans, they'd say to me 'would you consider replacing one player for another?' In football it can be far more abusive."

So why go on social media at all? A couple of Manchester United players have accounts, but don't reveal their identity. They follow whoever interests them.

They can't be bothered with the hassle that comes from being honest and upfront. Can you blame them?