After walking away, could Rene return?
As Manchester United's players and staff sun themselves in Dubai this week, they will be unable to avoid moments of contemplation about how this season has unfolded. Whilst change is necessary and indeed planned, fate has presented manager David Moyes with an opportunity he would be wise to consider.

Among the numerous criticisms United have attracted recently, the form of some of the senior pros, as well as the tactics employed, have topped the list. In many ways these two are linked. It seems that some of the old heads don't like the instructions they are being given and perhaps are not putting in the efforts they might have done under Sir Alex Ferguson.

The clear out of playing staff is already underway. Anderson has moved to Fiorentina and Nemanja Vidic announced his abdication of the captain's armband five months in advance of his contract ending. The club are adamant that big signings will be made in the summer and the acquisition of Juan Mata suggests this may be the case.

The way these new players are set out to play will be a matter of much scrutiny. Moyes has the unenviable task of having his every move scrutinised and, often, torn apart by those with the benefit of hindsight. That he should have been so criticised for United delivering so many crosses -- 81 -- against Fulham is only slightly justified. A lot of it was over the top.

- Duerden: Asian followers' faith is tested
- Rooney deal report denied

Among the changes Moyes made after taking charge last summer was to relieve Mike Phelan, Eric Steele and Rene Meulensteen of their coaching roles at the club. The new manager stated at the time he had wanted to keep Meulensteen but the Dutch coach harboured ambitions of management and wanted to follow those. He has had a rocky road since.

Meulensteen's first stop was FC Anzhi Makhachkala, where he was manager for only 16 days. This was reportedly down to financial changes at the club but was nevertheless an eyebrow-raisingly short tenure. As this is written, his status at Fulham, where his time as manager lasted just 76 days, is uncertain following the appointment of Felix Magath. Lightning appears to be about to strike for a second time.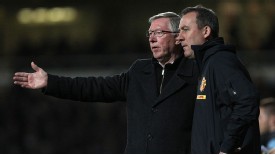 GettyImagesRene Meulensteen was a trusted member of Sir Alex Ferguson's staff.
Meulensteen may or may not be to everybody's tastes as a manager, but he is an undeniably talented coach. Players have long praised the intelligence and variety that is to be found in his training sessions. He is familiar with Manchester United and now out of work. United are struggling tactically. Could these things fit together? There is a historical precedent.

In 2003-04, United finished a hefty 15 points behind the unbeaten champions Arsenal. Whilst that Arsene Wenger vintage was certainly one of the greatest teams this country has seen, United's challenge was unimpressive and certainly below par for the team who had topped the table in the previous season.

The big change at United the summer before had been the departure of David Beckham to Real Madrid. However, it was not only the England captain who departed to the Spanish capital: Ferguson's second-in-command, Carlos Queiroz, was tempted away as manager. The lure of coaching Ronaldo, Figo and Zinedine Zidane was an unmissable opportunity for the man who had been tasked with reshaping United's tactical approach in Europe.

In 2004-05, Jose Mourinho arrived at Chelsea with Roman Abramovich's cheque book in hand and set about breaking records in the English top flight. Carlos Queiroz also returned to Manchester and set about rebuilding the team with Ferguson.

Progress was not immediate: United finished third for the second season in succession. It was the club's worst spell for more than a decade and the fans were bemoaning the tactics in the stands. Sound familiar at all?

As the 2005-06 season came to a close, United had shown signs of improvement. They finished as runners-up, only eight points behind an imperious Chelsea, and Queiroz's work with Cristiano Ronaldo was beginning to bear fruit.

United won the next three titles and capped it all by winning the Champions League again in 2008. By taking the time to rebuild, and having the humility to bring back an old coach, Ferguson found the winning formula again.

The byline next to United's current jaunt in the Middle East reads "warm weather training." Whilst David Moyes might get the players to have a few runs between tanning sessions, a phone call to Meulensteen might not go amiss, too. His return might even get some of those senior pros playing with pride again, too.