Is there worse to come at Old Trafford?
As a naive young Manchester United supporter, I assumed that the players whom I supported in the first team were all close mates who did everything together, including playing football.

- Payne: United plumb tactical depths vs. Fulham
- Jolly: Burn extinguishes United firepower

I assumed that they all got on and lived as one happy family and that they were all fans of the club who considered it a dream to play for United.

Then I grew up and met the players as a journalist, and a different picture began to emerge. Some were mates, no doubt. The lads who played in the class of '92 -- David Beckham, Gary Neville, Paul Scholes, etc. -- had much in common and remain friends.

Others, such as Gordon McQueen and Bryan Robson, became lifelong friends after meeting at the club in the 1980s.

But there were plenty of faces who didn't fit, and there was much evidence of cliques.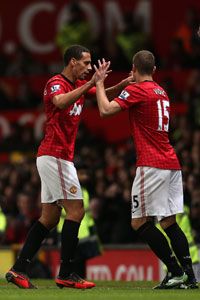 GettyImagesNemanja Vidic has comfortably outperformed long-time defensive partner Rio Ferdinand this season.
Was goalkeeper Gary Bailey, who played for the club between 1978 and '87, for instance, bullied because his newspaper of choice on the team bus wasn't a tabloid? Or because he was "middle class"? Or because he didn't drink eight pints of beer on a night out?

I've interviewed hundreds of footballers, many of them former United players, and can count on the fingers of one hand the number who have left the club amicably on their own terms.

The usual deal is that they get told they're not being offered the contract that they're after and move on soon after, resentful because the manager did not see things as they did.

They are angry for a year or three, maybe even longer. For example, a couple of players from the 1960s refuse to have anything to do with their former life as United players. They don't like football and there's much not to like.

It's an unedifying industry where subjective opinions make or break careers, but while the start of a career is often beautiful like a flower in bloom, the wilting end is not.

For different reasons, Sir Alex Ferguson let Mark Hughes, Paul Ince and Andrei Kanchelskis leave in the summer of 1995. It was a move for which he was castigated, even by his own fans.

All were senior pros, top-level players who all left in indignation, although they were professional enough to limit their frustrations to raised eyebrows or private conversations.

David Moyes faces similar issues. He has to deal with even better players who are on the way out.

Like Rio Ferdinand, whose status was so high last summer that he was one of three or four players Moyes chose to visit in person before taking the freshly wallpapered office -- Ferguson insisted that evidence of his time was cleared away -- at Carrington, United's training ground.

The end is unlikely to be pretty for Ferdinand at Old Trafford, and he may be unhappy with individuals, if not the entire club. But when the dust has settled, he'll be remembered as probably the greatest defender in United's history. He has been that good.

Nemanja Vidic is another player with whom Moyes sought a meeting; upon taking over as manager, he flew to Serbia to meet the club captain. The relationship between the two could have been better since.

Vidic isn't happy and has known he's been leaving for a while. That news was made public at the curious hour of midnight Thursday.

Fans did not urge him to stay. They can largely see that this moment has been coming, that he is not quite the colossus strong enough to repel an invading army back over the River Drina by himself.

However, Vidic is a club legend, and that's why his song was sung in Sunday's 2-2 draw vs. Fulham, the 13th league game in which the champions have fallen behind this season. Eight of those have ended in defeat.

There are two sides of the story, but Vidic hasn't been the Vidic whom people know around the club. People are often not themselves when they're not happy, though he's still smashing people in tackles in training.

Vidic will not remember his final season at Old Trafford as the happiest in his life. Having said that, no United players will remember this one with much enthusiasm.

He'll leave and will hopefully get the contract he is after and -- though he'll say different publicly -- he too will privately fume at how it all ended.

Like Ferdinand, he'll be remembered as one of the very best defenders -- some would even say he's the best. He has been that good. As the two grow older, they'll remember the good times more than the bad.

Patrice Evra will be the same. United's failure to find an able deputy means that he has put himself through more games than should be realistically expected of any professional player. He's another hero of Moscow, a player who reached the top of his trade and has a European Cup winners' medal to show for it.

Ryan Giggs is another, though the Internet doesn't have enough space to list all his achievements. Taking into account his talent and trophies, his longevity and loyalty, he is the greatest player in Manchester United's history.

Six years on, Moscow seems even further in the past right now, but several players from that team are still around. Not for long, though, for most of them.

Moyes is charged with making the changes and in doing so is coming up against some big names and egos. How they react varies. When the word "mutual" is used, it's like the man who claims that splitting with his girlfriend was mutual. It wasn't -- he was dumped.

The players know they are under contract and have to respect that. So they usually put on their big headphones and escape into their own little world as they contemplate their future while not being outright rude to work colleagues.

Players, who were used to Ferguson and don't like the way it is, largely don't like the way it is because they have had bad news or it is coming their way.

No player likes to be dropped and they'll find issue with the peripherals, like the manner in which it happens. It's damaging to an ego to be told after years, "you're not needed tomorrow" in front of every player.

To Moyes, he's being decisive like his predecessor. He's taking a risk and winners take risks. He's given everyone a chance and is now about to make substantial changes.

It's probable that eight to 10 players who were with him at the start of this season won't be with him at the start of next. Furthermore, six to eight players who were not, will be.

Moyes will get money to spend, and it's going to be a busy summer for United. Given the performances this season, it needs to be, though it remains baffling why the form of talented players has dropped so much.

So Moyes is left with a state in flux, where the senior players from whom others (and him) could have taken a lead are on their way out or disaffected.

Moyes has a captain who is going but will remain captain, and he's got other players whom he doesn't consider to be a positive influence around the training ground every single day. Working conditions could be much, much better.

It's not just the senior players, either. There have been run-ins with others who are not happy with the manager. Either they'll grow to respect him or they won't need to as they will not be at United. They'll have their say when they see fit.

Through all this, Moyes has to smile publicly, often with gritted teeth and while pretending that things are far better than they actually are and that there are no issues with players when there are or have been.

Among many other jobs, he is learning to be a public relations man of an institution. It's not easy, but he has so far enjoyed support from the majority of match-going fans.

With the dire results -- three wins and five defeats from nine games so far this year (one of the wins saw elimination from the Capital One Cup) -- the mood is changing among those fans; the staunch support is starting to slip.

United now have four consecutive away games, starting with Arsenal on Wednesday, as well as Liverpool and Manchester City at home before March is over.

The circumstances don't suggest that United will get anything from those games, but fans need something to give them hope.

Was Fulham the darkest hour before dawn or is there worse to come?