Utd plumb tactical depths as Fulham earn point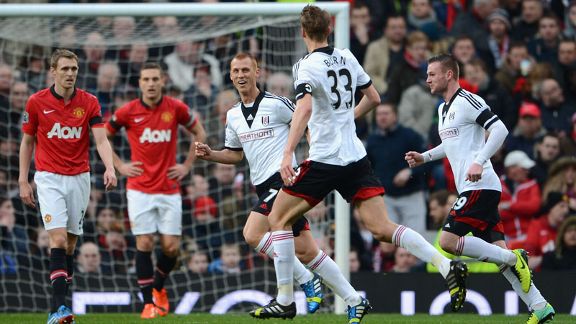 GettyImagesSteve Sidwell wheels away after handing Fulham a 1-0 lead at United.
Manchester United can't really be this bad. Or perhaps Sir Alex Ferguson was even better than we thought.

This 2-2 draw with bottom club Fulham did nothing to mask United's failings, and there are many of them. They are not making the most of the players they have and trailed for more than an hour at Old Trafford. As Fulham scored their second at the death, heads fell into hands all around the stadium.

Arsenal will surely be a tougher prospect on Wednesday, and morale at United could not be lower. Whatever United do at the moment doesn't seem to work. There was a glorious period of 10 minutes toward the end of Sunday's game after the home side had attained the lead, but it was all too short-lived. This was another afternoon of purgatory for those in attendance.

- Fulham heap more misery on United

United played with great intensity from the start of the match in what looked like a conventional 4-4-2 formation. Juan Mata found himself wide right while Ashley Young occupied the opposite berth with Darren Fletcher and Michael Carrick completing a 2009 tribute midfield pairing.

It has been another week of mixed PR for United, with captain Nemanja Vidic quitting and defensive partner Rio Ferdinand posting suggestively about managerial sackings on Twitter. Vidic started and by all accounts delivered the shift of a proud professional. However, Fulham had scored only once in the past five games and were not expected to provide the stiffest of challenges.

Or so they thought.

United's early dominance in possession was not converted into any gilt-edged chances, and all of a sudden Fulham found themselves in front. A quick counterattack of a long ball into the area was met by Steve Sidwell's shin. David de Gea looked stunned as the ball apologetically found the near post and the back of the goal. That such a delivery had met no resistance by any defender in a red shirt was either comical or tragic. Old Trafford braced itself for another grim afternoon.

"They're 1-0 down against a team that isn't even set up to score," observed Gary Neville in the TV studios.

United's tactics remained staunchly loyal to playing the ball out wide, often through Young, and delivering balls into the box. They attempted 39 crosses from open play in the first half, with just six finding teammates. By the 77th minute, they had sent in more crosses in a single match than any other team in the top five leagues in Europe this season.

Eleven years ago in this ground, the fans chanted for "4-4-2" when Carlos Queiroz was perceived to be altering the team's formation into a more turgid shape. The irony of this formation being derided now as old fashioned in the same arena is worth mention.

But times have changed in football. The intervening decade has seen Barcelona reinvent football success with short passing and Jose Mourinho's tactical genius obliterate traditional wing play. United have the personnel to play passing combinations through the middle of the pitch with great success. Instead, they are running into cul-de-sacs on the flank all game long. It is a shame.

Hull City recently steamrolled Fulham to the tune of 6-0. United went in at half-time a goal down and with their full-strength team on the pitch. Things did not improve in the second half either, with United continuing to deliver crosses onto the heads of Fulham defenders. The players might as well have flogged a dead horse in the middle of the pitch for an hour.

The tactical rethink that should have come in early October arrived in the 68th minute. Adnan Januzaj replaced Darren Fletcher and pushed Wayne Rooney back into midfield. Javier Hernandez and Antonio Valencia followed him onto the field shortly afterward for Rafael and Young. It seemed as though United were treating a game against Fulham at home like a Champions League semifinal.

Perhaps the spirit of 99 was with United after all because finally the breakthrough came and United scored twice in a minute. Robin van Persie tapped in Mata's volley for an equaliser before Michael Carrick's shot from 20 yards was deflected into the net. Rooney dropped to his knees in joy as the rest of the side mobbed the midfielder. These are proud players. They didn't want to lose, despite how poorly they had played.

But instead of going for the jugular, United tried to hold on to their slim, barely earned lead. In the 94th minute, this lack of endeavour was punished as substitute Darren Bent bundled home the goal that broke United's hopes of salvage.

"We deserved a point," said goal scorer Sidwell at full time. He was absolutely right.

Another way to look at it is that United didn't deserve to win. It is becoming a running theme for the team that was a champion not so long ago.

Follow Mark on Twitter @markjpayne.