Vidic quits with business unfinished
Nemanja Vidic's decision to leave United at the end of the season comes as a surprise to few. The Serb has given his finest years to the club and deserves a respectful send-off. However, the timing of this announcement will do little to help the team over the final three months of the season. The players need to be hitting top gear in these remaining games, not daydreaming about a swan song in Serie A.

• Cox: Vidic on the wane?

As club captain, Vidic occupies a position from which the other squad members take their lead. The majority of this has been seen in commitment on the field and a fearless approach to the tasks required in his job. "A defender who likes defending" is how Sir Alex Ferguson described him upon signing him from Spartak Moscow in 2006.

However, now that the captain has announced that he will be seeking pastures new, those in the shirts have even less incentive to drive forward in pursuit of victory. Too many players already look like they are taking it easy. There could be more now.

Considering United and Ferguson managed to keep his retirement secret for several months last year so as not to affect the performances of the players, it might have been appropriate to do the same here. It is too late to change that after Vidic's statement.

United are currently locked in a race for fourth place that will crucially affect the calibre of player they can recruit in the summer transfer window. Already, it is clear that the squad is ill equipped to challenge for the top honours and needs significant rebuilding. Without Champions League football to offer, the finest players will seek employment elsewhere.

Vidic's departure also raises the question of who will be the next captain. Wayne Rooney seems the obvious candidate. There is every chance that this already has been promised to him and there is a strong school of thought to suggest he has done enough to earn the armband.

Nonetheless, it is a matter of public record that the No. 10 has asked to leave the club twice. He is also from Liverpool, which doesn't necessarily endear him to Mancunians. His appointment as captain would not be without dissenters.

Manchester United and their supporters are reeling after their eighth league defeat of the campaign and desperately need all hands on deck and motivated right now. A week that started with defeat to a woeful Stoke side has managed to get worse.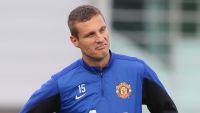 GettyImagesNemanja Vidic has had a highly successful spell with Manchester United.
Confirming his exit, Vidic reflected on a highly successful spell at Old Trafford that included winning the 2008 Champions League final as he said: "I never could have imagined winning 15 trophies and I will certainly never forget that fantastic night in Moscow, memories that will live with me and the fans forever. However, I have decided that I will move on at the end of this season. I want to challenge myself again and try to make the best of myself in the coming years."

With Nemanja packing his bags already, the fans are finding it hard to imagine the club winning 15 trophies again any time soon. One is reminded of the sacrifices made by Gianluigi Buffon and Alessandro Del Piero when Juventus were relegated a few seasons ago. Although the circumstances were different, senior players stuck by the club in its time of need.

With the question marks over the current regime growing all the time, a stalwart of the previous era has decided to wash his hands of the club. Vidic has been a great player for United; if he wants to be a club legend, he needs to continue being great until the end of the season.

Follow Mark on Twitter at www.twitter.com/markjpayne