Van Persie is first-class at his school reunion
The funny thing about football is that school reunions seem to come around very quickly. Robin van Persie only left his Arsenal classmates this summer, and here he was facing them in only the tenth Premier League game of the season. As they possibly feared, he has adapted to his new surroundings with a disconcerting ease, and scored his eighth league goal of the season after only three minutes.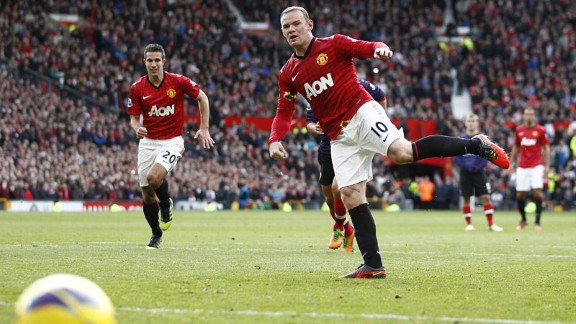 GettyImagesWayne Rooney missed a penalty against Arsenal, but was impressive otherwise

A slightly more accurate analogy to draw with Van Persie's move to Manchester United is that it is like being dumped at the altar for your groom's worst enemy. Unfortunately, in Arsenal's 2-1 defeat at Old Trafford, they looked as far from the altar of success as they have this season. They began the game in a 4-3-3 formation against Manchester United's 4-2-3-1, and save a fifteen-minute period after half-time they were wholly overwhelmed.

Manchester United's chief problem this season has been the concession of early goals, and their solution in this case was to score absurdly early themselves. It's a sound enough policy, but one which will not have the aid each week of defenders as helpful as Thomas Vermaelen was here. His first contribution was to slice a clearance to the grateful feet of van Persie on the edge of his area, and his erstwhile team-mate guided the ball beyond Vito Mannone with his first swing of his right foot that afternoon.

Manchester United were dominant for the rest of the half, though according to Opta they actually completed fewer passes than Arsenal going into the break (242 to 310). But it wasn't that the home side controlled the ball: they controlled space. As soon as the ball came into the middle of the field, Tom Cleverley and Michael Carrick ushered it straight out to the flanks again, where it found itself in the path of Manchester United's overlapping full-backs and wingers. Between them, at times left unacceptably free, was Wayne Rooney, sweeping passes left and right.

Rooney's progress through the game, apart from his missed penalty at the end of the first half – his seventh such in 20 Premier League attempts – was majestic. Antonio Valencia and Ashley Young also enjoyed abundant space, though they let themselves down, respectively, with errant finishing and inaccurate delivery. Andre Santos, on Arsenal's left side, was eviscerated by the media and many fans on Twitter for his performance, but this anger seemed disproportionate: the narrowness with which Lukas Podolski chose to play his left-sided role, frequently taking up a central position, meant that the hapless Brazilian was often hopelessly exposed. It was startling to see Jack Wilshere, later dismissed for two yellow cards, and Olivier Giroud doing more work in wide areas than the Germany forward. Aaron Ramsey was another such culprit, his frequent forays infield meaning that Bacary Sagna often had to carry the fight to Patrice Evra on his own. It was notable that Arsenal's main threats came when they embraced width, a fact which Arsene Wenger's belated introduction of Theo Walcott seemed to acknowledge.

This was a curious game, perhaps best displayed by the manner in which it was decided: a header from a corner by Patrice Evra. Manchester United's delivery in this area has been much-maligned, and not without reason: however, this goal from a short-corner routine was their seventh such of the season, a category in which they lead the league. That Evra should win an aerial battle in the box might result in an awkward conversation with Steve Bould when Arsenal's defenders return to training next week.

Santi Cazorla's late goal, curled beyond the otherwise untroubled David De Gea, will probably have irritated Sir Alex Ferguson, whose team are finding clean sheets worryingly elusive this season. Cazorla was allowed to regain possession of the ball twice before releasing his superb strike, and this is a generosity which Manchester United's future opponents will have gleefully noted.

It seems churlish, though, to end on a negative note in a week that saw Manchester United defeat another of their major rivals in the league. Having begun the season with a lacklustre loss away at Everton, they now lead their division by a point from Chelsea and with the equal highest goal difference (+12). What is more, Sir Alex Ferguson's gamble – to strengthen his forward line with van Persie, rather than his midfield with, say, Moussa Dembele – is so far paying off. He will need more than the Dutchman's attacking excellence to see him through the next 28 games; but so far, broadly speaking, it is a job well done.