The best Busby Babes tribute is on the pitch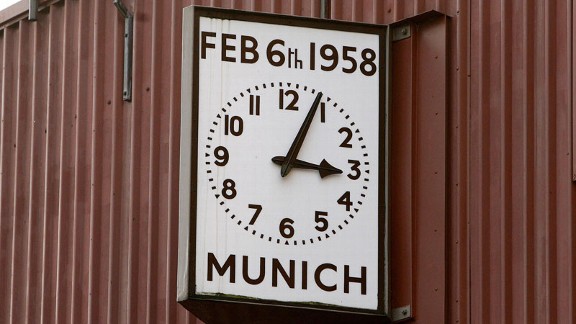 PA PhotosIt is 56 years since the plane crash in Munich claimed 23 lives, including eight United players
On Thursday, Manchester United will pay tribute to those who lost their lives in the Munich air disaster 56 years ago. The pioneering team that first swept the club to global prominence was sadly cut down before it reached its peak. Commemorations of this sort are usually handled appropriately and with dignity. It is the kind of thing the club gets right. The best tribute to the Busby Babes, though, would come on the pitch.

In the season of the Munich air disaster, 1957-58, despite the team being decimated with eight deaths in February, the side still managed to score 126 goals in all competitions. The year before, they scored 143 in just 57 games.

When people talk in hushed tones about the quality of the Busby Babes team, they are not exaggerating. That total of goals scored in 1956-57 has never been bettered. There is a chance that Manchester City could reach that sum this year, but they are the most expensive team in history, by a distance. The Busby Babes were all products of the United youth system.

United's current travails are a source of much debate at the moment. The statistical reality of their season makes for grim reading. If United continue to score at their current rate, they will finish the season with approximately 88 goals in all competitions. United have scored more than 100 goals in each of their past 10 seasons and plundered 114 in just the last campaign.

Busby's team talks famously ended with the same stock phrases. "Just go out and play," and "Enjoy yourselves." His was a philosophy of entertainment. Bobby Charlton has spoken on numerous occasions about how the club was encouraged to provide excitement for the working classes of Manchester, a city built on the graft of its people.

This ethos was embodied by the team from Old Trafford who expressed themselves on the field with a mixture of elegance, strength and skill that has permeated the culture of the institution ever since.

At present, United's players and staff have a forbidding look about them. The results have been far worse than any dared fear at the start of the season and that is bound to put a dampener on things. The lingering sense remains that if the players were enjoying themselves more, they might achieve more.

Manchester United undoubtedly houses some of the best players in world football. If the team that muscled its way to last year's title could rediscover some of that vigour, then results would surely pick up.

Dudley's finest @ManUtd: Duncan Edwards, 1 of the greatest players ever to wear #mufc's shirt. #flowersofmanchester pic.twitter.com/YnHoCK9Puh"

— Phil Riley (@rileyorionradio) February 6, 2014

The impression has formed that United's tactics this season have been somewhat constrictive and have hampered the skills of the side's best players. There seems to be an obsession to reach the byline and send in crosses for the strikers.

Some of United's greatest teams in the past were built on wing play and, indeed, wingers are woven tightly into the fabric of the club. But so is winning. And at the moment, United are not winning nearly enough.

As this most frustrating of campaigns enters its final furlong, this saddest of anniversaries gives those who support the team a chance to reflect. Not only on the great loss of their lives, but of the philosophy the Busby Babes represented.

Manchester United, both past and present, is a football club, an institution and a family that is bound by the values of entertainment, hard work and style. This season, there has been far too little swagger in the play of the team.

It is time for the players to start enjoying themselves again. They have little else to play for. And they owe that much to their forbears.

Follow Mark on Twitter at www.twitter.com/markjpayne