Adnan Januzaj and the January sales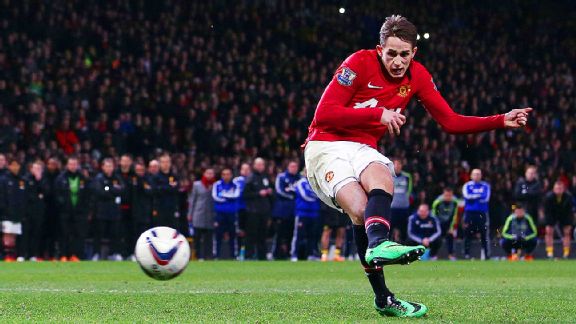 Matt West/BPI/Icon SMIAdnan Januzaj has become one of Manchester United's most creative playmakers in just his first season at Old Trafford.
Happy birthday, Adnan Januzaj.

The forward, who turned 19 on Wednesday, is one of the few players whose allegiance is widely coveted at both the club and international level. He is probably the most exciting talent to graduate from the ranks of a Premier League club since Cesc Fabregas. Most important for Manchester United fans, he is the brightest element of a season that has mostly been mired in gloom.

- Payne: Best Busby Babes tribute is on the pitch
- Report: Kagawa annoyed by "mental block"

Januzaj is the rarest of footballers: someone who, while still in his teens, visibly has the potential to be the complete player. He has been likened to Cristiano Ronaldo, but this comparison arguably does the Belgian-born attacker a key disservice because it understates the pressure Januzaj has withstood in his debut season. Ronaldo, after all, had the fortune of stepping into a stronger side than the one to which Januzaj was introduced.

While Ronaldo's arrival at Old Trafford coincided with the beginning of a period where Chelsea and Arsenal were fighting for Premier League supremacy, he didn't immediately find himself as the team's main creative outlet, as has happened to Januzaj whenever Wayne Rooney is injured. Though Ronaldo was outstanding in the FA Cup final in his first season, scoring and starring in the 3-0 victory over Millwall, he was able to take the field alongside Roy Keane, Gary Neville, Paul Scholes, Ruud van Nistelrooy and a pre-greying Ryan Giggs.

Ronaldo, in his first season for Manchester United, was often criticised for over-elaboration when in possession. Januzaj, though he has the physique of a weeping willow where Ronaldo was an oak, is far more mature in his distribution of the ball than the Portugal forward was in those early months. One of Januzaj's most impressive outings was his first-half performance against Southampton, in the 1-1 Premier League draw at home. Against a team then ranked as the best defence in the division, he made frequent and dangerous incursions down the left, one of which resulted in the opening goal for Robin van Persie in a match that could have seen him and his colleagues leading 3-0 by the interval.

Januzaj's prowess as a playmaker is ultimately what marks him out for superstardom. He has shown a sureness of finishing (as well as excellent heading ability -- see the Premier League game away at Aston Villa, when his header led to Danny Welbeck's opening goal) which could see him stand in, if needed, as a centre-forward.

He can run riot on either wing, yet his long-term future could well be as a number 10, a trade which he can learn in the meantime from Rooney and Juan Mata. That's probably the best finishing school for an attacking prodigy since Kaka turned up at AC Milan in 2003 to find Rivaldo and Rui Costa on the training ground. The football world, and particularly the red half of Manchester, have great expectations of how he will develop in such an environment.

Not enough January arrivals

While looking forward to the further rise of Januzaj, Manchester United fans might be somewhat perturbed by the club's inadequate January transfer business. Mata's arrival was extremely encouraging, but there will be questions over the club's failure to make any additions to the squad, let alone the first team, in midfield.

This failure has left Tom Cleverley with an excessive burden alongside Michael Carrick, who has been in fitful form and health this year. Before Christmas, there was talk of pursuing Alex Teixeira of Shakhtar Donetsk and William Carvalho of Sporting Lisbon, yet neither move materialised. Some might argue that it is best to wait till the summer to judge David Moyes' transfer activity, but when viewed against Chelsea's straight forward capture of Nemanja Matic -- who, without the much-vaunted benefit of a preseason, was decisive against Yaya Toure in his team's away win over Manchester City -- the January window, even with the purchase of Mata, must rank as somewhat substandard.

Teixeira, in particular, is a player who represents both the future -- he is still only 23 -- and a fairly safe bet, having already played for several seasons in the UEFA Champions League. His acquisition would not have been a panicked purchase, and it is disappointing that at least one player of his ilk did not arrive at Old Trafford in January.

Realistically, Moyes should probably look to bring in at least two new central midfielders who can go directly into contention for a starting role, not to mention at least one new full-back and at least one more winger. It could, and should, be a very busy summer of shopping.