Manchester United's season is going from bad to worse
Feb. 2, 2013: Manchester United beat Fulham away 1-0. As "just like a team that's gonna win the Football League" echoed around Craven Cottage's Putney End, United moved 10 points clear at the top of the Premier League. After 25 games, United had 62 points and a goal difference of plus-29. They went on to become champions for a 20th time.

Sir Alex Ferguson already knew that he would be retiring, and within a month, key personnel at Old Trafford would learn too. The club had plenty of time to plan for a successor, and David Moyes was chosen.

When I spoke to executive vice chairman and director Ed Woodward about the appointment, he said: "Alex told us that he was leaving, and we kept things quiet for a period of time. Nothing really happened before March and the first part of April. We had some meetings, myself, Joel and Avi [Glazer, the family that owns United], Alex and his son Jason. [Then-CEO] David Gill also gave input. Bobby [Charlton] too, but later on.

- Video: Can United finish in the Top 4
- Highlights: Stoke defeat United
- Okwonga: Moyes must go on the attack

"Alex gave his views and wrote down notes as to who should be on the list [to take over]," continued Woodward. "David was always top of that list. There were conversations about other managers, largely to cross them off the list. We had a sense of the type of manager we wanted. As events unfolded, we wanted to rely on the man who had the best skills to come in and keep us successful. Without the recommendation of Alex, there may have been a different process. We may have ended up with the same answer.

"Alex called David Moyes," Woodward added. "He sat him down in his boys' room at home, by the snooker table. He said: 'You're our No. 1 choice.' I met David the next day in the same place. Alex went downstairs, and I spent a couple of hours with the manager."

Moyes duly became Manchester United manager.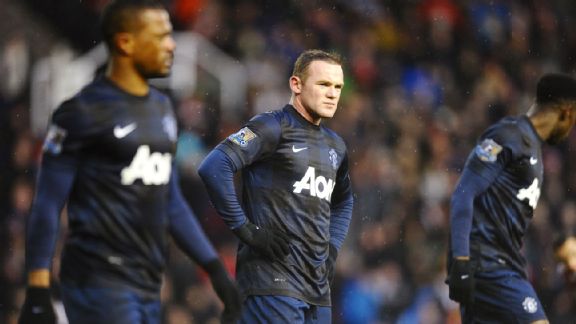 Laurence Griffiths/Getty ImagesNo one could have predicted United's results this season, a precipitous decline that continued with their 2-1 loss to Stoke at the weekend.
Feb. 1, 2014: A year after that Fulham game, United played away at Stoke, a game Moyes' team lost 2-1. As United fans exited the ground that always seems to save the worst of British weather for United's visit, their team sat seventh in the table. United had been unfortunate, no doubt -- injuries, wind and a deflection that led to a goal on Saturday alone -- but after 24 games, United have 40 points and a goal difference of plus-10.

That's one hell of a decline in one year with almost exactly the same team. Nobody could see it coming.

Nobody.

While the team has hardly changed, many of the people on the coach that day at Fulham have. Albert Morgan, the longtime kitman, sat at the front by the driver as the coach edged past United fans drinking in the Larrik Inn on the New Kings Road. He is no longer full-time kitman, a role that is vital in the dressing room. Other key coaches and personnel, such as goalkeeping coach Eric Steele, first-team coaches Rene Muelensteen and Mike Phelan, Gill and Ferguson, were all on board behind the blacked-out windows. They've either left or moved upstairs. The changes of personnel with a combined service of almost a century have been vast, and they're hurting longer than anyone imagined.

Manchester United is an institution, but it's a family at heart -- large but a family nonetheless. Imagine mum and dad leaving any family, granddad and grandma too. And several uncles. The kids would take some getting used to it.

This team is not retaining the title, not by a long way. United will be fortunate to make the top four. Rather than improving, as Ferguson's replacement settles and makes use of the immense talents available, United are getting worse. Much was made of it being Stoke's first win against United in the league since 1984, but Stoke weren't even a topflight side between 1985 and 2008. When the world's against you, why let facts like that get in the way?

The manager does not have the confidence of all his players, some of them senior. But then he doesn't have confidence in all his players, some of them senior. He feels that some haven't been putting in the required effort. Some players don't agree with his tactics, which they consider too conservative. They've thought that from the start. There's not a football club in the world without similar problems, but United was different under Ferguson. Usually.

The players are not going to speak out in public. What's the point? Would you speak out in public against your boss while under contract? It's likely that you would lose your job.

Most players were underwhelmed when they first heard Moyes' name, but that was partly because of the shock of Ferguson's surprise retirement. They had gotten used to life as it was. And it was fine under Ferguson. Everyone quickly came round to the idea of giving Moyes their best shot. Some haven't, though.

With notable exceptions, such as the 5-0 win in Leverkusen, United have been mediocre to poor from Moyes' first game, a friendly defeat in Thailand. Moyes tends to see things more optimistically. He talks of the team playing well when fans leaving the stadium -- match-going fans who have given him plenty of support -- say the opposite.

There are many mitigating factors. You've heard them all. Some of Moyes' best players have been injured; others aren't "doing it" for their new boss. The summer transfer window was a mess for United as they sought to join on a fairground carousel ride that was nearing the end. It wasn't easy to get on. The big transfers in football are planned 12 to 18 months in advance. People talk at a high level. Nothing is made public, but Borussia Dortmund -- for example -- have a good idea who they're selling this summer and next summer and plan accordingly. That's how football usually works with the big boys.

But United have and will continue to back Moyes with money to improve the squad. They know that the team should be doing much, much better, but they'll let him build his team and judge him at an unspecified and indeterminable point in the future.

The fans too. I was genuinely surprised to see the results of a poll on United We Stand on Sunday. Of the question "Moyes. What to do?" the answers were the following: 15.71 percent replied to "Sack him, it's not working"; 22.51 percent to "Sack him if United don't finish in the top four"; and 61.78 percent to "Judge him in a year when he's had time to build his side."

It's easy to write all of this with the benefit of hindsight. This writer came back from that preseason game in the Far East thinking that United could retain the title. I had been impressed by players like Wilfried Zaha and thought Shinji Kagawa would come good.

It's not going to get any easier for United, as neighbours City canter into the distance. There are many away games approaching as United have just one home match in the next seven weeks.

But one game at a time, starting with Sunday's match. Against Fulham. There will be singing on Sunday as United trial a second singing section. But it won't be about a team that's gonna win the Football League again.