Moyes has options for tricky Stoke test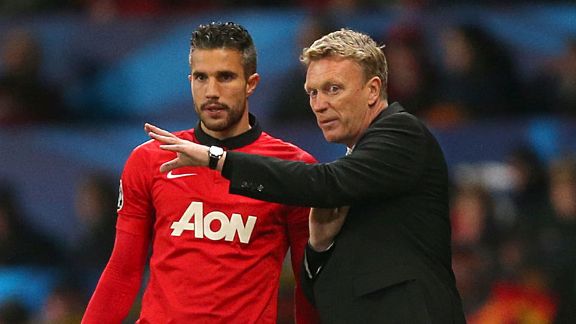 PA PhotosRobin van Persie is back and scoring for David Moyes.
If someone had told you at the start of this season that Manchester United would have a far harder time playing Stoke City at home than away, you might have laughed at them. Then again, it's been that kind of year for the Old Trafford club, where expectations have been tossed on their heads or tossed out the window. (Mostly, it's unfortunate to say, the latter.)

The facts are that United manager David Moyes has had an easier time on the road against Mark Hughes' men than at Old Trafford. Moyes' team has defeated Stoke on both occasions, but the win at the Britannia Stadium -- 2-0 in the Capital One Cup -- was far more assured than United's thrilling 3-2 home victory in the Premier League after falling two goals behind.

- Javier Hernandez staying put at United

If someone had told you, too, that Stoke might feasibly regard the visiting Ashley Young as a dangerous man, you might have dropped your prematch pint in shock. Prior to the arrival of Moyes, the England forward was so devoid of confidence that he would have been forgiven for forlornly eyeing an Old Trafford exit. But the last time that Young went to Stoke, in a midweek thunderstorm, he scored his team's decisive second goal, a feat he repeated just a few days ago against Cardiff City. Given his encouraging recent form, he can reasonably expect to retain his starting place on Saturday.

The rest of the team presents some interesting issues for Moyes. Though they beat Cardiff 2-0 in their last Premier League match, the win was far from comprehensive, with the midfield again in need of review. Since Moyes has announced that the club will probably not add any new players in the last hours of this transfer window, he must pick from his existing pool.

Arguably the best available midfield partnership, given the absence of Michael Carrick through injury, is Darren Fletcher and Phil Jones. Jones will screen the defence, and Fletcher will pass through the lines to the feet of Juan Mata, assuming the Spain international starts following his strong post-transfer debut against Cardiff. Robin van Persie will presumably start up front again, flanked by Young and Antonio Valencia.

Of course, that leaves Wayne Rooney, Adnan Januzaj and Shinji Kagawa on the bench. With Mata's arrival, Kagawa has shuffled further down the pecking order, perhaps irretrievably so, and his departure in the summer would not raise eyebrows -- a remarkable change in fortunes for the Japan playmaker.

Meanwhile, Januzaj is receiving a welcome alleviation of his attacking burden: There cannot have been many defending champions in recent history who have looked so much to an 18-year-old for their creativity. And, of course, there is Rooney, and the question of what a team including him, Mata and van Persie will eventually look like.

A 4-3-1-2, with Mata playing behind the two strikers, is not the type of formation for which Moyes currently has the players: This configuration requires three powerful and relentless central midfielders, flanked by two irrepressible full-backs, rather in the style of Carlo Ancelotti's AC Milan. That might be the format of the team Moyes has at the back of his mind, which explains his apparent interest in Toni Kroos, but time -- and the Glazers' thankfully flexed chequebook -- will tell.

Away at Stoke, then: a fixture that Manchester United is expected to win, and thus continue their 12-game unbeaten run against the team from the Potteries in the Premier League. The last time United came here, Van Persie scored the clinching penalty in a workmanlike 2-0 win, the Dutchman's first goal in 10 games; with him leading the line on his return, a similar performance and score line can be anticipated.