As Mata starts, Man United get the right kind of victory
Juan Mata made his debut in what was just the right kind of 2-0 victory for the home side. Had Old Trafford's new No. 8 inspired a swashbuckling win, such a result would have temporarily glossed over the various deficiencies that still exist in this squad.

As it was, the Spain playmaker was promisingly influential as his team took three points and a clean sheet but still displayed the ailments that should prompt the Glazers to further investment.

- Report: Man United 2-0 Cardiff

The most surprising event of the entire evening, and one that no one would have predicted, was Ashley Young being the night's outstanding player. He scored the clinching goal after Robin van Persie's 6th-minute opener, a right-foot drive from 25 yards after he cut in from the left, and was a mobile and energetic presence throughout.

David Moyes has received plenty of credit for coaxing a season of fine form from Wayne Rooney, but while he has at times been accused of excessive deference towards England's leading forward, he has been pitch-perfect in his treatment of Young. The winger has produced three spectacular strikes this season, the other two coming against Stoke in the Capital One Cup and West Ham United in the Premier League. He now looks about as happy as he did in his first season at Old Trafford, before the horror that was Euro 2012, when his confidence seemed to evaporate entirely. In a season which, to put it mildly, has been an experience for Moyes, the resurgence of Young bears terrific witness to his man management.

The match went through three broad phases: The first was the opening 15 minutes or so, when Manchester United's players seemed keen to show off all of the dazzling new passing combinations that they'd been practising with Mata in training. The ball rattled between them at thrilling speed, with an assurance rarely seen in front of the home crowd in recent months, and Sir Alex Ferguson could even be seen grinning in the stands.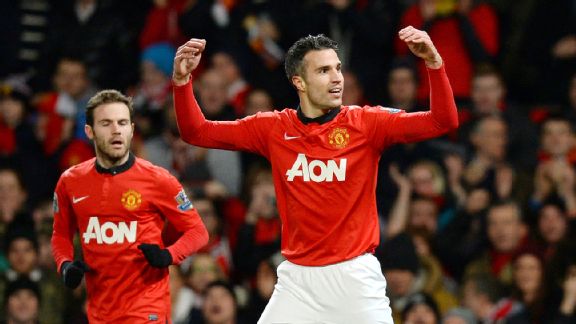 Andrew Yates/AFP/Getty Images With backing from new arrival Juan Mata, Robin van Persie returned from injury to lead Man United to victory over Cardiff.
At one point, Antonio Valencia even executed a perfect backheel, almost as if he had been preparing a party piece for the Spaniard's arrival. Van Persie, meanwhile, must have found it difficult to suppress a smile when he saw Mata's name on the team sheet. The Spaniard, according to Opta statistics, has provided more assists per game in Premier League history than any player apart from Cesc Fabregas and the greatest Old Trafford catalyst of recent times, Eric Cantona.

The second period of the match took place between van Persie's opening goal, a chance taken after David Marshall had beaten back his initial header. The period of about 45 minutes, until the home team's decisive second goal, was a fraught one, where their weaknesses in midfield were copiously exposed. This, after all, is a side whose best midfield performance all season -- against Bayer Leverkusen away, in the UEFA Champions League -- has come from a 40-year-old former winger (Ryan Giggs, who tonight started his 800th game for the club) and a converted centre back (Phil Jones).

A measure of Manchester United's problems in the middle of the field was that, according to the FourFourTwo Stats Zone app, Craig Bellamy (49), Peter Whittingham (79) and Gary Medel (63) all comfortably outpassed their opposite men. The Manchester United player who completed the most passes, apart from Jonny Evans (48), was, perhaps predictably, Mata with 45.

The time after Young's goal to the final whistle was the third period of the match -- the last half-hour or so passing without much incident, save for Valencia thrashing the ball against Marshall's right-hand post via the goalkeeper's outstretched right hand. Ole Gunnar Solskjaer, returning to Old Trafford as Cardiff's manager, will have been encouraged by much of what he saw from his midfielders, if not so much from his forwards; his ranks will be usefully bolstered by Fabio, who has arrived on a permanent contract from Manchester United, and Wilfried Zaha, who has arrived on loan. At his old employers, meanwhile, the future has made a satisfactory start.