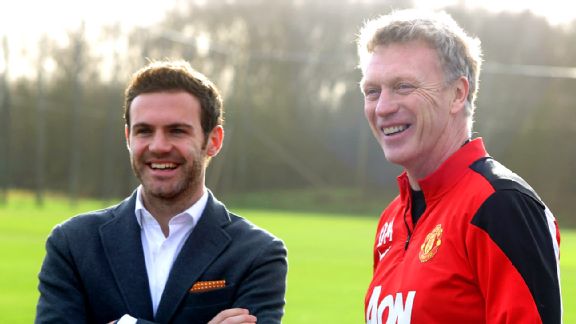 Tom Purslow/Man Utd/Getty ImagesJuan Mata's arrival is great, but Man Utd should keep their chequebook out.
Manchester United breaking their transfer record is an event worthy of attention, particularly when the club is in such dire straits. A quick glance at their recent purchasing history indicates why they are currently floundering. The chequebook will need to come out again, several more times.
Juan Mata becomes Manchester United's most expensive signing at 37.1 million pounds and takes the record from Dimitar Berbatov, who cost 30.75 million in 2008. In that intervening period, Manchester City alone have spent close to 500 million pounds; United have some serious catching up to do if they want a squad to match their neighbours.
City have registered a net spend almost five times larger than United's in the past five years. Chelsea's is three times larger. United's is only marginally bigger than those of Stoke City and Aston Villa.
Liverpool have spent almost 80 million pounds more in the past five years, and their net spend would be less were it not for the 50 million pound sale of Fernando Torres. In short, United's ambition in the transfer market has been significantly less than that of their major rivals.
The Glazer family, who own United, are the ones who need to change that. It is little mentioned now, but the protests that greeted the initial Glazer takeover of United were fierce. United were a profitable and well-run business that did not need leadership from elsewhere.
The Glazers have finally reached the point where Sir Alex Ferguson's brilliance can no longer disguise the paucity of the playing staff. The chickens have begun to come home to roost, and if United fail to qualify for the Champions League, the club will be in trouble. Buying players of sufficient quality is the only way to avoid that.
Fergie himself has taken a role as a UEFA coaching ambassador this week. "With the experience I have had over the years, I hope I can help young coaches in particular in an industry, which is becoming more difficult," he said of his appointment.
In selecting David Moyes as his replacement, he made what could be described as his first decision at the executive level. Not everybody is convinced by it yet. Perhaps he should stick with the coaching.
Some other good news to come out of Old Trafford is that Wayne Rooney is in negotiations over a 300,000 pound-a-week contract. Considering that this is the case, it can be no surprise to read this week about rumours that he could move to Real Madrid.
However, sources close to the Spanish giants have suggested those rumours probably emerged from the north of England rather than the Iberian peninsula. These tactics are classic of Rooney's agent, Paul Stretford, and appear to emerge every time his deals are running down. Rooney will probably stay on, unless United miss out on the top four, that is.
"I want to build an exciting team," Moyes explained on Saturday as Mata touched down at United's training ground for the first time. "That's always the way I've wanted my football to be played, and I've not known it any other way." There has been precious little evidence of this so far on the field.
Nonetheless, this new acquisition, along with some more players and a new contract for Rooney, is a step in the right direction. "I want to win and give the supporters something to shout about because I've not done that often enough." Nail on head, Mr. Moyes.
In the past 18 months, Manchester United have signed Arsenal's best player and Chelsea's best player. It is now time to start matching those teams on the pitch. Robin van Persie is rumoured to be fit for Tuesday's clash with Cardiff, and that would be a good place to start. They couldn't possibly play any worse than they did against Sunderland. Could they?
Follow Mark on Twitter at www.twitter.com/markjpayne