Mata to buck trend of expensive transfer flops
With the blades on Juan Mata's helicopter having whirred to a halt, Manchester United fans can finally relax and celebrate his arrival at Old Trafford. The Spain playmaker comes with the very highest pedigree: he is one of the most gifted attacking midfielders of his generation, and his 40 million pound acquisition has given rise to rare excitement amongst the club's support.

However, those of a more pessimistic bent may feel a sense of trepidation. In recent years, Manchester United have spent heavily on widely-coveted creative players at their peak, only to see very little return on their investment. The most recent example of this is Shinji Kagawa, signed from Borussia Dortmund for 17 million pounds, who was pursued by Jose Mourinho when he was still at Real Madrid.

Far from being the fulcrum of a thrilling attack, Kagawa has looked mostly listless since he joined the club. Every so often he has offered indications of his supreme talent, most notably when he scored three goals against Norwich in the 4-0 Premier League victory last season and was later the outstanding performer in his team's 2-2 draw against West Ham United, a result which took them to the brink of their 20th championship.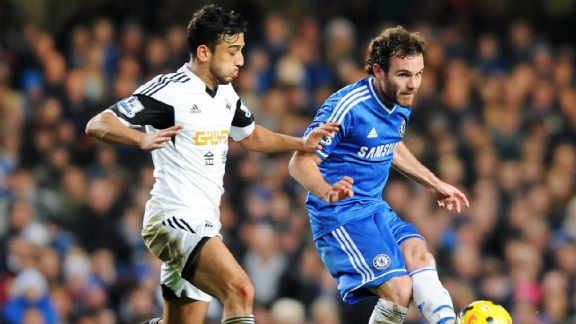 Olly Greenwood/AFP/Getty ImagesJuan Mata should have no trouble commanding and reviving Man United's dangerously thin midfield.

His club, however, are still waiting him to run riot in the fashion that made him the German player of the year, and brought him almost a goal every two games in the Bundesliga.

Kagawa's fitful form can be explained away by three key factors: the injuries that he has sustained since his arrival, his frequent deployment out of position on the left wing and the fact that he seems to need to have the team configured around him in order truly to thrive.

This last element is something that he shares with the other two players once hailed as Manchester United's new hope, Dimitar Berbatov and Juan Sebastian Veron. Berbatov, the club's previous record signing at 30.75 million pounds, came from Tottenham Hotspur amid optimism -- soon emerging as delirious belief -- that he would inspire his new team as Eric Cantona had done in years past.

Full Mata, Utd coverage
- Darke: Man United make right move
- Report: Utd announce Mata deal
- Jolly: United's new role model
- Payne: Mata's tactical fit
- Marcotti: Unpacking Mata, United deal
- On The Move: Rooney new deal?

Yet the Bulgarian, for whom the word "languid" seems to have been commissioned, mostly looked curiously out of place. Sir Alex Ferguson had built several teams defined by their speed on the break, yet he proceeded to make Berbatov, a man with all the urgency of a meandering cloud, the focal point of his attack.

The forward, who scored a somewhat sub-par 56 goals in 149 games under Ferguson, found himself omitted for many of their biggest games during his time there, including his exclusion altogether from the UEFA Champions League final in 2011. As Daniel Taylor observed sympathetically yet damningly in March 2012 in The Guardian:


"A theme has developed whereby Berbatov has been deployed against lesser teams, but stood down when the heat of the battle is less tolerable. The most staggering statistic is that he has not started against a top-six opponent for 14 months. Since arriving on the final day of the 2008 summer transfer window, he has been left out of 41 of United's 66 big games, meaning finals, semi-finals, European knockout ties, the Club World Cup and league matches against Arsenal, Chelsea, Liverpool, Manchester City and Spurs."


The most disappointing signing of Ferguson's tenure -- and his greatest creative misadventure -- was the purchase of Veron from Lazio in 2001. The Argentine midfielder had masterminded a League and Cup double for the Roman side just a season before and was arguably, for a brief time, the finest midfielder in the world, ahead of Zinedine Zidane. His British-record transfer fee of 28.1 million pounds soon started to look like an act of folly.

Though he redeemed himself in his second season, helping his team to a league championship which had at one point seemed improbable, the abiding memory is of a player utterly nonplussed as Middlesbrough repeatedly broke past him in midfield during their 1-0 victory at Old Trafford. When Veron came to the club, Paul Scholes was already playing in his position and many observers had no idea where Ferguson would shoehorn him in. They were right to be thoroughly doubtful about this experiment.

Manchester United's attacking successes have been one or both of two things. First, they have been developed at the club from a young age -- in the cases of Ryan Giggs, Scholes and David Beckham -- and secondly, even if they have not had that opportunity, they have been able to fend for themselves.

The unwritten rule of being an attacking player at Manchester United seems to be that you must adapt in order to survive. Giggs, in the 20-odd years he has been at the club, has featured in a variety of positions, while Scholes reinvented himself from a box-to-box midfielder to a number 10 and then one of the best deep-lying playmakers the game has seen.

Kagawa's problem at Old Trafford at present is that even though he is not being deployed as he would like, he cannot consistently produce excellent performances from the left wing. Veron and Berbatov were unable to adjust, respectively, to the pace of the league and their team's tactics.

Mata, though, promises to be a different proposition. He joined Chelsea from Valencia in 2011, as one of only a handful of players who could conceivably have improved Barcelona's superb team at that time.

According to Opta, he has created more chances in the Premier League in the last three seasons than anyone save Manchester City's David Silva. He is comfortable playing on either wing as well as in the number 10 role, delivers the ball superbly from set pieces and can pass the ball well short or long. Allied with that, he has excellent acceleration, which makes him dangerous on the counter-attack. He's very comfortable in a free role and, if he's going to get one thing given the current cavern in Manchester United's central midfield, it's freedom to roam.

(Each of those qualities are helpfully evident in this video.)

In short, he has had to be every bit as versatile in his career in England as Adnan Januzaj has been this season, and will be an ideal companion for the brilliant young Belgian both on matchday and at the training ground. While other expensive signings have flagged in the face of excessive expectation and tactical discomfort, there is every indication that Mata will make a mockery of this recent trend.