Sunderland, Mata and metaphors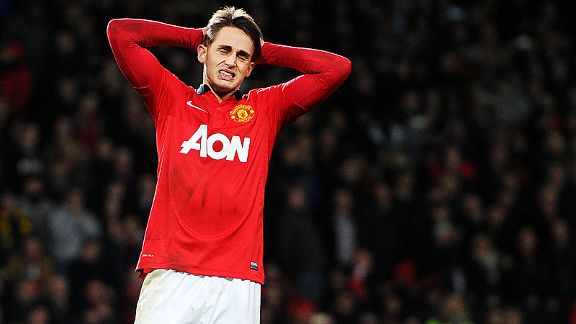 GettyImagesAdnan Januzaj grimaces after he missed in the shootout.
Manchester United's loss to Sunderland had, if we are to be optimistic, one significant positive, which is that the penalty shootout provided the perfect metaphor for the club's struggles this season. The penalties summed up everything that David Moyes side have seen this season: anxiety and plummeting confidence, punctuated by a burst of hope, excessive pressure on Adnan Januzaj and David De Gea flailing about to save the day, then ending with Old Trafford heads bowed in familiar disappointment.

The defeat was yet another unwelcome illustration of the squad's shortcomings. The starting lineup was problematic in that it featured Javier Hernandez and Danny Welbeck in attack and Darren Fletcher and Michael Carrick in midfield. Neither Welbeck nor Hernandez is particularly good at playmaking from deep, with the Mexican especially limited in this regard.

- United pay penalty in crazy finish
- Three Things: Man United vs. Sunderland

Shinji Kagawa might have been expected to reprise the No. 10 role he successfully played against Swansea for the second half of Manchester United's Premier League victory, but he started on the left here and was yet again ineffectual. This has long since become a season that the Japan international would much rather forget. He has been left to fend for himself for large stretches of this season, but he does not possess either Januzaj's ability to improvise or his goal threat. It would not be a brave gamble to bet against his being at Old Trafford this time next year.

Meanwhile, Januzaj at times seems to be carrying a burden similar to Atlas. There was something symbolic about how he and some of the squad's younger players put themselves forward in the shootout, whilst others -- surprisingly among them, Patrice Evra -- declined to do so. This does not speak of a dressing room high in self-belief; it is to be hoped that it is not also a divided one.

It is remarkable, really, that Manchester United started with a central midfield that arguably saw its best days in 2009, yet which five years later is still the best pairing at the club. That is a singular act of negligence, and the worry must be that even if Juan Mata does arrive from Chelsea there will be no reinforcements in this area to supply him. If Mata joins, he will doubtless receive regular football, but -- if Marouane Fellaini does not find his way swiftly back to fitness and form -- Mata may also find himself in frequent isolation.

Much talk has persisted of the pursuit of Valencia's Ever Banega in this transfer window and Juventus' Arturo Vidal in the summer, but the point remains that Manchester United need to purchase not only starters but squad players. Several of those individuals whom they have on the bench are not of the quality to keep them competitive whilst the first-choice players are out.

Some Manchester United fans may wistfully reflect how Newcastle's Yohan Cabaye was touted as an option in the summer, but widely regarded with disdain. However, with that all-conquering perspective that is hindsight, the France midfielder could have been an essential part of the solution.

A darkly humorous view is that this semifinal defeat avoids a confrontation with a ravenous Manchester City in the Capital One Cup final, who are fresh from the evisceration of West Ham United and presumably keen for another bite at their local rivals. The old cliché is that it focuses the mind on the Champions League and the Premier League, yet it is in the latter competition that the club must avoid a measure of complacency.

There is much talk of Manchester United making a late run this season for the fourth Champions League place, but this seems consistently ignorant of two facts: first, that the team have taken only five points from a possible 24 against the other top eight teams in the league, and secondly, that five clubs -- Manchester City, Chelsea, Arsenal, Tottenham Hotspur and Liverpool -- arguably have superior squads. For the Old Trafford side, a sixth-place finish is not just within the bounds of possibility, it is something that should be considered with sober contemplation.

Even if David Moyes makes a handful of excellent additions this week and next, it might still take several games to integrate them all successfully, by which time Europa League qualification may be the only domestic league reward on offer. Given the state of the men under Moyes' command, Old Trafford currently resembles something between a field hospital and a construction site, with any new arrivals having to step past the superstars who are still on the treatment tables. As they enter, they may nod at Moyes in sympathy, and then strap on a hard hat too. This rebuilding isn't going to be done anytime soon.