When's the last time you felt so pessimistic about United?
May 6, 1991. Manchester United were in sixth place in England's top division with three games to play, except there was nothing to play for when they went to Highbury to meet Arsenal, England's best team. The Gunners needed a win to lift the title, and given that they hadn't lost a home game all season, I didn't expect them to lose one they needed to win against a team that didn't.

I traveled from Manchester to London thinking that United didn't have a chance. It barely mattered to the four of us who claimed to be "a family" on the family railcard so that our train travel would be cheap. Those who had just turned 18 were classed as "parents," and those who were 17 were "children" and traveled for 1 pound. The rail guard raised his eyebrows, but we had done nothing illegal even though we were the most unconventional family he had seen.

We met a man on that train south, Erik from Rotterdam. We were amazed that a Dutchman chose to support United and were especially keen to pick his brain; United were due to play in Rotterdam in nine days in the Cup Winners' Cup final against Barcelona, the first European final in our young lives.

- Watch highlights: Chelsea 3-1 United
- Moyes: We didn't defend set pieces well
- ESPN FC: The United bandwagon
- Brewin: Pressure growing on Moyes

It didn't matter that our team was going to lose to Arsenal. We were going to Rotterdam, which seemed more exciting. And we had more pressing issues -- the game would finish that night after the last train back to Manchester. We hatched a plan to get back on the team bus with the players. Surely, we figured, they couldn't leave four young fans stranded in north London.

United, with their minds on Rotterdam, were easily beaten by Arsenal. It was a night of celebration at Highbury, their night not ours.

On Sunday, for the first time since May 6, 1991, I firmly believed that United would lose before the match. When was the last time you felt so pessimistic about the result of a United game before the event?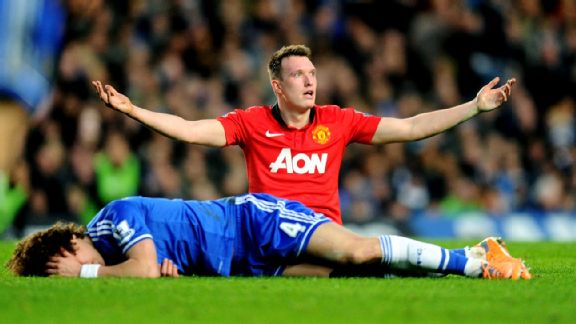 Mike Hewitt/Getty ImagesBefore the Chelsea match, the bookmakers gave United their longest odds to win a game of football in two decades.
In the 23 years since, United always had a team capable of beating any foe. It hasn't always gone to plan and they've been hammered along the way -- 4-0 in Barcelona in a 1994 Champions League tie, 5-0 at Newcastle in a 1996 Premier League game followed by a 6-3 defeat to Southampton -- but I went to all those games and not once did I think United would lose beforehand.

Call it ridiculous with the benefit of hindsight, but I didn't think United would get outclassed by a Vasco da Gama side familiar with the heat of Rio in 2000 and I certainly didn't think Manchester City would put six past United at Old Trafford in 2011. United were favourites to win all of the aforementioned games except the one in Camp Nou.

Sir Alex Ferguson's side wasn't fancied to win the 2009 and 2011 Champions League finals against Barcelona, but fans thought they were capable of giving any team in the world a game, including Barcelona. True, the view wasn't always shared, and I was laughed out of Catalan radio stations for telling them not to underestimate players like John O'Shea before the match in Rome.

On Sunday, the bookmakers gave United their longest odds to win a game of football in two decades. Where was a victory coming from without Wayne Rooney and Robin van Persie against a team that is unbeaten at home? United didn't have the quality to beat Chelsea. It's that simple.

One fan wrote on social media before the match: "Absolute joke that performance today. Needs to spend some money on a midfielder now. Just thought I'd beat the rush later."

The performance wasn't that bad for a seventh-place team, but the third-place team won as expected. United are now 100-to-1 odds to retain the league; City are 100-to-1 odds to lift the quadruple. How times change.

People still think United will move up the table. It's not happening. At one point each month, United were eighth in September, eighth in October, eighth in November and eighth in December. United have been seventh since New Year's Day and have lost four of five games this year. This is an eighth-place Premier League team that fans are watching. Can you see a run that will take United into the top four? Actually I can, yet maybe it's the heart ruling the head.

It's not good enough, nowhere near good enough, as everyone at the club knows. Transition or not, if United finish out of the top four, it will be a failure of a league season. That's the priority right now, fourth place.

Some recompense can come with a cup. The Capital One Cup semifinal second leg on Wednesday against Sunderland is a huge game. The team will need the support. It's no longer good enough to coast past opponents at home, as has been proved many times this season.

Fans are putting their reservations to one side for 90 minutes. Opinions vary greatly from those who pay the players' wages, but there's a broad school of thought that the problems are not specific to the manager and that he deserves time.

United will be active in the summer transfer market -- they have to be -- and a better time to judge is at the end of next season. That seems a long way away right now.

For now, the match-going supporters have been one of the few bright spots of the season, especially away from home where they've supported the manager and the team. The mood at matches bears no relation to that online, which is far more critical. On Sunday, the 2,939 away fans, most of whom paid 55 pounds a ticket, sang "20 Times." United are still the champions, and the fans are celebrating that. They'll be able to sing 20 times next season too; that's more league titles than any other club.

We dreamed of one title back in 1991 as we left Highbury and encountered thousands of Gooners celebrating the league title. (For younger readers, Arsenal did used to win trophies.)

Then we thought two things: A) Just imagine how great it would be to see Manchester United win just one league title in our lifetime, and B) We still had no way of getting back north. We asked the driver of the team bus and were pointed in the direction of the supporters' buses, where a kindly lad called Haz let us get on his bus. For free.

Haz became a mate, Erik from Rotterdam too. I've seen them every year since. Watching football is about far more than the result on the pitch. They followed their team home and away before they became successful, and they'll follow them in the future long after the current players have moved on, the current owners and coaching staff too -- though Ryan Giggs will probably still be around.