Chelsea prevail on Fright Night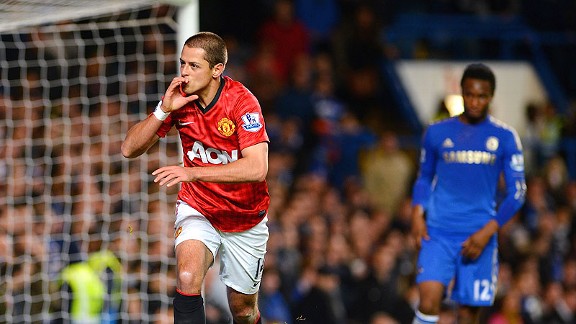 Shaun Botterill/Getty ImagesJavier Hernandez had another prolific outing vs. Chelsea, but it wasn't enough.
Astonishing. This Capital One Cup clash between Chelsea and Manchester United seemed determined to exceed their recent Premier League tie for drama. And, remarkably, it arguably succeeded. It had everything -- well, except a sending-off or two -- and the bitter aftertaste of an allegation of racist abuse. But everything else was there. Nine goals, a series of redemptive performances and a crowd howling with all the mania of drunk demons at Hallowe'en.

So it was. Just three days after Manchester United had defeated nine-man Chelsea with an offside goal by Javier Hernandez. Just a few hours after Chelsea had registered an official complaint against that match's official, Mark Clattenburg, for making "inappropriate" comments with a racial content to John Obi Mikel. Yes: with the dust unsettled and the angst freshly aggravated, here we were again.

- Brewin: Goals and ghouls galore
- Blog: Fightback felt like vintage Utd
- Macintosh: Selfish Sturridge shooting for exit?

Manchester United turned up in a 4-3-3 and their fans had turned up in full and ironic voice. The latter bore banners mocking Chelsea's anger at the racial abuse they claimed to have suffered; the former brought a line-up almost entirely different from Sunday's victorious team. Robin van Persie, Wayne Rooney, Rio Ferdinand and Co. were all tucked up safely at home or on Twitter whilst their understudies had travelled south to finish the job.

Meanwhile, Chelsea were looking somewhat more menacing. They started in a 4-2-3-1, bolstered by the presence of Petr Cech, Juan Mata, John Obi Mikel, David Luiz and Gary Cahill. To refer briefly to the boxing analogy of the previous match discussion, Manchester United had turned up as middleweights, Chelsea as super-middleweights.

The opening half was, well, open. It began with United having the greater share of possession, playing from the back with a youthful central defensive partnership of Michael Keane and Scott Wootton. As good an emblem as any of their attacking intent was Alexander Buttner, the left back who surged forward along the touchline and even deep into midfield, whose shot wide from a set-piece prompted the game's first goal after 22 minutes. Petr Cech unaccountably played the ball out to a heavily-marked Oriol Romeu, who was summarily dispossessed by Anderson. The Brazilian, outstanding throughout, rolled the ball into the path of Ryan Giggs who sidefooted his first of the season past a scrambling Cech: he now holds the record of having scored in twenty-three consecutive seasons for Manchester United.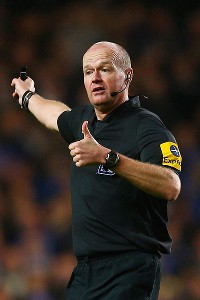 Clive Rose/Getty ImagesReferee Lee Mason handled a tense atmosphere with reasonable aplomb in light of Sunday's controversy.

Yet as mentioned before, this was a match of redemptive moments. One of them came from David Luiz, whose catastrophic own goal had given Manchester United an early platform on Sunday. After Victor Moses was brought down by a needlessly-strained challenge -- not the first time that would happen on the night -- Luiz clipped the penalty into the bottom left-hand corner to restore parity on the half-hour. Play was fairly even for the next ten minutes or so, until Anderson -- that man again -- capped a glorious move by releasing Javier Hernandez to angle the ball across Cech for his sixth strike against Chelsea in nine games. As Wayne Rooney tweeted to his 5.2 million followers: "Chicha. He just loves scoring goals."

Remarkably, by the standards of Sunday's match this was all fairly sedate -- before both sides took the gloves off. In Chelsea's case, Ramires was introduced in place of Mikel, giving them a drive and purpose that was reviously lacking. In Manchester United's case, Nani quite literally took his gloves off. He had been wearing them as an accompaniment to short sleeves -- an incongruous combination -- and his play in the second half flourished, if not as a direct result.

Chelsea struck first in the second period, with Gary Cahill forcing home a powerful header despite the desperate efforts and protestations of Rafael at a goal-line clearance. However, that was the prelude to heightened Manchester United pressure -- and probably the goal of the match. After some spirited approach play by Hernandez at the top of the Chelsea box, the ball fell to the feet of Nani, who played a pass to Anderson (by now effervescent of influence) and sprinted for the return. Gathering the ball at speed, he shrugged Cech to the ground with a feint and floated it over his fallen form into the net, a finish of precision to match that against Joe Hart in the Community Shield at the start of last season.

But the Blues were not cowed by such beauty. Instead, Roberto di Matteo saw the danger in losing two consecutive games to such intense rivals in just four days and thus deployed his two other first-choice playmakers, Oscar and Eden Hazard. Manchester United held out resolutely enough, prompted by the frequent surges forward of Anderson, whose positioning, passing and movement were excellent until his withdrawal on 80 minutes. Indeed, it is a wonder that Manchester United have scoured the world for midfield talent when they have such a physical and technical marvel at their disposal: but it is Anderson, and Anderson above all, who knows why he has not yet become the player that all the early scouting reports say that he should currently be.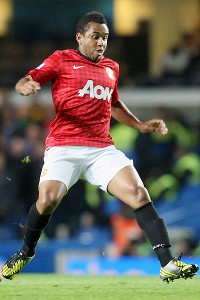 John Peters/Getty ImagesAnderson was superlative in defeat for Man United; only he will know why he has failed to become a consistent starter under Sir Alex Ferguson.

And so the game advanced to the brink of full time until football provided its own particular form of suspense. Wootton, making his full debut, succumbed to the twin demons of inexperience and fatigue in flopping all over Ramires. Hazard, with the final kick of normal time, waited for Lindegaard to flail to his right and then passed the penalty into the centre of the net.

Extra-time came and with Anderson gone and Darren Fletcher removed to right back, the pressure on Manchester United's back four was now incessant. Though Giggs initiated some promising attacks from the base of midfield and combined well with Nick Powell, there was nothing surprising in the fact that Chelsea scored the next two goals, the latter of which would prove decisive.

First, Daniel Sturridge ran onto a horribly botched defensive header from the tiring Wootton to round Lindegaard; then Ramires, after Hazard had outwitted the away side's center backs, ran onto his through-ball to round Lindegaard again. Giggs would score a second time, this time from the penalty spot after a foul by Azpilicueta, but so rare in the history of Manchester United, time was his enemy. To the relief of 40,000 sets of nerves, the game was over soon after.

S0 there we were. 5-4 to Chelsea in an atmosphere far more convivial (though no less competitive) than Sunday's Premier League encounter. Chelsea will take heart from their win while Manchester United will take heart from the fact that their opponents had to employ some of their biggest guns to shoot them down.

The biggest winner tonight, though, was probably Anderson, who showed an authority and composure that he has not demonstrated since his early seasons at Old Trafford. If Manchester United are to sustain a meaningful challenge both at home and in Europe, then more of the same will be most welcome.

Chelsea (4-3-2-1): Cech; Azpilicueta, Cahill, Luiz, Bertrand; Romeu (Oscar, 72), Mikel; (Ramires, 45), Moses, Mata, Piazon (Hazard, 55); Sturridge.

Goals: Luiz (pen) 31, Cahill 52, Hazard (pen) 90, Sturridge 98, Ramires 116

Yellow cards: Romeu, Mikel, Luiz, Oscar, Ramires.

Red cards: None.

Manchester United (4-3-3): Lindegaard, Rafael, Wootton, Buttner (Powell, 45), Keane; Anderson (Tunnicliffe, 81), Fletcher, Giggs; Nani, Welbeck (Federico Macheda, 98), Hernandez.

Goals: Giggs 22, Hernández 43, Nani 59, Giggs (pen) 120

Yellow cards: Wootton, Nani, Keane, Giggs.

Red cards: None.

Venue: Stamford Bridge

Referee: Lee Mason

Attendance: 41,126