Ronaldo award highlights Man United mediocrity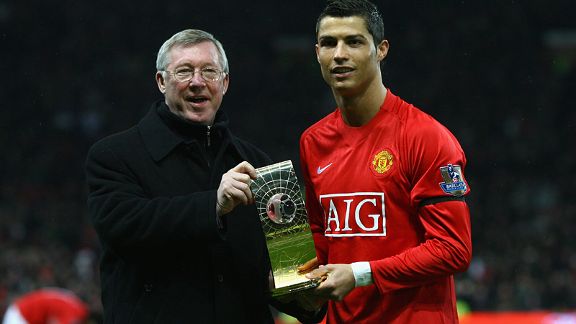 GettyImagesCristiano Ronaldo poses with the 2008 FIFA World Player of the Year Award. He also won the Ballon d'Or that year. The two awards merged in 2010.
After a slightly petulant campaign in which Franck Ribery can feel hard done by, Cristiano Ronaldo has been awarded the Ballon d'Or for 2013. For United fans, it is painful reminder that he was the last player from their club to win the award, and there is no chance of that changing anytime soon.

Ronaldo last collected the trophy in 2008 (he won the Ballon d'Or and the FIFA World Player of the Year Award that year, before the two merged to create the current FIFA Ballon d'Or award) after winning the Champions League with United. Since then, he has watched Leo Messi streak away with four consecutive crowns while Barcelona have collected more trophies than seems tasteful.

Manchester United last had a presence in the FIFA World XI in 2011, with Nemanja Vidic at centre back and Wayne Rooney in the forward line. In fact, other than 2010, United had a least one player in the team of the year from 2007 to 2011. Vidic has made the team twice and Rio Ferdinand featured during the victorious European campaign of 2008. Patrice Evra, who seems destined to leave the club at the end of the season, represented United in the 2009 side.

- Train: Ronaldo firmly deserved Ballon d'Or

However, it is now two years since Manchester United have had a player in what is considered the team of the year. It should be noted that Robin van Persie came close last year, but couldn't break into a frontline consisting of Ronaldo, Messi and Radamel Falcao. Although Tom Cleverley could have a tremendous World Cup and prove me wrong, it seems deeply unlikely that they will have a nominee next January either.

As if to compound the heartbreak United fans are currently experiencing, Ronaldo mentioned that he considered rejoining United this summer. "Rio [Ferdinand] tried to change my mind and go back to Manchester. I did think about United. They are still in my heart. I love that club."

Alas, United fans will have to be content with the memories of Ronaldo and their other former alumni from the Ballon d'Or award, Bobby Charlton, George Best and Denis Law.

A look through the current squad does reveal talent. It seems a shame that Rooney is not challenging for this award every year as Ronaldo and Messi do. In 2006, the United striker was on par with the other two but has slipped away since then. Whereas Ronaldo has achieved ever increasing levels of excellence, Rooney has had only one really stellar campaign: 2009-10, after Ronaldo had left United.

Van Persie definitely contends as one of the deadliest strikers in the game, but his statistics still pale in comparison to Ronaldo and Messi; he cannot complain about being selected behind them.

In the future, United could possibly put forward Adnan Januzaj, but that is still some years away. It certainly seems feasible that David de Gea, if he continues to develop at the current rate and maintains consistency, could become the best goalkeeper in the world. So all hope for United is not lost.

In the meantime, United are back in the mundanity of their worst league campaign for 20 years. Wednesday marks the halfway point of David Moyes' second transfer window and still no new players have arrived. The Ballon d'Or could not seem further away.

Mark Payne is the author of "Fergie's Last Stand," now available in paperback.

Follow him on Twitter @MarkJPayne.