While scouts scour Europe, Kagawa flirts with his best form
Manchester United's manager and his coaches spent Sunday scouting for players.

Cheered by Saturday's win against Swansea, David Moyes and first-team coach Jimmy Lumsden flew to Italy to see Juventus at Cagliari, Phil Neville was in Spain at Getafe versus Rayo Vallecano, while United also had scouts at Espanyol versus Real Madrid and Benfica versus Porto in Portugal.

United have been scouting extensively since Moyes took charge. So far, they have watched 35 players in total. The priorities are a left-back and an attacking midfielder, followed by a central defender and a striker.

Moyes is planning for the long term and while fans who've been unimpressed by his reign so far may prefer to see arrivals in the current transfer window, United's most significant spending is likely to be in the summer.

The last summer transfer window was a non-starter for the club, yet Moyes inherited a squad of champions and wanted to give every player a chance and, Wilfried Zaha aside, he feels he's done that.

Some of the players have taken their opportunities, while others have failed and United have put the word out to clubs and agents that they are for sale. The problem is that many earn so much that few clubs can afford them and those who can don't want them.

A player earning 70,000 pounds a week is going to be reluctant to join a club who'll pay him only 35,000. United can reduce the transfer fees or make it "undisclosed," but the club are not in a strong position to sell players on handsome contracts.

Those deals, which are all performance-related, will be a little less handsome should United fail to qualify for the Champions League next season.

Shinji Kagawa's second-half performance against Swansea pleased Moyes and his staff, too. United's first Japanese player may be fourth in the chart of highest-selling shirts at Old Trafford but he has been far from the fourth-best player at the club this season.

- Okwonga: Januzaj's all-action display
- Payne: United still a work in progress

The three above him in megastore sales numbers, Robin van Persie, Wayne Rooney and now Adnan Januzaj, have all had better seasons, even accounting for van Persie's injuries.

Kagawa has been too inconsistent and too ineffective in too many matches. Excellent in late November at Leverkusen, he was anonymous versus Tottenham four days later and that isn't good enough for United, who need players to be playing well in eight of 10 games, not four.

United's commercial staff adore Kagawa. His popularity in Japan has seen more sponsorship deals sealed there, plus it helped United play a sold-out preseason tour, but he has got to improve on the pitch.

United's coaches like Kagawa, too, though they prefer him on the left rather than in a central role. They feel that a lot of his work goes unnoticed and that he "thickens up" the midfield when he plays on the left, which is where he started on Saturday.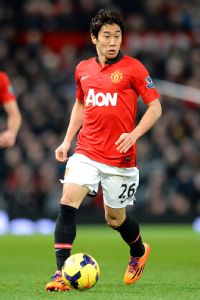 Shaun Botterill/Getty ImagesShinji Kagawa last scored for United on the final day of last season.
The coaches like Kagawa's versatility and consider him an intelligent footballer. They think he's especially effective in European games, though they worry that his diminutive stature leads to inconsistencies.

Kagawa is popular in the dressing room, too, where he's adopted a solitary word -- "magnificent" -- as a catch-all English phrase.

"How are you feeling today, Shinji?" "Magnificent!"

"The weakening Yen means your wages have increased significantly in real terms." "Magnificent!"

"Has Anderson taken your toast from the canteen again?" "Magnificent!"

On Saturday, Kagawa was ineffective on the left in the first half. Too deep to be creative where he'd hurt opponents, it looked like another bad day for United's No. 26.

You could see his frustration. At one point, he made a clever run to meet a pass from Patrice Evra, but then held on too long before crossing. Another time, he lost the ball and then tried to win it back only to tackle clumsily and concede a free kick.

Confidence matters greatly in football and Kagawa's reflects that of the whole team this season. When he played for Dortmund, he went out thinking that he'd win every game. He's told people that in Manchester.

"Shinji said Dortmund could play any of the bottom six and win the game at 60 percent," said former United goalkeeping coach Eric Steele.

"They would keep the ball for 60 minutes and then go bang, bang, bang and win the game easily. In England, Wigan can beat United and stop United winning the league. There are no 70 percent league games."

In the first half against Swansea, it was the team in the bottom six who had 60 percent of possession and United suffering a fourth consecutive league defeat for the first time in 53 years was not improbable.

Moyes needed to do something and he did, at halftime, switching Kagawa with Januzaj. The decision was a masterstroke: Januzaj stepped up to become man of the match on the left and a much-improved second-half performance featured a faster, slicker United who went ahead 90 seconds after the break.

While Januzaj starred, his Japanese teammate impressed after the break, too. Balletic and brilliant, he'd twist and turn, create, counter and cross the ball beautifully. One such centre to Chris Smalling should have resulted in a goal but the defender struck his shot over the bar from close range.

Kagawa should have scored himself too but, with the goal gaping, he paused and tried to place the ball before doing a Sammy Kuffour impression -- circa 1999 in the Camp Nou -- and punched the Old Trafford turf in frustration. He's not scored a single goal or made a single assist this season, though he was involved in the build-up to both goals on Saturday.

United fans are predisposed to like Kagawa but his terrace anthem of "All we need is... Shinji Kagawa" to the tune of "Radio Ga Ga" by Queen is seldom heard.

They can see his quality and abilities, but he needs to put it all together on a consistent basis before he can be called magnificent.