Fans support Moyes, but frustration is growing
It's a marker of the depth of frustration when you can pick "Manchester" and "United" out of the seats in the Sir Alex Ferguson Stand before the game's finished. When United were last this low in the league in January, those seats hadn't even been installed. The 25,600 triple-decker stand, Britain's biggest, hadn't been built.

In January 1990, the old cantilever stand on the United Road had 10,000 seats at the rear and a seldom-full standing paddock at the front. United's average attendance was 38,806. It's twice that now.

United finished 13th in the league in 1990 and lost five times at home. The consecutive home defeats to Crystal Palace and Tottenham in December 1989 turned up the pressure on the manager and led to open booing of Ferguson and slumping attendances.

United found a saviour in the FA Cup. It meant the world. It saved Ferguson his job after, in the words of one fan banner, "Three Years of Excuses." I spoke to the man who made that infamous banner on Friday. He still goes to matches, as he always has, through thick and thin.

- Marcotti: The blame game
- Delaney: United slump
- Okwonga: Everything goes wrong

There's been a lot of thick for United fans since 1990, but feelings about the FA Cup never waivered. Though maligned elsewhere, the Cup remains a big deal to United fans. They're proud of winning it more times -- 11 -- than anyone else.

It was the first trophy lifted after the war, the first after Munich and was the only source of major silverware between 1968 and 1991. It was Ferguson's first trophy, Ron Atkinson and Tommy Docherty's only major trophy.

It has always mattered. United had a full house of 74,778 against Crawley Town three years ago, with limited reduced prices. Look at the half-empty stadiums around the country on FA Cup third round weekend as reduced priced tickets failed to make up the difference.

Nottingham Forest's City Ground was half-full for the visit of Premier League West Ham. Despite a huge travelling contingent, Sunderland was less than half-full for Carlisle United's visit. Everton had 32,283, Bolton 11,180 for a Lancashire derby; Aston Villa attracted 24,038, Newcastle United 31,166, Southampton 15,077 and Norwich 21,703.

Even with a smaller-than-expected Swansea following, United drew 73,190 to Old Trafford. No club in the world enjoys such huge and consistent support for the early rounds of cup games. If Barcelona hit 40,000 for their Copa del Rey game against Getafe on Wednesday they'll be delighted.

David Moyes claimed it surprising that United hadn't won the FA Cup for a decade. He had a chance to right that and win it this season. It would have been acceptable to fans who appreciate he needs to rebuild. But United are out after another home defeat, another poor performance.

Fans aren't happy. Not only the always angry firm who whinged because top-of-the table United only drew with Swansea in the league a year ago. Nor the United fans who want the club to fail because they despise what it has become and think it will lead to the departure of the Glazers and thousands of glory hunters.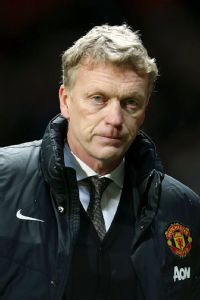 John Peters/Getty ImagesMoyes has retained the backing of the Old Trafford support.
Now, it's the majority. They're not happy because it's not good enough. They were spoiled under Ferguson and they know it, but the toys haven't been thrown out of the pram. There are no "Moyes Out" chants at matches, no tatty banners.

On the contrary, the new manager has enjoyed support from the minute he was appointed. Fans have sung his name more than that of any player. They want him to succeed and are proud to call themselves supporters because that's what they do -- they support. But they're not daft. They know that seventh in the league is nowhere near good enough.

United fans cut Moyes a lot of slack. The difficult start to the season was allowed for, the change of manager too. They know he has a tough job which will take time.

Support for the team has also been excellent and Old Trafford has been louder than in recent seasons. But the mass exodus exposing the empty seats yesterday was the result of frustration boiling over.

Old Trafford is no longer an indomitable fortress, yet away games have been superb. A Stoke fan told me it was the best away support he'd seen for years. A Norwich fan asked me why United had so many tickets. When I told him that they'd sold their allocation, just as other big clubs like Chelsea had, he replied, in a broad Norfolk accent: "None have been so noisy as them lot."

Five thousand fans will travel to Sunderland tomorrow, a Tuesday night two weeks after Christmas. They'll be so loud, as they were when United went to Sunderland in October after losing successive league games, that those Sunderland supporters who stayed at home on Saturday should wear protective sound mufflers.

In October, United used the game at Sunderland to start a seven game unbeaten league run. Their season looked like it was righting, then United lost twice at home in December. It has been the story of the season. Two steps forward, one back. It's not good enough.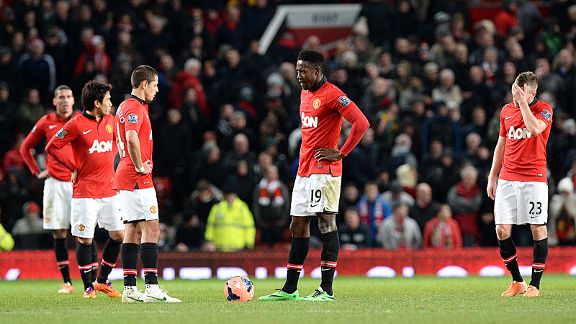 AllsportUnited's FA Cup defeat hasn't turned fans fully against David Moyes, but their frustration can no longer be ignored.

I spoke to a United supporter who's been going to games for 60 years outside Old Trafford last week. He said that Moyes deserved the same time afforded to Ferguson when he arrived in 1986. It's a noble sentiment, but Ferguson inherited a team which needed major surgery at a club whose turnover was significantly lower than Tottenham Hotspur's.

Moyes inherited the champions of England, one of the three biggest clubs in the world containing some of the best-paid players in world football. He also inherited a far bigger club and, by default, job. It's not easy for him. It wouldn't be easy for any one person.

At the start of the season, United We Stand polled fans on where they thought United would finish. Most thought the team wouldn't retain the league. But were they unreasonable in expecting a top four finish given the talent at the club?

If Barcelona or Real Madrid or Manchester City were seventh, their coach would probably be sacked. If he was a Chelsea manager, he'd be sacked regardless because he'd been at the club longer than nine minutes.

It's a different system at Old Trafford, one which promotes longevity, where managers are encouraged to use youth (and Moyes buys into that). Rather than demands to sack him, Moyes gets his name sung at matches.

Moyes' interaction with fans is almost entirely positive and he appreciates that, just as fans appreciate him turning up at functions and applauding away fans. But the bank of goodwill is not a limitless one and he's judged on performances and results.

Getting hammered in the Manchester derby hurt, losing five at home by January leads fans to ask, not unreasonably, what an earth is going on and when it will get better. Failure to qualify for the Champions League will be a big issue, but he still has time.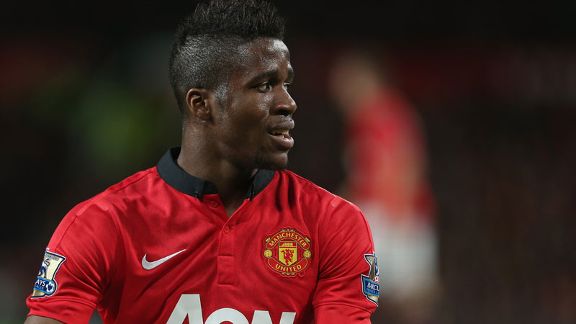 AllsportUnited's struggles aren't purely down to Moyes. Some players are underperforming while others, like Wilfried Zaha, have yet to settle.

Fans know there are many reasons for United's troubles. Again, they want Moyes to get it right. He's only been in the job six months and deserves time to build his team. Before he'd even left Goodison he said that he had a massive job to do at Old Trafford. He's said that consistently since.

And why all the focus on Moyes, the subject of those HD zoom lenses to show up every worry line? Some of his players are training well, yet not performing in games. Others aren't doing it in training either. Moyes has been fair to all; he's given every player a reasonable amount of chances except Wilfried Zaha, Fabio and Anders Lindegaard, but they weren't expected to be regulars.

Though confidence appears to be at rock-bottom on the pitch at Old Trafford, the mood at the AON Carrington training complex remains positive. Moyes and his team might suddenly click into place. It's unlikely, but United might win the league, the Champions League and/or the Capital One cup this season. Just not the FA Cup.

Football is notoriously unpredictable. United appeared doomed in 2005 after finishing 18 points behind Chelsea and being robbed in the FA Cup final against Arsenal. The unwanted Glazer takeover seemed like a further boot in the teeth. United were European champions three years later. Nobody saw that coming in 2005.

There the similarities end. Ferguson had already delivered 16 major trophies by 2005, so he could be allowed three years to reorganise. And as ever there is the cautionary tale of United's longtime rival Liverpool's decline after decades of dominance. Moyes needs to find his feet fast.