Manchester United fall late to Swansea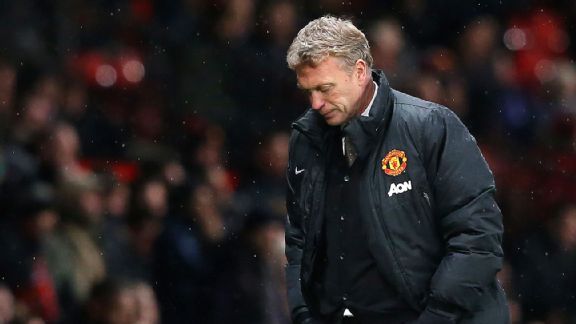 Alex Livesey/Getty ImagesSunday's 2-1 FA Cup loss to Swansea was Manchester United's fourth defeat in their last six matches at Old Trafford.
Swansea City 2, Manchester United 1. The worst thing about this defeat, the home side's fourth in the past six games at Old Trafford, is that it was seemingly inexorable. Everything that could go wrong went wrong. Rio Ferdinand limped off with an injury, then Fabio jogged off with a red card. After those two misadventures, Swansea's Wilfried Bony scored a majestic header, his second against Manchester clubs within a week, and his winner was just the type of agonising late goal to which Sir Alex Ferguson's teams would so cruelly subject their opponents.

For Manchester United, this loss was almost exquisite in the depths of its disappointment. At one point, Alexander Buttner and Tom Cleverley found themselves entrusted with the delivery of direct free kicks: a responsibility for which, once upon a time, even Ryan Giggs and Denis Irwin were considered unworthy.

- Report: Man United 1-2 Swansea

Yet this was not all David Moyes' fault. Injuries meant that he was without Wayne Rooney and Robin van Persie, the team's chief sources of goals and creativity both this season and last. He was also missing Ashley Young, who under Moyes' management has recently produced some of his best form for two years. However, in their absence, Moyes could have chosen a less conservative team.

Wilfried Zaha again found himself on the bench, as did Adnan Januzaj. Ahead of them, Antonio Valencia -- who had crossed so poorly against Tottenham Hotspur, having gotten into excellent positions -- and Shinji Kagawa, worryingly and increasingly ineffectual, were handed starts. Unfortunately, the two of them again disappointed. Kagawa began from a position on the left, where he was tasked to supply Danny Welbeck, playing as No. 10, and Javier Hernandez.

However, Kagawa failed to influence the game, and the unfortunate truth is that this system simply does not suit him. Were he at another club where the central midfielders push forward, he could play productively in an inside-left position -- like, ironically, Samir Nasri for Manchester City -- and perhaps even rediscover his scoring touch. But, harsh as it is to say it, it does not currently look as though Old Trafford will ever see the player whom Jurgen Klopp brought to prominence at Borussia Dortmund.

Welbeck provided energy and graft between the lines, and it feels churlish to criticise him, as he was played out of position here; indeed, he seems less comfortable as a No. 10 than as a wide forward. Ahead of him was Hernandez, who turned in an impressively precise equaliser from an excellent Buttner cross but was too often poor in touch and movement, finding himself offside or dispossessed because of poor control. The Mexico striker may be looking elsewhere for first-team football after this season, but on this evidence, he will not be alone in making his enquiries.

The game's start and finish were indicative of serious problems for Manchester United. The opening goal came after barely 10 minutes from Swansea's first real attack, as Wayne Routledge sprinted onto Alejandro Pozuelo's through-ball and lobbed goalkeeper Anders Lindegaard. That Routledge made a stately procession through the heart of the home defence will be a great cause for concern. The fact that it was unable to maintain intensity from the start of the match will be a greater cause still.

Moreover, the manner in which the match was lost demonstrates a failure to control the tempo of games in the late stages, something that cost Manchester United vital points in the Premier League against Cardiff City and Southampton, to name just two that immediately spring to mind. The only truly bright spot in this performance was the display of Darren Fletcher, who screened his defence as well as might be expected and passed early and perceptively through the midfield, often evading the tenacious Jonathan de Guzman.

And what of Fabio? His red card, awarded for a high and late tackle only five minutes after he joined the fray, might prove to be the unhappy footnote to his career at Old Trafford. It put his team under terrible pressure late, and it was almost saddening to see him trot down the tunnel, head lowered, without breaking stride: almost as if he was on his way out. Januzaj had already come on by then for Valencia, and it is striking -- and troublingly so -- how often the 18-year-old is seen as someone who should be a source of salvation when the team is flailing.

These are hard times for Moyes, and make no mistake: perhaps the hardest yet. He has not been helped by injuries, but the results are what they are: seventh in the league, out of the FA Cup, with only the League Cup -- a creditable semifinal place -- and the UEFA Champions League offering immediate respite.

The January transfer window must be used to bring in reinforcements, or the team risks losing whatever gains it has made in recent weeks. In the meantime, Manchester United may reflect on the fact that just a few months ago, Old Trafford used to be as formidable as a medieval fortress. Now, though, it is rapidly becoming as daunting as any large stadium.