Man United succumbs in a tale of two flanks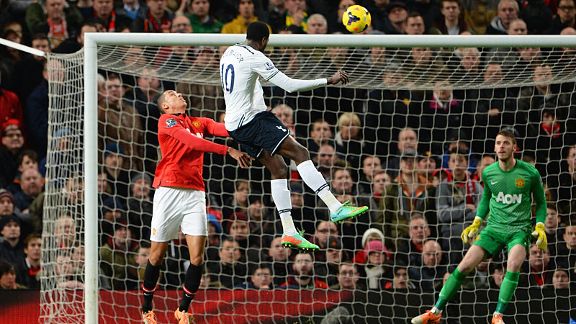 GettyImagesEmmanuel Adebayor heads Spurs into the lead at Man United.
Much has changed since the last time Tottenham Hotspur last visited Old Trafford.

Last time, Andre Villas-Boas looked on as Gareth Bale challenged Rio Ferdinand to a footrace. Though none of these protagonists was involved in proceedings this time around, in their absence there were others to provide compelling drama.

One of these men was Emmanuel Adebayor. Until he was unfortunately withdrawn through injury, he played as though he was up for a contract extension. His performance was a near-perfect blend of graft, guile and opportunism in Tottenham's 2-1 win Wednesday. He opened the scoring with an excellent angled header from a left-wing Christian Eriksen cross, supplied a sublime pass that Aaron Lennon drove against David De Gea's legs from 8 yards out, and then played Lennon in for a cross that was eventually dispatched by the head of a stooping Eriksen.

- Crace: Spurs' spirit shines again at Old Trafford

Ah, Lennon. No game between these teams would be complete without his causing extreme discomfort to Patrice Evra. For both of Lennon's most dangerous efforts, the France left-back was caught wrong-footed.

For Manchester United, this was something of a game of two flanks, as they enjoyed much greater happiness on the other wing. There, Chris Smalling -- particularly in the first half -- gave his most impressive impersonation yet of a flying full-back, surging forward onto a volleyed Antonio Valencia pass after only six minutes and drawing a scrambled save from Hugo Lloris at his near post.

A notable feature of the opening period was the quantity of Valencia's incursions down the right: Often his movement outwitted Danny Rose. Frustratingly, though, Valencia's final ball too often failed to match the high quality of his approach work.

Also, how United have missed Michael Carrick's passing! Looking much more like his old self, the England midfielder was central to his team's maintenance of a crisp tempo, and the hopeful long ball was pleasingly absent from much of the home side's play.

In the end, the Premier League champions will perhaps feel aggrieved not to have taken anything from this match. After they brought the game back to 2-1 -- Danny Welbeck continued his excellent scoring form with a smart chipped finish from an Adnan Januzaj through-ball down the right -- they mounted an attacking siege well-known to Old Trafford crowds in recent years.

For the final 20 minutes, they conjured an onslaught: Nemanja Vidic alone went close on three occasions, twice with a header and once with a shot; Hugo Lloris came flailing far from his 6-yard box; and Danny Welbeck, in a moment best not repeated, took a penalty-area tumble that would have embarrassed an amateur dramatist.

Yet Spurs held out and held on, much to the credit of new manager Tim Sherwood, and now, David Moyes finds his team 11 points behind league leaders Arsenal. He was forcibly reminded of what he already knows; that his side urgently need an extra midfielder for whom Tom Cleverley can deputise. The Scot may be briefly heartened, though, by his team's intensity in the closing stages, something which has been conspicuously absent in some of their other home defeats this season.

Other than that, there will be little lasting comfort to draw from this loss.