Manchester United trump Chelsea in early-season Fight Club
Chaos. Last night, both title challengers found themselves on the Stamford Bridge canvas, but it was Manchester United who rose most often. If this Premier League clash had indeed been a boxing match, then both teams would have entered it with their chins exposed. The away side have developed a notorious habit of conceding both first and early, a temptation which they thankfully avoided here. Meanwhile Chelsea, each of whose recent championships have been built upon the most austere of defences, continue to look notably nervous when under sustained attack. They have now conceded five goals in two matches, a figure which must have Jose Mourinho spluttering on his sangria.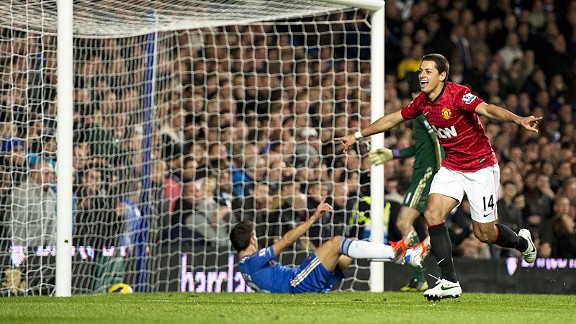 GettyImagesJavier Hernandez was the match-winning hero for Manchester United at Chelsea

What will be particularly alarming is the method of the most recent concessions. For Manchester United's first goal Ashley Young found more space than Neil Armstrong. Just before he laid the ball wide for Wayne Rooney, whose square ball resulted in David Luiz bundling the ball into his own net via a rebounding van Persie shot, Young had been several yards clear of any Chelsea defender in the inside-right position. In the pomp of John Terry and William Gallas, this would have been unthinkable. For Manchester United's second goal, van Persie found himself largely unguarded just eight yards from goal, awaiting the ball as casually as a commuter anticipating a suburban train.

Manchester United, having taken this two-goal lead on the back of some majestic playmaking from Wayne Rooney, then conspired to lose it in worryingly swift fashion. First Rooney, bafflingly, gave away a free-kick on the edge of the area just before half-time. There was a sense of dread when Juan Mata approached the ball, a sense fully justified when he curled it beyond David De Gea's desperate fingertips. Then, just after half-time, Manchester United's back four found itself exposed by a diagonal cross-field ball, and Rafael was drawn into the centre so that Oscar could cross unhindered to the head of Ramires.

Calamity: but not unexpected. These are two teams whose attackers are as potent as any that the Premier League has seen. When they perform at their best, as most of them did last night, there will be an abundance of goals: particularly when they are feasting on back fours as obliging as their own. That Chelsea still looked dangerous after they had been reduced to nine men, following the dismissals of Branislav Ivanovic and Fernando Torres within six second-half minutes, raises awkward questions about Manchester United's ability to control tempo deep in midfield.

It was perhaps fitting that a game of such controversy should be decided in unjust fashion, as a visibly offside Javier Hernandez turned a stray ball home from close range with fifteen minutes to go. By then, the atmosphere had descended into something approaching bedlam. The referee Mark Clattenburg won himself few fans during the match, and afterwards Chelsea accused him of making "inappropriate" comments, to two of their players. How that investigation will end up is anyone's guess, but let us hope that it is conducted far more swiftly than that into the allegations brought against John Terry and Luis Suarez. Dithering in the face of such serious charges is the last thing that the game needs. On a related note, given the seriousness of the charges laid against John Terry, it was disappointing to hear Rio Ferdinand being booed by many home supporters on several occasions that he received the ball. This was perhaps to be expected in such a partisan environment, but it seemed needless all the same.

Back to the football, though. This win reaffirms Manchester United, along with Manchester City, as Chelsea's main championship threat: in lasting terms, it is perhaps most intriguing to Manchester City, whose squad is yet to find its rhythm but which has by far the most enviable resources. With 29 matches still remaining of the season, Chelsea have plenty of time to wipe their bloodied nose: and prepare themselves for the anxious closing rounds that surely lie ahead.