Young stands up to take his chance
David Moyes is big on encouraging his Manchester United players to applaud away fans and in the aftermath of Saturday's win at Norwich, the 2600 travellers, most of whom had journeyed five hours by road to Norfolk, appreciated it.

They were singing their latest terrace ditty about Adnan Januzaj, the 18-year-old who has captivated more mature hearts, when Ashley Young came towards them, all clenched fists and grabbing his shirt. For a player who has suffered a chronic lack of goodwill among fans -- and often with justifiable reason -- he will have enjoyed the resulting applause.

A month ago, Young was the most unloved player in red. Attitudes were shaped by what he did on the pitch but he'd also said little to endear himself to fans, whose off-pitch opinions were based on images of him moodily exiting the team bus wearing headphones so big that he looked like he had three heads.

Many fans had simply decided that he wasn't good enough to play. They also cringed when he dived, actions which earned a reprimand from his boss and that means that he's easily the most abused player at away grounds.

Even normally placid Norwich fans gave him a hard time, though that was in part because he tried to hold the ball in the corner at the end of the game to run down the minutes down as United protected their slender lead.

- Mitten: Narrow win at Norwich

Sir Alex Ferguson, the man who signed Young in 2011, stated in his autobiography earlier this year that he was confident he'd brought Young's diving antics to an end by warning him.

"The last thing he needed as a Manchester United player was a reputation for going down too easily," wrote Ferguson. "Going to ground too easily was not something I tolerated."

Ferguson dropped Young from his starting XI for a game against Everton in 2012 because the winger had dived twice in the space of eight days to win penalties. The-then manager had encountered a similar problem with Cristiano Ronaldo in his early days at Old Trafford, which led to the Portuguese winger receiving criticism from other players.

Ronaldo, whose name is still sung, went on to become one of United's most popular wingers, following on from wingmen like Willie Morgan, Steve Coppell, Gordon Hill, Andrei Kanchelskis, Lee Sharpe and Ryan Giggs.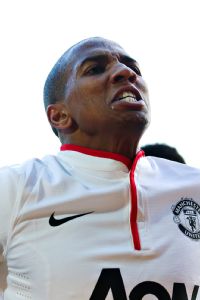 AP Photo/Jon SuperYoung has forced his way back into Man United's starting line-up.
The current crop don't compare in popularity: shirts with Young's name on the back are not in the top ten sellers in the Old Trafford megastore. Meanwhile, Antonio Valencia's popularity (and confidence) was hit by poor form last season, while Nani, a trick-a-minute game changer on his day, has also lacked consistency and opportunity. Being a world-beater once every five games isn't enough when you play for Manchester United.

Though well remunerated and playing for one of the world's biggest clubs, there have been many unenviable elements to being Ashley Young recently. He's continued to dive under David Moyes, who has also had words on several occasions in an attempt to eradicate the dark art from his game, most recently when he was condemned after winning a penalty in San Sebastian against Real Sociedad. The people who pay his wages don't want to see it.

Being despised by away fans can be seen as a compliment but being a scapegoat for your own is as bad as it gets for a footballer.

Against that backdrop, Young joined Twitter after saying that he kept hearing his teammates going on about it. He acknowledged that he has needed a thick skin, given the unmitigated abuse that followed, to which he didn't react.

Nor did the United directors when they received correspondence after September's 4-1 Manchester derby hammering which suggested -- in very strong terms -- that the player signed from Aston Villa for a reported 17 million pounds should be sold with immediate effect.

"Send him to Newcastle," wrote one fan, perhaps unfairly, "the natural habitat of overpaid, half-a***d players with a love for the treatment table." That would have been difficult as the transfer window wasn't open, but it will be on January 1 and it is highly unlikely Young will be dispatched.

Young has tweeted just 46 times in nearly four months since joining. Notably, he heard online of a fan whose dying wish was to see a game at Old Trafford and fixed him up with an executive box. That gesture made some fans see that he was actually a human being, with feelings. Few other tweets have strayed from the obvious about being happy to be winning football matches. And that's what he's been doing a lot recently.

As David Beckham could testify after the abuse he received following his sending off in the 1998 World Cup, the best way to quiet the invective is to play through it and play well. Young is doing that. He wasn't named in United's line-up for four league games after the derby defeat, then spent three of the next four games as an unused substitute. When he spoke, he said that he wanted to play and he got his wish.

United have won their last six games and Young has featured in all of those. Against West Ham at Old Trafford on December 21, he came off the bench to a chorus of "You're gonna dive in a minute" from the visiting support.

Except it was Hammers 'keeper Adrian who was diving shortly afterwards, in vain as he failed to reach Young's curling shot -- his first goal at Old Trafford since May 2012.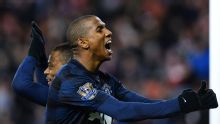 Andrew Yates/AFP/Getty ImagesYoung celebrates his goal against Stoke.
That goal followed his first of the season, which came three days earlier at Stoke in the Capital One Cup. The release of emotion that followed was obvious as he charged towards the away end and 4500 United fans.

To the displeasure of the nervous stewards behind the goal, the fans did likewise. Young's popularity was suddenly on the rise (it could hardly go lower) with those who should love him and the release appeared cathartic for a player who had been the target for constant abuse and never reacted.

Also rising is Young's confidence. He played well at Hull on Boxing Day and while United's attack didn't perform as well at Carrow Road, he was happy to pick the ball up in his own half and surge forward. This was a player with who had been given a chance and wanted to take it.

The 28-year-old, who has a contract until 2016, still only offers utterly bland quotes off the pitch -- "We have another tough game coming up on New Year's Day against Tottenham, but, hopefully, if we can continue to play the way we have been doing, then we can get another three points" -- but he's not paid to speak, but to change football matches. Moyes knows he's a player who can do that. Ferguson thought the same when he signed him.

Moyes likes all three of his natural wing men, though he's not fancied a fourth, Wilfried Zaha so far. United have long abandoned the 4-4-2, which allowed for classic wing play, for the ubiquitous 4-2-3-1, but the manager also knows that wingers have the hardest job on the pitch, with the expectation that they'll beat a player -- something Roy Keane described as the most difficult thing to do in football.

Young has a hard season so far but if he's heeded advice from friends and foes, 2014 could be brighter if he continues the dive-free form of the last month.