To David Moyes' delight, Manchester United get hard-earned win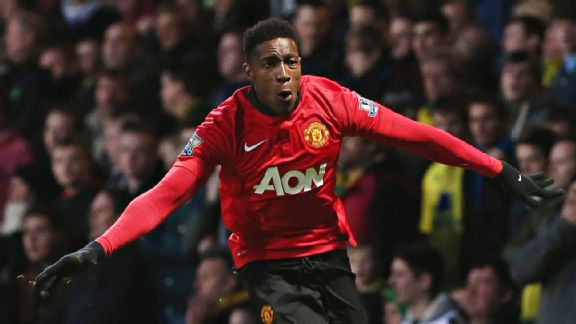 Matthew Peters/Getty ImagesDavid Moyes' decision to sub in Danny Welbeck proved brilliant as the English striker fired in the game winner.
It might have been only a 1-0 result for Manchester United, but David Moyes will take some heart in the workman-like performance of his Red Devils team.

Moyes made three changes to the team that had defeated Hull City away, two of them forced upon him by injury (Rafael, Wayne Rooney) and one by suspension (Antonio Valencia).

The introduction of Ryan Giggs, Shinji Kagawa and Michael Carrick gave the line-up a makeshift look, which was belied by the cohesion of the away side's passing in the opening stages: after 10 minutes, they had 77 percent possession, a figure which rested at a robust 59 percent at the end of a goalless opening half.

The key statistic from that period, though, was that Norwich City had made five attempts on target to Manchester United's none. A key reason for this was the abundant joy that they found down the visitor's left, with Manchester United being more accommodating on that flank than Santa Claus.

Giggs, as he had been in the same fixture here last season, was overrun, and Patrice Evra was outwitted on his own touchline with alarming regularity. Meanwhile, Norwich, with Robert Snodgrass particularly irrepressible, were finding abundant room in front of Manchester United's back four, despite Carrick's return.

If it was Moyes' mistake to include Giggs, who earned a yellow card for his trouble, then he should be given credit for swiftly rectifying his error, bringing on Danny Welbeck, the eventual matchwinner, at half-time. Welbeck immediately provided greater defensive energy and attacking impetus, and just over 10 minutes into the second half he gladly accepted a ricochet to run through and round John Ruddy.

A player who failed, sadly and yet again, to inspire was Shinji Kagawa. In mitigation, he could argue that he is ring-rusty, and that Javier Hernandez, himself short of match practice, was offering him little in way of movement up front. But the harsher reality is that the Japanese international seems most comfortable in an attack which is carefully woven around him, and the patchwork nature of Manchester United's teams this season means that he is increasingly unlikely to produce his best in their colours.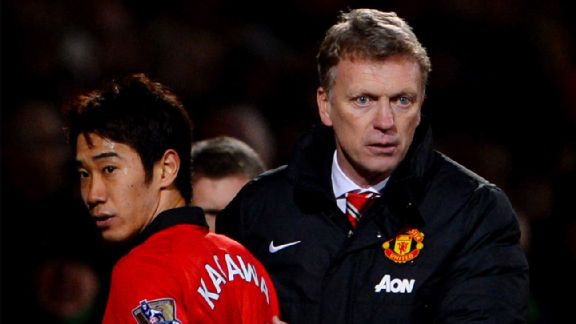 Michael Regan/Getty ImagesShinji Kagawa's future at Manchester United continues to be in question after another subpar performance.
Kagawa is a player who, at his finest, offers an almost unrivalled geometry of passing and movement: here, though, he found himself largely marooned in the final third, making harmless incursions here and there. The contrast between the fading of his light, and the emergence of Adnan Januzaj, could not be more pronounced. His substitution for the Belgian forward was in one sense as symbolic as it was tactical.

David De Gea, as remarked by David Moyes earlier this week, has been crucial to Manchester United's successes this season, and he was almost as impressive here as he was away at Sunderland a couple of months ago, parrying clear with confidence in the first half: ahead of him, Chris Smalling showed considerable composure at right-back, and it is to his credit that his was the only part of the defence where Norwich offered little trouble.

Remarkably, though, it was Welbeck who ended up with perhaps the most compelling claim to a man of the match performance. The England international netted his fourth goal in four games, competed with great intensity, and passed with intelligence.

Indeed, the only player whose confidence has risen as conspicuously is Ashley Young. Moyes has taken a great deal of criticism this season, but his ability to coax improvement from Young's boots is notable. There was a moment in the second half when Young strode forward and, ignoring good passing options right and left, struck a rising drive that narrowly cleared Ruddy's crossbar: a selfishness, and more importantly a fearlessness, that has been all too lacking from his play in the last 18 months.

Manchester United therefore claim their second win of the festive season, and their title defence is taking on greater respectability with each passing week. They are still some way short of their best, but with the return of vital players from injury they may yet prove a threat to Manchester City. At the halfway point of the season, they are just seven points from the summit, a scenario that would have been unthinkable to many at one point. In the end, it was a workmanlike victory, which was reassuring in its familiarity.

Moyes' men showed an obduracy of which Sir Alex Ferguson would probably have been proud.