Rooney leads soaring comeback


Kamikaze football is back at Manchester United. The defending Premier League champions required a rampant Wayne Rooney and a good old-fashioned comeback in Hull, but they got it, and onetime United captain Steve Bruce has still never beaten his former club as a manager.

Those who received Sir Alex Ferguson's autobiography as a Christmas gift will be reading about how he made centre-backs the starting point of all the teams he built. Bruce is mentioned several times for his service in that department. In United's 3-2 victory on Thursday, Hull City made a mockery of the men in those positions.

- Mitten: Three Things: Hull v Man United

Yet it all began so well for the hosts. Hull scored from a corner they should not have been awarded after just three minutes. It was a dreadful start for United; Danny Welbeck should have come off his position on the line much quicker to clear the ball. He didn't, and former United youngster James Chester harrumphed the ball in. Centre-back Chris Smalling was in no man's land, and it was hard not to think that Nemanja Vidic would never have let that happen.

Ten minutes later and the ball ramped up over Jonny Evans' foot and past goalkeeper David de Gea to make it 2-0 Hull. It was the third ridiculous goal United had conceded in their previous 22 minutes of play, including Carlton Cole's late consolation for West Ham last time out. The look on manager David Moyes' face could have cooled the sun.

Hull then did what they were supposed to do. They held their lines, defended like Trojans, and did everything they could to frustrate United's forward momentum. It looked like it was going to be a long afternoon for the visitors.

Moyes brought on Adnan Januzaj and sent Antonio Valencia to right-back before the game was 20 minutes old. One minute later and Smalling redeemed himself by heading in Rooney's free kick. Gung-ho football was back at United and they were back in the game.

Some comebacks take longer than others. Rooney, who two years ago was disciplined heavily for going out for dinner on Boxing Day, confirmed his return to brilliance and exchanged passes with Welbeck before volleying a bullet of a shot from 20 yards to make it 2-2 at the 26-minute mark. It was his 150th Premier League goal for the club, and United -- the United of old -- were back in business in so many senses.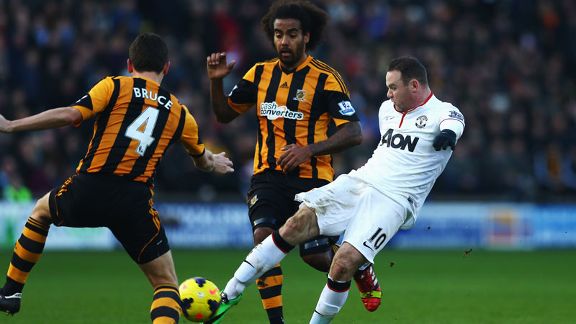 GettyImagesRooney scores his 150th Prem Lge goal for United to equalise against Hull.
But Hull were not going to lie down. Bruce shuffled his pack at halftime to nullify Valencia's threat down the right and was largely successful in doing so. Stunted for a few minutes, United found themselves defending, and when Alex Bruce hit the bar with a meaty header United nerves began to jangle anew.

United were not going to win the game unless they made a change of their own. Darren Fletcher put in an excellent shift in his first start in a year, but was replaced by Javier Hernandez. For the second time in the match, United scored minutes after the substitution.

Tom Cleverley spread the ball out wide where Ashley Young roamed. He skipped past a challenge and put in a cross into the danger area. Chester, with Rooney breathing down his neck, headed the ball into his own net. It was no less than United deserved.

There was never any danger of Hull letting this turn into another United party, though. Hull had lost only once and had conceded just three goals at home before this fixture. This is a proud stadium and United were under pressure for every remaining minute of the game.

Matters weren't helped much by Valencia, who was sent off for a second yellow-card offence on 90 minutes after kicking the ball away in frustration. David de Gea came out to clear a ball and missed it completely. Some of United's defending was more Laurel and Hardy than Bruce and Pallister at times.

With the clock ticking down, Chester closed in on the United goal again and fired a shot Eusebio would have been proud of, but de Gea palmed it away. The Manchester United annals have another great comeback in them now. But my goodness, this was a hard-fought victory. If you look closely, this United team is starting to show some real character. Long may it continue.

Mark Payne is the author of "Fergie's Last Stand," now available in paperback.

Follow him on Twitter @MarkJPayne.