Practice makes perfect: Januzaj's meteoric rise at Man United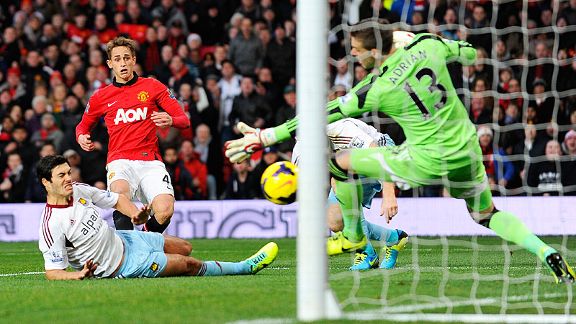 AllsportJanuzaj scored his first goal at Old Trafford on Saturday.
Adnan Januzaj started preseason training with Manchester United's reserves. He spent the first two days in July with the players alongside whom he starred last season, when he was voted United's reserve player of the year after stepping up from the youth ranks.

New manager David Moyes had been told all about his talent, but he had a large number of established first-teamers to watch and work with ahead of a lengthy tour.

On the third day of training, one first-teamer dropped out of a training session. Former player and new United coach Phil Neville was there:

"We brought Adnan up to train with us," Neville recalled. "We could see merit in him having a bit of experience with the first team after he'd done so well last season."

What happened next stunned the watching eyes.

"Within five minutes of doing a little 7-vs.-3 possession, you could see the vision of him playing for Man United's first team," said Neville.

"At the end of the session, all of the coaches got together. We were unanimous in our thoughts on what he'd done. He played like a Man United player. He'd wanted the ball, he was brave, he went into a tackle and smashed someone.

"Some kids are in awe when they are promoted to the first team, they pussyfoot about. Adnan looked like a Man United player. He was like 'Come on, I want more of this, I should have been in here yesterday, not today.'

"Straight away, the manager came up to me and said 'He will be a Man United first-team player.'"

- Payne: Pressure eases on Moyes
- Okwonga: A return to business as usual

Three weeks later, Januzaj was wandering around a hotel in Yokohama, Japan, wearing one of Rio Ferdinand's "5" caps and wondering why his phone didn't work properly. He was on a floor reserved for the United party.

If he left for a public area, he was offered security. He had already played in front of 80,000 rather than the few hundred who watch United's reserves. It was a big jump as Januzaj became accustomed to the life of a Manchester United first-team player on a preseason tour.

There have been several negatives to Moyes' spell in charge of the club so far. The league form, especially at home, where United have been beaten three times, has caused the most concern.

However, there have been positives too, such as the form and performances in the Champions League, plus the emergence of Januzaj.

When Moyes took over, the importance of promoting youth and the history of the young players, from the MUJAC (Manchester United Junior Athletic Club) graduates to the Busby Babes and the class of '92, was made clear to him. Sir Alex Ferguson discussed it when the pair spoke about Moyes being his successor.

The new manager nodded in agreement. He believes in youth and wants to build a dynasty at Old Trafford, yet one statistic made him raise his eyebrows: United have used a homegrown player in every starting XI for more than 3,600 consecutive matches, stretching back 77 years to before the Second World War.

To be precise, a homegrown player has now started in 3,668 consecutive United first-team games. That's every game since October 1937.

Four of the starting XI in Saturday's impressive 3-1 home win against West Ham United had risen through the club's academy: Tom Cleverley, Jonny Evans, Danny Welbeck and Januzaj. The interplay between the latter pair was frequently excellent and led to United's second goal, scored by Januzaj.

Three more academy graduates were on the bench: Ryan Giggs, Darren Fletcher and Sam Johnstone. Other players who featured, such as David de Gea, Rafael Da Silva, Chris Smalling, Alexander Buttner, Phil Jones and Wayne Rooney, arrived at Old Trafford with an average age of 18.

Januzaj, the 18-year-old Kosovo-born Belgian who was recommended to the club by Patrice Evra, attracted attention from elsewhere last season. Barcelona, who jealousy guard their own emerging youngsters from British teams who are able to offer them a contract a year earlier, enquired about him in May, the same month he was on the bench for Ferguson's final game in charge, at West Bromwich Albion.

Two days before Ferguson announced his retirement, Januzaj played in the first Barclays U21 Premier League final against Tottenham Hotspur at Old Trafford, starring in a side which came from 2-0 down to win 3-2.

He is slight, but he won headers against a much bigger opponent, Spurs captain Grant Hall, in his role as a lone striker. It's his technique and his eye for a forward pass that set him apart, and the Catalan interest made United look at improving terms for a player they signed from Anderlecht in 2011.

Januzaj's shifting status from reserve to first-team star strengthened his negotiating position in a manner that Paul Pogba could never achieve a year earlier. United didn't want Pogba to leave Old Trafford, and wince when he shines for Juventus and is linked to Real Madrid, but they had their reasons.

Fans have heard it all before with young players. Pogba, Ravel Morrison and Zeki Fryers were all rated as outstanding and all left. Giuseppe Rossi remains the best reserve player seen in the last decade -- a player who stood out in a team that also boasted Gerard Pique -- but he too left for more chance of first-team action.

Januzaj may have been expected to go on loan for a season. That was the trend towards the end of Ferguson's reign, when he encouraged players like Cleverley, Welbeck and Evans to go for experience, minutes, toughening up and a reality check on football away from United.

None of them regretted it. Midfielder Nick Powell, who underwhelmed United's coaches last season, is thriving at Wigan Athletic in the Championship and may be recalled in January. Jesse Lingard, another midfielder on loan, scored four goals on his Birmingham debut and is the club's leading scorer.

Januzaj's confidence is high from a new contract and featuring in 15 competitive United games so far this season. He has scored three times, twice at Sunderland and again on Saturday -- his first Old Trafford -- after which he ran straight to the United bench to celebrate with those who'd put their faith in him.

Aside from the goal threat he carries, Januzaj's style has presented a challenge to opponents: seven players -- Morgan Schneiderlin, Victor Wanyama, Wilson Palacios, Stephen Ireland, Steven Caulker, Yohan Cabaye and Matthew Lowton -- have received yellow cards for fouls committed on him and Fulham's Sascha Riether was banned for three games after kicking the 18-year-old.

It could all have been so different had he not been called up to train with United's first team early in July.