A return to business as usual at Old Trafford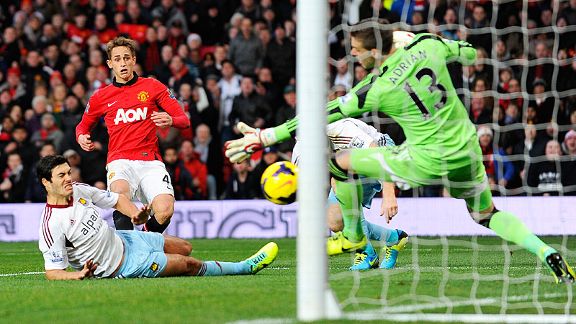 GettyImagesAdnan Januzaj doubles Man United's lead against West Ham.
Manchester United's 3-1 victory over West Ham United at Old Trafford on Saturday was a match that manager David Moyes -- now on a four-game winning streak -- will recall almost entirely with satisfaction, the only real blemish being an injury which called for Danny Welbeck's early withdrawal.

By the time the England forward had made way for Javier Hernandez nine minutes into the second half, he had opened the scoring for the second successive Premier League game, giving the home team a lead they would not relinquish. Welbeck's left-footed finish, from the inside-left position and across Hammers goalkeeper Adrian, was as assured as almost anything in former United striker Ruud van Nistelrooy's back catalogue.

- Payne: Four in a row, pressure easing on Moyes
- United revival gathering pace

The second goal also arrived from the inside-left channel, after Adnan Januzaj weaved inside his marker and thrashed the ball home 10 minutes from halftime. A peculiar feature of this opening period, given Manchester United's success on his flank, was the relative reticence of left-back Patrice Evra to get forward; it was if he had been grounded whilst everyone else had been allowed out to play. But the Frenchman's surprising conservatism allowed Januzaj, who drifted from wing to wing, to play with complete freedom.

In the middle of the pitch, the pairing of Phil Jones and Tom Cleverley played with encouraging comfort. Jones made several enterprising runs forward from the base of midfield, surging at the heart of West Ham United's defence. His exuberant display was summed up by the fact that, with 10 minutes to go, he intercepted the ball in his own area and then sprinted forward 70 yards in support of Antonio Valencia on the overlap.

Cleverley's distribution and movement were economical and effective, his intent expressed by a fierce drive after only three minutes that was beaten away for a corner.

The right-wing combination of Rafael and Valencia was a source of great discomfort to any West Ham United defender who found himself isolated against it, as was James Collins' misfortune, and Valencia -- though he made one or two errant decisions in the game's late stages -- made several dangerous incursions into the visitors' area.

One of these, a cut-back to the top of the area, resulted in probably the biggest roar of the afternoon: a first-time right-foot strike from Ashley Young, who unleashed a shot that could have shattered a barn door. His confidence is up, following a similarly explosive goal against Stoke on Wednesday, and it would have been heartening for him to draw the crowd's applause as he went over for a corner late in the game.

His teammates mobbed him as soon as he scored, perhaps mindful of the pressure that he has been under in recent months.

Wayne Rooney did not score, the closest he went being a first-half free kick that went narrowly over, but initiated many of the team's best passing sequences. Staying close to Cleverley, dropping deep, he helped to maintain possession, a welcome contrast to the dispiriting directness of Manchester United's play earlier this season.

Following two consecutive home losses in the Premier League, Old Trafford could breathe easy again, only pausing to regret the late consolation goal from Carlton Cole, who had been played onside by substitute Alexander Buttner -- who had replaced Evra just one minute earlier.

This, for the second Premier League game in succession, felt like the business-as-usual of old. On Saturday evening, United were looking up at just a four-point gap to the Champions League places and an eight-point gap to the top of the Premier League.